What To Name Her?
---
Hello, I just got a new female betta a day or so ago and I cannot figure out a name for her! I am currently between Carbon (she was the diamond in the rough, looked bad but is now gorgeous and friendly), Sirena (spanish for Mermaid, she looks mermaidish to me) or Hada (Fairy in spanish, she's very fluttery in her swimming and sort of reminds me of a fairy). I am also open to any other ideas for names! Thanks for helping!
Here are some pictures of her to get an idea of what she looks like!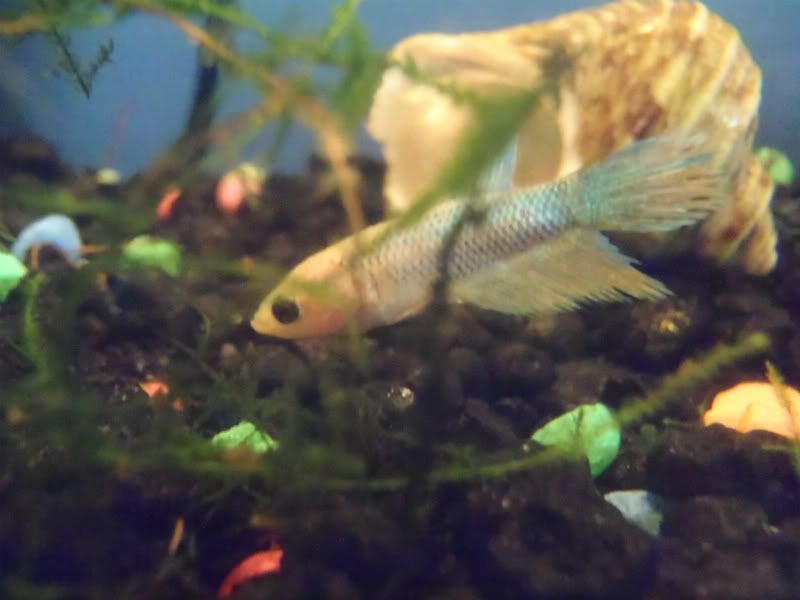 I like Sirena the best! She is beautiful and you are right, she does look like a little mermaid! So cute!
---
~Mandi~
Shruikan - Black Orchid CT male Spyro - Copper Salamander HMPK male
Glaedr - Yellow Dragon PK male Thorn - Red Dragon PK male
Tornac - Blue Butterfly DeT male Eridor - Blue Dragon Marble DT male
Sparx - Female Salamander HMPK female!!!!!!

Sorority - Nugget, Cynder, Pina, Nymph, and Minerva
Felines: Brutus Beefcake, Yngwie Malmsteen, Rosalie, and Mia
Thanks! She I have some other pictures now, they really make her tail look like a mermaid's. It's all green and scaley and beautiful! I post some pictures!
Is go with sirena she is very mermaid like
---
My Red VT Male DonFlare.
My halfmoon Poesidon
My Orange and black VT HadesFireball
My 11 girls: livewire, lilicka, fluttershy, rarity, Dixie dodablue, aurora, ember, peaches, mystic, mermaida, beta

RIP candycane and queen of spades, Apollo

Other animals
Cats:
Cherokkee (avatar)
Ekaterina
Cassandra


a betta is like a good freind always there when you need them and still there when you dont


How many bettas have I owned since I was Born hmmm... lets see 24!
Yeah, I'm thinking that Sirena has won out. She's awesome and very happy with her new name. Thank you everyone!
Banned
Join Date: Jul 2008
Location: Central Texas
Posts: 27,607
I like Sirena also. It looks like it's unanimous. lol
I agree, I like Sirena!!! She reminds me of a mermaid with her shape and colors =D
---
My Current bettas:
Sullivan- Orange rose tail halfmoon male
Daisy- Mustard Gas (black and yellow) veil tail female
Milton- Teal butterfly halfmoon male (mom's betta)

POTS Awareness
DFTBA to nerdfighters working to decrease world suck!