New Member
Join Date: Jan 2012
Posts: 2
Is my betta fish a Veiltail or spade tail?
---
Hey, this is my first fish and wanted to know if he is a veil tail or a spade tail betta fish? thanks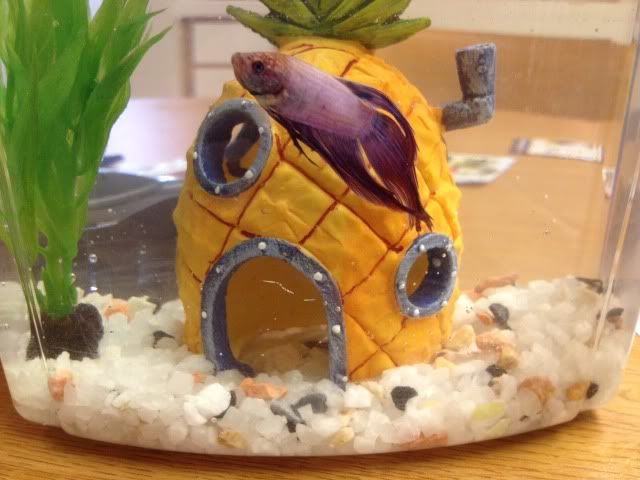 If you got him from a petstore he's probably a VT. There's been some controversy over if the spade tail is a real fin type.
---
I like bettas. Why would I be here if I didn't?
Shimmer- VT Girl- 1 gal vase (temporary)
Pretty Boy- CT Boy- R.I.P
Jasper- CT Boy- R.I.P
Deluge- Delta Tail Boy- R.I.P
My favorite aquatic plant is...the...marimo...MOSS BALL!!!
New Member
Join Date: Jan 2012
Posts: 2
oh i see, thanks. yea the sticker said veiltail but my friend said it looks like a spade tail. Just wondering because the pet store mixes up the labels sometimes too
yes its a veiltail, tanks a little small - you may wanna get something larger & a heater.....
---
Last edited by damo2904; 01-28-2012 at

04:39 PM

.
he is pretty try to get a pic of him flaring if you could we could tell better
get a little mirror and put it against the tank he will think it is another betta so he will flare for territory
---
[CENTER] Cherry Pop, Gus Gus, Gaia
Member
Join Date: Oct 2011
Location: Michigan, USA
Posts: 462
Definitely a veiltail. The tank does look like it's small and lacking a heater. He'd probably be much happier in 2.5 gallons or larger, with a heater to keep the tank 75-80 degrees farenheit. (;
Male Salamander x Violet VT approx 11 months-1.9 years old. Also if i were you i would expand his tank.. He has potential to be a very pretty fish.
Spades are shorter finned, PK types. You're boy is a very cute VT
---
My wishlist:
-duckweed- -black and white marble, anything but VT-
-javamoss- -koi marble, anything but VT)
-hatchable brine shrimp eggs-
-indian almond leaves-
-Melano Halfmoon male-
-steel blue or royal blue CT or HM female-
I agree with a VT, he's a pretty one at that too! As everyone has said, his tank is a bit on the small side. He would really like a larger tank for swimming, and it would be less work on you with water changes. If you went 1g or bigger, you would need to do water changes twice a week. In that tank, I would say 4 changes a week minimum. That's pretty darn stressful on owner and fish :) But yeah, welcome to the forum and congrats!
---
Not everybody can front up afford a larger tank. With regular cleaning (like 2x a week) the fish should be fine. Granted, betta are tropical fish and a heater should be priority. If you're concerned he might not have enough room now, remove the spongebob thing. But congrats on your fishie! He's beautiful!
---
"Education is the most powerful weapon which you can use to change the world." -N. Mandela
To my journal!
http://www.tropicalfishkeeping.com/j...ourami-592858/