This one is Sapphire! I bought him at petco. Labeled as halfmoon female and was very small, mostly flesh coloured with a bluish purple sheen, and an egg spot which was obviously "false". He loves living in community planted tank and I have counted 4 different blue shades on him ending of course in clear![IMG]
[/IMG]
Sorry...that is pic of Opal...while he was beautiful to me, he is not the one described in last message.
Hopefully this will be Sapphire!
[IMG]
[/IMG]
Thanks...sometimes you get really lucky...like that other thread...they found a mustard gas at Walmart!
I just took pity on a little "girl" that was very colourless but still spunky. The best I hoped for was for the fish to get healthy enough to show off the irridescence of purple/blue that was vaguely showing...like I said, I got lucky!
Marbles...I LOVE marbles.. Delta to Halfmoon are the prettiest, IMO.
---
Proud owner of;
1 Cambodian Female CT Betta~3gal
White/Blue Marble SD Betta~3gal
2 Chihuahuas
I usually get the ones that need the most TLC but are not about to keel over...
That being said, I love yellow bettas. She came from petco

Him. Sometimes he had a aqua sheen, sometimes he looked golden. Found him at petco and I have never seen another like him. he was a bit of a weirdo though. Loved to STARE at me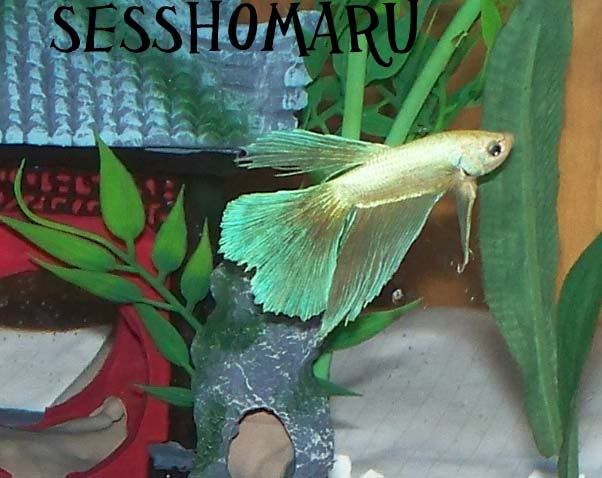 ---
---
Last edited by Tikibirds; 03-24-2012 at

02:07 PM

.
Sesshomaru is an awesome name. He is my all time favourite character. Cute fish.
---
My Baby
Mr. Peepers - Double Tail/Halfmoon/Plakat

IBC Member
Yes he is beautiful w/his golden body and sea foam fins...he reminds me of mermaids and Neptune, and walks at sunrise on golden sand beaches.
And I am always on the lookout for a cool butter yellow or lemon yellow...I love them, too....at least they're more common than true green...my other all time favorite!
I have yet to see a completely yellow fish where I live or a green one for that matter. Most of the ones we have here are blue or red.
---
My Baby
Mr. Peepers - Double Tail/Halfmoon/Plakat

IBC Member
I like the black fires and blue butterflies