New Member
Join Date: Mar 2012
Location: Clifton Forge, VA
Posts: 12
Got my first Betta!
---
Me and the hubby were walking through Walmart the other day and we saw them and started talking about how neat it would be to have one. I know/knew nothing about them so I did a google search and came up with this site. Have learned a lot about them and caring for them and the like and so we went to Petsmart today (the only animal store in this area, which was still an hour away! but the fish staff did seem to know their stuff about Bettas) and got a 10g. tank, all the fixin's, ornaments and a male betta we named Raxicor.
We have the tank set up with the filter on, water conditioner in and the heater on as well and have Raxicor in his cup off to the side. Here is a pic of the tank, I don't have any of him yet but will once we get him settled into his new home in a day or two (not tonight and probably not until after the kids get home from school tomorrow).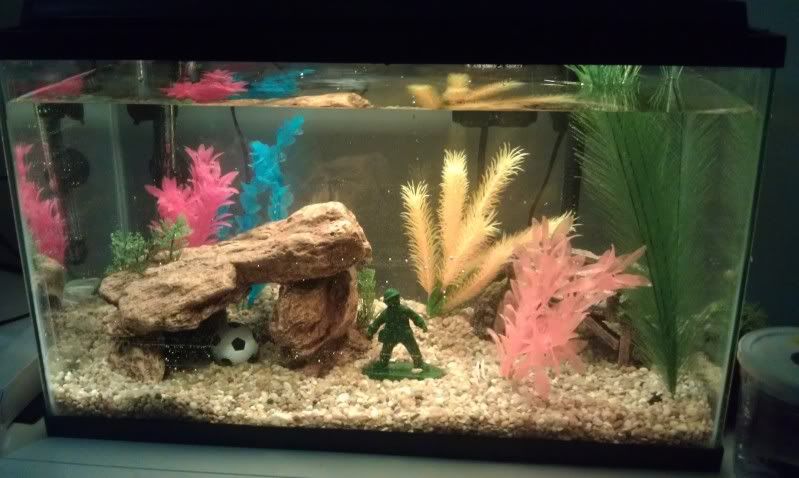 That is one awesome tank! My fishy is so jealous in his little 2.5 gallon.

You will quickly find they are the best fish ever!
Just a tip: read the sticky on cycling. :) When you add Raxicor your tank will begin to do a fish-in cycle, so it would be a good idea for you to know what's what. :)
---
Life.
New Member
Join Date: Mar 2012
Location: Clifton Forge, VA
Posts: 12
thanks all! We actually had to leave some things out. I have depth perception issues so "seeing" things in a tank (especially once you have water in it!) was hard for me to figure out. But, I guess too much, and leaving thimgs out!, is better than too little.

thanks! I have read it but it is different once you have the tank and fish vs. NOT having them. Plus we got a pamphlet on setting up a tank and I saw that it had it in there as well and read that also.
Make sure you get yourself a test kit. Some people use strips but the water ones are the best and more accurate. Welcome to betta parenthood :) you'll soon be completely in love with him! Do you plan on adding tank mates?
---
Gone AWOL....
New Member
Join Date: Mar 2012
Location: Clifton Forge, VA
Posts: 12
Not quite sure yet. If we do it won't be for another 2 weeks. The closest Petsmart is about 45 min. away from us so not a "quick trip into town". Between spring travel soccer with my son and inventory of the hubby, it probably won't be until next weekend or the weekend after until we can get into the city. Plus, this is our very first fish ever so we want to see how things go with him before adding cell mates. :)

We did get a test kit but it is just the strips. There are 25 each (ammonia and pH/et.al) so once those are done and we get a little more confident in it all we will probably upgrade to the liquid.

eta: the test strip para.
Have fun :) one thing I've loved about fish keeping is I've learnt so much, not just about fish themselves but I've learnt about water chemistry and aquatic plants. Even a bit of 'interior design'. I never knew fish could have personality :) I hope you enjoy it as much as I have. It is a lot more rewarding than I could have hoped x
---
Gone AWOL....
New Member
Join Date: Mar 2012
Location: Clifton Forge, VA
Posts: 12
Raxicor in his new cup. Hoping to get a better pic once he goes into his tank.