I'm looking for a black male halfmoon betta..does anyone know where I can find one.
NiceBettas.com will sometimes have STUNNING mustard gas bettas. Keep an eye out- the breeder is a real sweetheart, too.

As for the black halfmoon, it's rare to see a true superblack full halfmoon betta fish without any blue or turqouise iridescence. Black Melano female bettas are generally sterile, so breeders cross them with steel blue or copper females. Even my superblack halfmoon plakat, Storm, has a blue iridescence. Black lace bettas have even more iridescence, and have transulcent ends on their fins, giving them the "lace" look. For the most part black lace bettas aren't even categorized into the black category, due to the amount of color they generally have. You can sometimes find black halfmoons on Aquabid, between the price of the fish and shipping costs you're looking at around $60.
Thank you for your help....a little blue or turqouise is fine...just mostly black. :)
I have no more spots for males, and I promised myself I would get down to five before I got another. I don't go on AB, as I don't have THAT kinda money.. but when I go to the pet store and see gorgeous red CT males.... I have to pry myself away kicking and screaming. Literally having an argument with myself as to why I need/don't need that certain fish lol I wish I had money for AB fish.... maybe the nest time my local breeder does an order I'll jump in on it :)
---
Oh, I know what you mean. It's even more tempting to buy all the petco fish from the shelves when you DO have the money... >.> Like yesterday, I was browsing and saw a gorgeous turqouise butterfly halfmoon with a white mask. O__O I practically had to drag myself out of the store after pacing around the fish section for a good 10 minutes. I looked like a vulture circling its prey. xD
Banned
Join Date: Jul 2008
Location: Central Texas
Posts: 27,607
I'm getting a pair of whites from MrVampire.
Quote:
Days like these, I have to practically put a steel lock on my bank account to keep me from going crazy on Aquabid. I see sometimes I get these "cravings" for different kinds of bettas. One day it's a red dragon halfmoon, other days its a pure opaque doubletail. Today it's a copper halfmoon butterfly. I've promised myself behind my back that someday soon I will have one shipped my way. These dern fish'll be the DEATH of me. (or at least my wallet. LOL.)
Hopefully soon I will be getting promoted to a position at work that will pay an upwards of $900 a week. (Fingers crossed!!!!!) That means more freedom to expand my fish room, more tanks, more equipment, and more ease of mind when purchasing Thai fish. -__- I'm terrified of my lack of self control when I see a betta I want on Aquabid... watch for me on the next episode of animal hoarders!! Heehee.
But, I mean,.... who WOULDN'T want fish like these?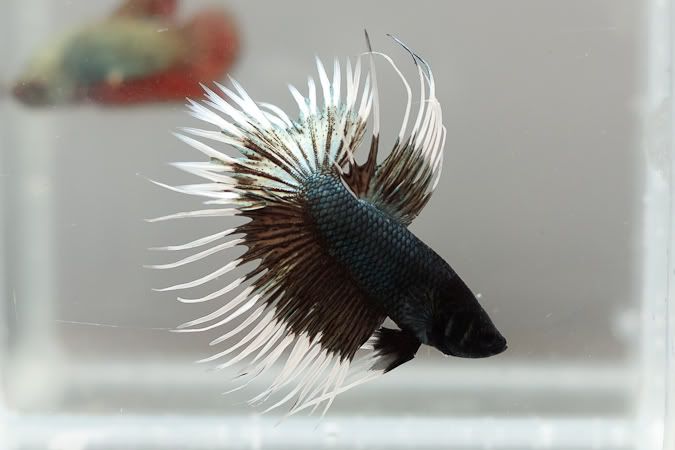 They are just so FLIPPIN' GORGEOUS. Mark my words, I WILL start a copper BF line. Mark. My. Words.
(Next week it'll prolly be a different color strain.... xD )
I think i have a customer who match your profile, been addict to betta is not good if you dont have the time to care for all of your fishes.
He live only few blocks from my house. He come to look at my fishes almost everyday and each time go home with few more males. Sometimes, i just want to tell him "stop buying my fishes, you have too much already" but i dont want to say that, he might be offend and never show up again.
He should have close to 60 hm males now and he only buy the ones that are expensive. He told me he has friends that would be interested of my betta but i prefer to keep it quiet, i dont want a bunch of people show up at my house everyday.
He came here yesterday then go home with 3 hm and he came this morning again and go home with 4 hm. Soon, i am going to be out of stock :P because of him.
I use to breed a lot of copper but not anymore, that color is not so popular today but i do still have few lines, only copper black.