Do you ever get Betta-CRAVINGS!? -_-
---
Days like these, I have to practically put a steel lock on my bank account to keep me from going crazy on Aquabid. I see sometimes I get these "cravings" for different kinds of bettas. One day it's a red dragon halfmoon, other days its a pure opaque doubletail. Today it's a copper halfmoon butterfly. I've promised myself behind my back that someday soon I will have one shipped my way. These dern fish'll be the DEATH of me. (or at least my wallet. LOL.)
Hopefully soon I will be getting promoted to a position at work that will pay an upwards of $900 a week. (Fingers crossed!!!!!) That means more freedom to expand my fish room, more tanks, more equipment, and more ease of mind when purchasing Thai fish. -__- I'm terrified of my lack of self control when I see a betta I want on Aquabid... watch for me on the next episode of animal hoarders!! Heehee.
But, I mean,.... who WOULDN'T want fish like these?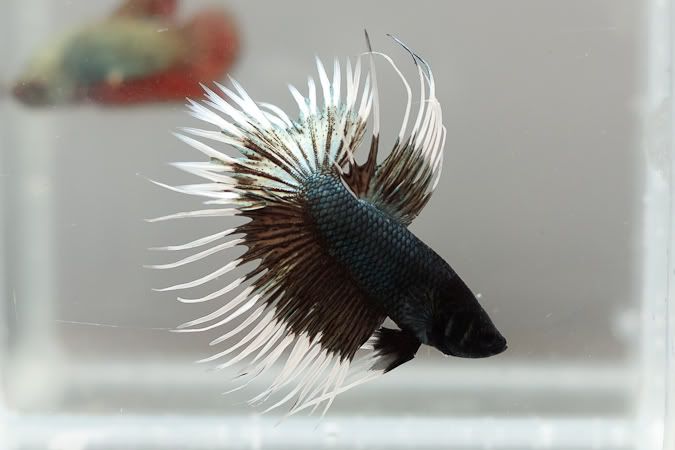 They are just so FLIPPIN' GORGEOUS. Mark my words, I WILL start a copper BF line. Mark. My. Words.
(Next week it'll prolly be a different color strain.... xD )
I certainly do! Sometimes I overindulge but I've been good lately... of course, it only takes Martinsmommy to list fish and then my good behavior goes out the window :)
I've had my eyes on the lovely blue butterfly halfmoon for well over a year!
But my tank is full of female bettas right now, and my new tank hasn't arrived yet.
No fun for me yet ;p
Just. So. Gorgeous!
However, at the same time I feel like I want to buy all of the bettas from the cups in the petshops to save them! .... They'll just stock more though. grr
---
Betta owner enthusiast.
Currently looking up information before purchasing one of my own. ♥
ohhhh boy do I know how you feel!
I just got another one from Walmart today. I'm going to be in so much trouble when my boyfriend finds out. Up to four fish now..... Whoops
Those are some beautiful fish! I have to stay off Aquabid...or else my bedroom would become a fish room and I'd be sleeping on the couch.
i did. and i caved. lol. but, who couldn't with this guy?
also, if you wanna oogle some beauties, check out Aquastar71's auctions. he gets some beautiful boys and girls! Hopdiggity also sells some beautiful bettas when she gets them in.
Quote:
Originally Posted by
flyingxchanges
View Post
I have to stay off Aquabid...or else my bedroom would become a fish room and I'd be sleeping on the couch.
Actually, my couch
is
pretty comfortable....
My cell phone never survives more than half a day, because I am CONSTANTLY on Aquabid looking for those "once and a lifetime" bettas (or at least that's what I keep telling myself, haha.)
I can relate with you guys completely. If I were to start a copper BF line, would anyone buy them?
I would! If you shipped to Australia, anyway. :p I love coppers so much! What is BF?

I know how you feel about cravings. That's how I ended up with Odysseus. :)
---
Life.
When you said "cravings" I thought for a moment to myself, why on earth would I like to eat bloodworms? and then the morning coffee kicked in
But yeah, right now I really really really want this orange dal HM I saw a few days ago ... he was something else! But I am trying to stay away from getting more bettas, really. I'll see how long I last, lol!
---
SAPPHIRE (Blue Mustard Gas OHM) / Quill (Brown Tabby and White Pancake Monster)[/FONT]
---
Last edited by fleetfish; 04-08-2012 at

05:49 AM

. Reason: grammar nazi.
the girl in my avi,
this girl, i got:
then this girl:
those are all the AB betta's i had. everyone here has the cravings for fish, am trying to look for a cheap HMPK male. it's so hard to focus on getting one!!
---
[CENTER] Cherry Pop, Gus Gus, Gaia
BF reffers to a butterfly pattern which is what you see well defined in the pictures above with the crowntail and the blue/white HM.