New Halfmoon
---
Well, I went to PetCo today to get a new betta. I haven't had one for several months after my last one died, but decided it was time again to get one. I really wanted to get a pretty crowntail betta as I'd never had one before but always admired them.
As soon as I saw this half moon, I knew a crowntail was out of the question. He was just too beautiful and nicely colored.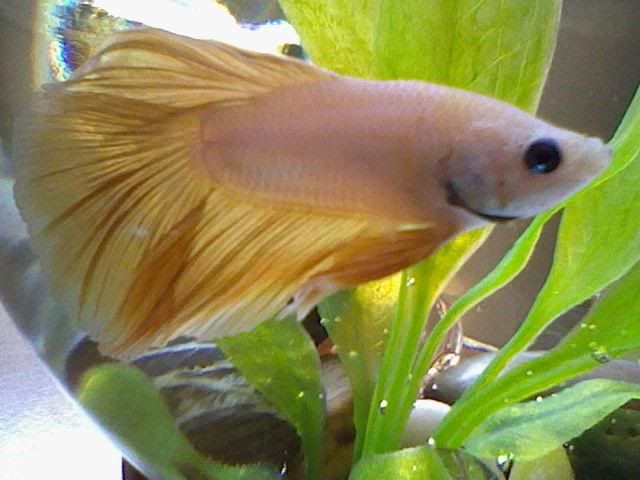 I've never had a half moon before either so this was definitely the right choice. I stopped looking at any other fish as soon as I saw him
I'm still working on a name for him.
---
Delta Tail: Lockheed (RIP)
Veil Tail: Pyrex (RIP)
Halfmoon: (Name Pending)
he's lovely!

but, i suggest a bigger tank for him. .3. in my experience, Halfmoons can be pickier about tank size. i've never kept one in anything smaller than 1.5 gallon. it's easy for them to start tail biting in smaller tanks and bowls because they can see said tail easier.
The bowl is actually a 1 gallon bowl, it looks small in the picture because he's very close to the front. But I appreciate the advice, never having had a halfmoon before, a bigger tank is probably a good idea. Thanks!
---
Delta Tail: Lockheed (RIP)
Veil Tail: Pyrex (RIP)
Halfmoon: (Name Pending)
my current delta is in a 2 gallon tank, and only tail bit once. Twitch, my doubletail halfmoon was in a 1.5 gallon, and was recovering from tail biting. i put him in a gallon, to give him a different place, and he nipped his top tail a bit. >:I
He's beautiful!
---
Torch - (Technically sister's) - Male HM multicolor
Zane - Male DBHM White/blue-green marble
Regina - Female Delta Purple/red grizzle multicolor
Holding a grudge is like swallowing poison and expecting the other person to die.
RIP Nightmare!
What an amazing find! I wish I could find a yellow at a petstore neat me. Beautiful.
---
BettaSmart
: My personal blog dedicated to ending the myths and misconceptions on Betta fish care through educational articles. Topics range from basic care to raising awareness about the dangerous marketing practices in the fish world.
When he gets some more colour on him, he's going to look like my Odysseus. :D Fish snap!

Got to say, my little HM man really loves him 5 gallon. He doesn't swim amazingly but he's all over that. :) He also loves having a java moss bed to spread his fins over like a Disney Princess. :p
---
Life.
Banned
Join Date: Jul 2008
Location: Central Texas
Posts: 27,607
Stunning fish. Lucky find!
Similar Threads
Thread
Thread Starter
Forum
Replies
Last Post
New halfmoon needs a name

peachesxo

Betta Chat

21

03-04-2012

10:16 AM