Back, after falling off the face of the earth!
---
I know how quickly people can be forgotten, but if anyone remembers me, I just wanted to touch base and say I haven't forgotten about all of you here! I have just been crazy busy and actually graduated from college. My senior project featured a planted betta tank, among other tanks and how classroom pets can be more than just a forgotten creature in the corner, but instead an educational tool that can help children learn good animal care skills as well as a connection with nature and various cultures around the world. The beautiful fish that I won through a contest on this website was brought onto campus and more than 100 people got to see how a betta should really be cared for!
Here is a picture of my space for my senior project called Terrariscapes before the blue tape was removed after painting:
And here is Makara on the day of the presentation. It really isn't a good picture of this stunning fish, but it will have to do for now!
In addition to him, I still have my lovely little Spooky, a dalmatian female, and a male baby who is still un-named. Once I am happier with my tanks (as I just moved back home from college and things are all in a tizzy!) I will try to get more pictures up! I hope everyone here is doing well!
---
Remember that the tank your fish lives in is his or her's
whole
world. Ask yourself this question, and answer it honestly: would you
choose
to live there?
Banned
Join Date: Jul 2008
Location: Central Texas
Posts: 27,607
Welcome back!! Your project sounds wonderful.
Welcome back and congrats on graduating! (what degree was this project for? I would have loved to have a hands on degree, well- hands on anything but old history books lol)

Makara is a beaut :)
---
"Education is the most powerful weapon which you can use to change the world." -N. Mandela
To my journal!
http://www.tropicalfishkeeping.com/j...ourami-592858/
Thank you! I actually made a poster for each species I included which had a little factoid about each one that most people didn't know about. For the betta I asked "What is a labyrinth lung?" I actually want to continue the project further as a resources for teachers on the website I created, but didn't get very far with it yet. I created fake rocks out of Styrofoam and covered in concrete for all of the enclosures except the betta, as it takes about a month of water changes before the water becomes stable for life again. I do, however, have a rock formation in my 2.5 gallon tank for my baby betta and he is doing just fine with it.
The degree I got is Visual and Public Art, and my emphasis was in Art Education and Museum Studies. So basically a Bachelors of Art, but I went in specifically knowing I wanted to try to bring more art into the classroom. I don't know what I am actually going to do next either.
---
Remember that the tank your fish lives in is his or her's
whole
world. Ask yourself this question, and answer it honestly: would you
choose
to live there?
Congrats on graduating!! I did a science project on betta agression once, it was pretty fun I got a blue ribbon (the highest award, I was hoping to get best in my grade)
I do remember you, I remember your picture, with the "pectoral fins" :D
---
~bettalover2000
I>~<I

Bowties, are, cool.
One Ring to Rule Them All, One Ring to Find Them, One Ring to Bring Them All, And In The Darkness
Bind Them

That sounds awesome, and those tanks look nifty!

Did you go ahead with your tongue-splitting? :)
---
Life.
I will probably either get my teaching credentials or work in a museum. I have a fair amount of experience working in a museum setting already, and teaching actually as well now that I think about it. Haha.
Yes, the fish with the subtle arms. That was based on my first betta, Smaug. He was a good fish. I would actually love to do some experiments on bettas. My first one would involve testing the digestibility of various foods by bettas. That is, to see if they are simply carnivores like dogs or obligate carnivores like cats. But I don't have the resources to test those things myself at this moment. Others might involve raising fry on various diets to see what gives the best growth rates and such. Stuff that other people might have done as well, but would still be fun to do!
I have not yet split my tongue, though I plan on doing it eventually. Just the piercing is quite fun for now, and as I just had my two remaining wisdom teeth removed I am not in a rush to mess up my mouth again. :)
Here is the betta poster. It is maybe not quite as accurate as I would have liked, as I am not sure exactly where the labyrinth lung is located, but as best as I could tell was that is is under the brain.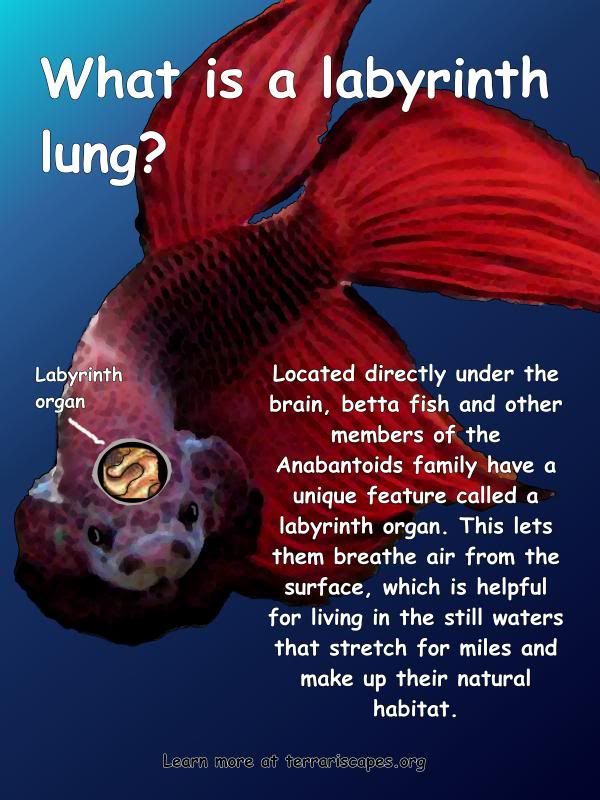 ---
Remember that the tank your fish lives in is his or her's
whole
world. Ask yourself this question, and answer it honestly: would you
choose
to live there?