Yeah that would be my concern. Plus I can see intoxicated people thinking it's funny to mess around with the fish. If I was doing a centrepiece I would want it only on my table where I could make sure the fish wasn't being harassed.
---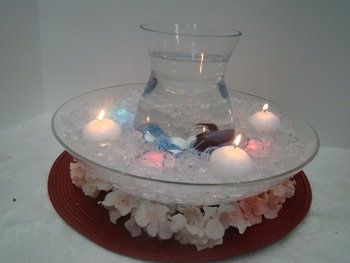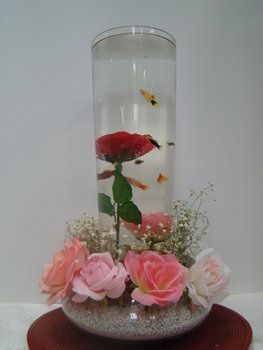 Quote:
these are a sample of the centerpieces we sell. They are incredibly classy and fun. They have flowers, fish and, pizzaz. Please let me know what everyone thinks! thank you.
Source:
http://m.projectwedding.com/post/lis...rpieces?page=3
One person responded:
Quote:
I love love love this idea!!!! Betas are a great idea! ONLY ONE PER BOWL!!! Plus they make these awesome lighted marbels that you can mix with other marbels for the base. You can always add fake orchids or other flowers to the bowls as well. I have one as a center piece in my dining room! His name is Lenny! Plus you can always give the little guys to a new home. Poeple will be happy to take them home. they are very low maintenance fish! I love the idea. I might just even blog about it on my website.
*shudders* I don't know why I keep looking for more of these. They just make me upset...
---
"knboyd
06/07/2011 at 12:37 pm
I think its an awesome idea! I may have to steal it and use it at my wedding!! All the pictures I have seen are beautiful and dont look cheap at all.
Some people can be a little too honest on this website.. and by too honest, I mean rude...
anyways, i think its an awesome idea! go for it!"
Hah! Being honest is being honest, when it comes to how to do things RIGHT! I did get P. Willy from a friend, they had betta centerpieces at a party he went to (>.<), he knew I had been
doing research
and really wanted a betta, though. It wasn't a "oh, they're giving away fish! I'll surprise my friend with one."
Nonetheless, it has been 2 years since I received him, and everyone I've talked to who attended the event said they're fish died. They did have them in nice big vases, with no candles or junk from what I gathered, and they only had a couple.
If I ever did this at my wedding, I would use my own fish and only have a few. I'd also put a note that says "these are my fish, this is just a temporary housing."
---
~bettalover2000
I>~<I

Bowties, are, cool.
One Ring to Rule Them All, One Ring to Find Them, One Ring to Bring Them All, And In The Darkness
Bind Them

Yea. If I were to do it they would probably be removed after dinner was over. You still have a nice center piece even without the fish. I didn't think about kids actually. I don't see many young kids at receptions anymore.
Quote:
They are incredibly classy and fun
Their idea of 'fun' and 'classy' must be at polar opposites with mine.
---
I dont know whats so unique about it. Floating candles and plants in water isn't anything new and is quite tried. Oh yes, let's make it F'ed up by adding a fish with the candle! So trendy and new!

In the world of Pinterest and wedding blogs, you would think people would find something better, prettier and easier to deal with that's actually unique.
Well said, BittyB.
I think the worst offender is the first image I posted with five goldfish in what looks like 1/4 gallon of water.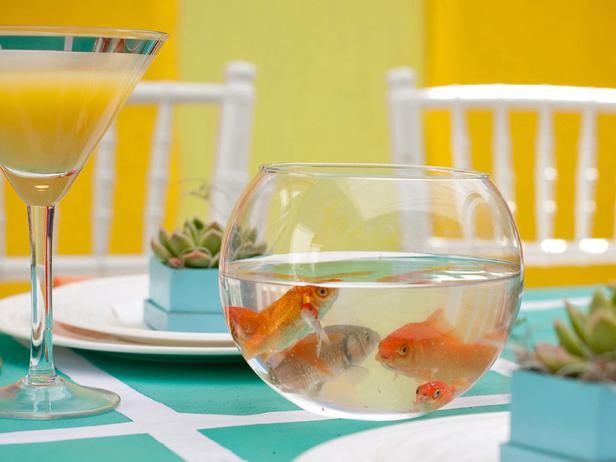 The author's caption?
Quote:
Make a Splash
Bring the table to life with a touch of kitsch. Goldfish bowl centerpieces are a great non-floral alternative. They are economical and easy to assemble and they are sure to keep the atmosphere light and festive.
Source:
http://www.diynetwork.com/decorating...es/page-2.html
Yes, five distressed goldfish gasping for air is oh-so festive.
---
Well I personally find it disgusting, but people are going to do it and not even think about what to do with the fish, but this is not the only thing I find horrible. I do not like people buying wild caught fish at all, but that is me and I am sure otehrs have no problem with buying wild caught fish, I personally think they belong in the wild not in someones tank, seems to me there are plenty of fish being bred for people to own
If one were absolutely set on doing something like this: Gallon bowls, a live water plant per bowl, and female bettas what would be put into a sorority after the event was completed. Along with their water plants. And notes on the table to the guests that the fish are not party favors!
But quite honestly, the goldfish figurines were adorable, and much less likely to be stressed by the event
I did have water bowls and floating candles at my reception (NO FISH) - I did them myself. Maybe it was more cutting edge 18 years ago?
---
The Boy Feesh: Indigo CT, Lavatail CT, Ghost CT, Chicory HM, Redfish VT, Magic DT
The Girl Feesh: Christmas CT, Shine VT, Snowflake CT, Stripes VT, Midnight CT, Grif VT, Tangerine VT, Wraith CT, Amethyst VT, Ice CT, Poe CT, Turquoise II CT
I truly think if you want a fish at your wedding ONLY ONE put were the wedding party sits or something like that make sure teres NO CANDLES in it and that the vase there in is quite large like 5 GALLONS my mom kept a fish in a vase that was five gallons when she came home with the vase and the fish I was shocked I was all like whoa where did you get a 5 GALLON vase LOL anyways yeah 1 fish used as a center piece at the wedding partys table not 1 fish per table 1 FISH ONLY AT THE ENTIRE WEDDING and you must have someone who's able to take it HOME. The five goldfish in one bowl made me sick to my stomach you want fish DO YOUR WEDDING AT AN AQUARIUM OR AQUATIC ZOO JEESE PEOPLE