Fish as Event Centerpiece
---
So, I was looking up something about goldfish and one thing led to another, and somehow I stumbled upon site after site of cheap and easy DIY centerpieces. Seriously, there are dozens and dozens of wedding blogs and sites that have entries teaching people how to make fish centerpieces with comments gushing about how "cute" and "unique" the idea is.
Um... How does anyone think these look nice? Personally, I find the concept sad and revolting. Who wants their guests to share their dinner table with a dead fish? Because I will bet money many of the fish in the images I found did not last the night.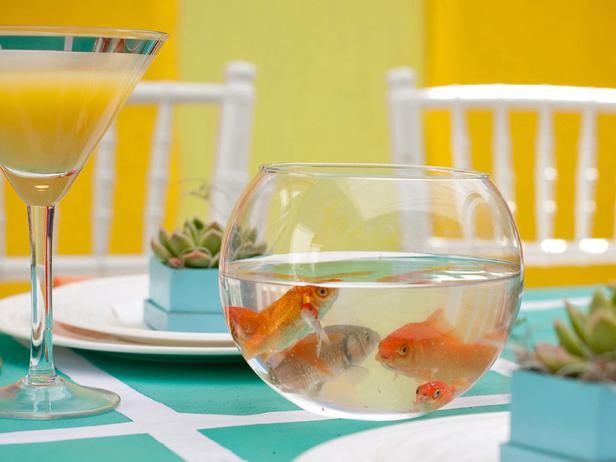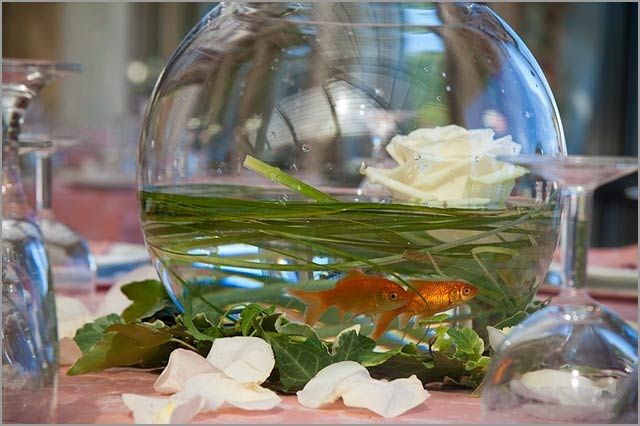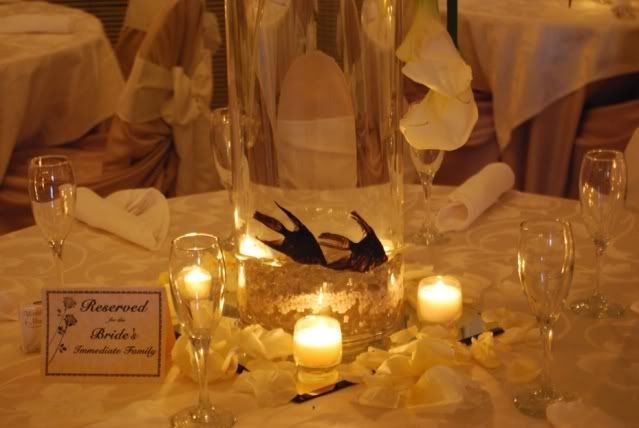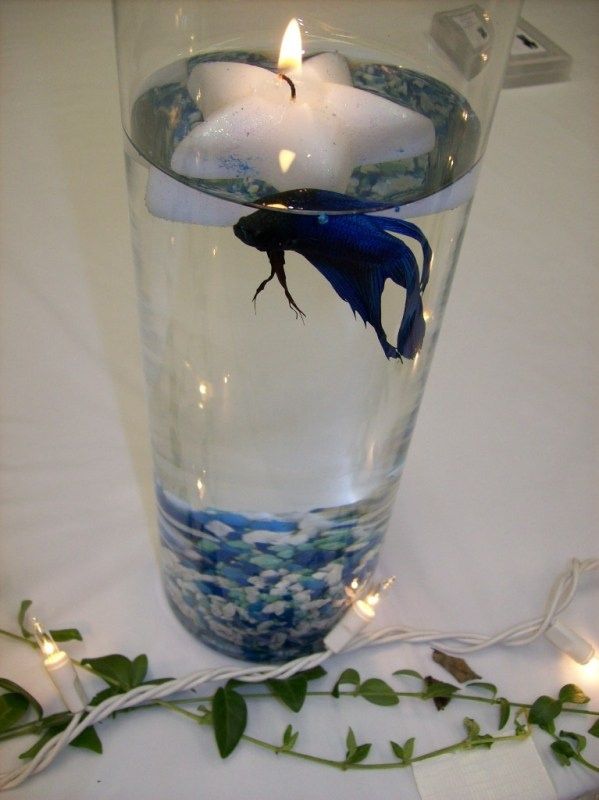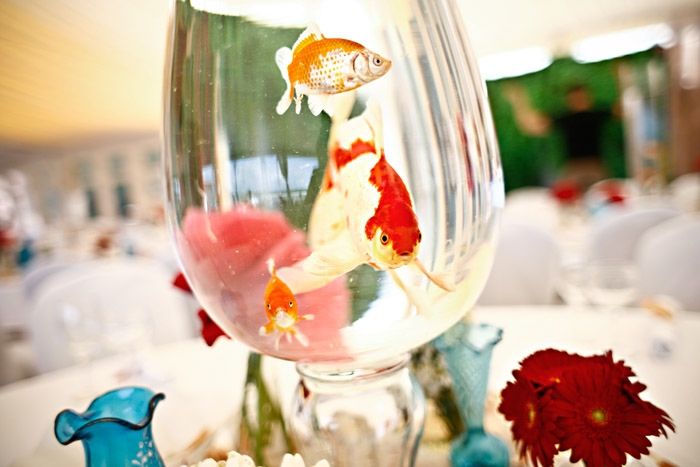 ---
I hope you sent an informative, yet respectful email to them. That's disgusting and counts as animal abuse in my book. I don't care how "cute" it is, it's not right.

A trio of goldfish need at least a 40g tank with good filtration, not a half gallon bowl.

That betta looks ridiculously sad. Maybe it's the burning hot candle wax dripping into the water.

The angel fish... Just.. Ugh.

Someone told me that I should sell some bettas that I breed to marrying couples. Right. I'm sure she thought of what would happen to them afterwards. Stuff like this makes me sad. At least, being a part of this forum, I know there are also plenty of good, responsable fishkeeper a who care!
---
Last edited by MattsBettas; 06-20-2013 at

04:36 PM

.
They were images taken from many wedding advice/inspiration sites and forums I'm not a member of. I tried to leave a comment on one of them, but it didn't show up.
My absolute favourite was this person's question on Wedding Wire:
Quote:
Does anyone have any direct experience with this? I'd like some advice on how it worked out for you, your guests, and the little guys in the bowls? Most of what I am able to find are self-righteous posts from snarky people who think it's a horrible idea. I get that a lot of brides personally think it's terrible.... I'm not interested on opinions on whether to do it or if it is cruel, I would just like to hear of people's own experiences."
There was one bride that said that she planned to get a few extra fish and designate someone to keep an eye open and swap them out in case they die. Ugh. When asked what she'll do with the fish after, she just said guests will bring them home. Right. 'Cuz it's totally not a burden and an inconvenience on the guests' part to be dumped with live animals they never asked for.
Now if they must have fish at an event, I think goldfish figurines with some flowers are nice. And they won't die on you during the event and guests may actually want them.
---
---
Last edited by Fenghuang; 06-20-2013 at

04:51 PM

.
I think they all look tacky and incredibly pathetic.

I hate how disposable fish are to people. While they may not have the breadth of emotions possessed by animals such as cats and dogs, they should be no less deserving of humane care while under someone's ownership.

I cannot believe how callous some people can be. What a cold-hearted individual that person you quoted is.
---
My friend had a betta in the center of her wedding cake, he was the only one, and she brought him home with her, and she still has him.

If you want to include fish in your event, incorporate things that are fish like.

those fish figurines are ADORABLE!
Matt: Thank you for not being selfish and actualy having compassion. I imagine some sellers wouldn't bat an eye at the fates of the fish if they can get some quick cash.

LBF: Couldn't have said it better myself.

Skye: I don't have a problem with people incoporating live animals into weddings as long as they keep the animals' wellbeing in mind. Your friend is one of the good ones. Oh! Maybe you can make fish wedding decors to sell? There has to be a market for those and they would really be cute instead of blatantly cruel and ugly.
---
---
Last edited by Fenghuang; 06-20-2013 at

05:04 PM

.
My friend's aunt used to have a huge thing for Bettas and had like eighteen at one point, then she got engaged. At her wedding she had those little glass gallon bowls and put some of her prettiest boys and girls in them as centerpieces with bright gravel and fun decorations. It was summer, so there weren't heaters. That was years ago and the fish have passed, but I saw pictures and it was a cute idea. Those pictures above though... Just ugh. I cannot believe people would do that!
---
55 Gallon: Crowley: Melanoid Axolotl; Mischa: Melanoid Axolotl; Achlys: Albino Axolotl; Eddard Stark: Leucistic Axolotl
Furry Friends: Daisy and Holly: Dogs; Norman and August: Cats; Gilbert and Mordecai: Guinea Pigs
I can totally understand loving fish and thinking they are beautiful and wanting to make them a part of a special occasion. I just wished more people cared about making sure the fish aren't overly stressed and don't have hot wax falling on them or something like that and made plans for them to go to good homes afterwards. I mean, there was one person who said that someone got drunk at her wedding and swallowed a fish as a dare...

What I think is even worse is that the people that commented saw these exact pictures and thought they were cute.
---
For a small summer wedding I could see someone who breeds "renting out" bettas in gallon bowls or vases with rocks and silk plants that match the theme. If the breeder designed and set up the pieces then they would know the fish have space and access to the surface of the water just a few hours in a bowl wouldn't hurt them and people could have their fish center pieces in a humane way.

With a heat pack under a shorter bowl and something to hide it you could even do weddings in cooler weather I would think.
---
Last edited by LizbethDawn; 06-20-2013 at

06:15 PM

.
That would be a nice idea, Lizbeth. Better than the DIY instructions. They just say buy some glass containers, fill them up with water and flowers/candles/etc., buy some fish, and put them in. Not even any mention of acclimating or anything.

I think environmental stressors (loud music, being shook, children wanting to touch the fish, etc.) are what kill, though, not being in the small space.
---