Thanks so much!! Unfortunately, any adoption will be at least a year away. We simply cannot include a new dog in our lifestyles atm. We both graduate school next summer and from there we need to plan where we will live and find work. Then we will find a dog.

Our dog plans DO include a reputable trainer for helping us integrate a new dog into our lives and to help with bonding and stuff. I figure if we find a dog we really like we'll do whatever we can to make it work out.


I'd love to learn your story with Zorro :)
---
"Education is the most powerful weapon which you can use to change the world." -N. Mandela
To my journal!
http://www.tropicalfishkeeping.com/j...ourami-592858/
Zorro is gorgeous!! <3

He thought that you needed to go save another fishie... Such a thoughtful fella!
Oh my! What a sneaky doggy! Congrats on your new fish, and your handsome boy.
---
The mom of: Too many to list now.
Member
Join Date: Jun 2013
Posts: 119
Here is how it all started.
I moved to a big house with a nice size yard. I am on a corner lot. So there is easy access to our yard. Told hubby I wanted a dog to alert us of when someone is around and also as a deterrent from crooks. I'm home alone all day. I was thinking German Shepard. Hubby calls me and tells me that one of his regular customers are selling Olde English Bulldogges. I started researching the breed online and decided, "yeah a scary looking dog sounds perfect."
We started buying supplies and tons of puppy food. We had everything! We were still one week away from getting our puppy. We decided on a girl. We met with the breeder and he showed us his 2 available girls. I chose the white and brindle one. We brought her home and named her Zoey.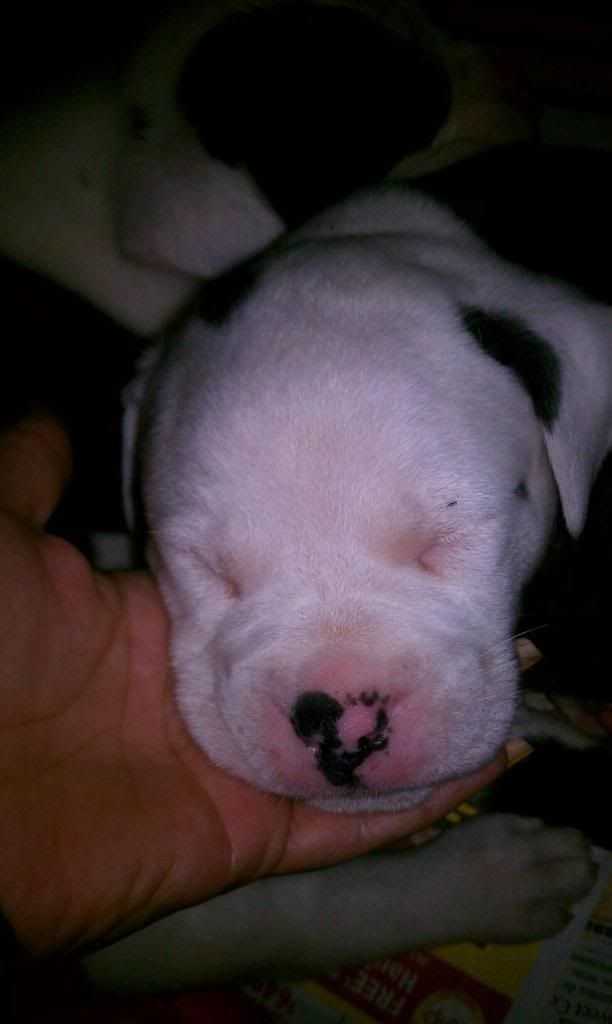 Following day our Contrcactor came by the house and fell in love with her and he said he wanted a male. We arranged with the breeder and the contractor said he will back in the morning to get him. We stayed with him over night and I was instantly attached. I didn't want to give him to the contractor but I knew I had to. He came and took his pup. When hubby got home he saw I was sad. I told him why. If you want another one I will get another. I said yes and hubby went to the breeder and brought me another boy we named Zeus. This photo is with Zeus on top and Zoey on bottom.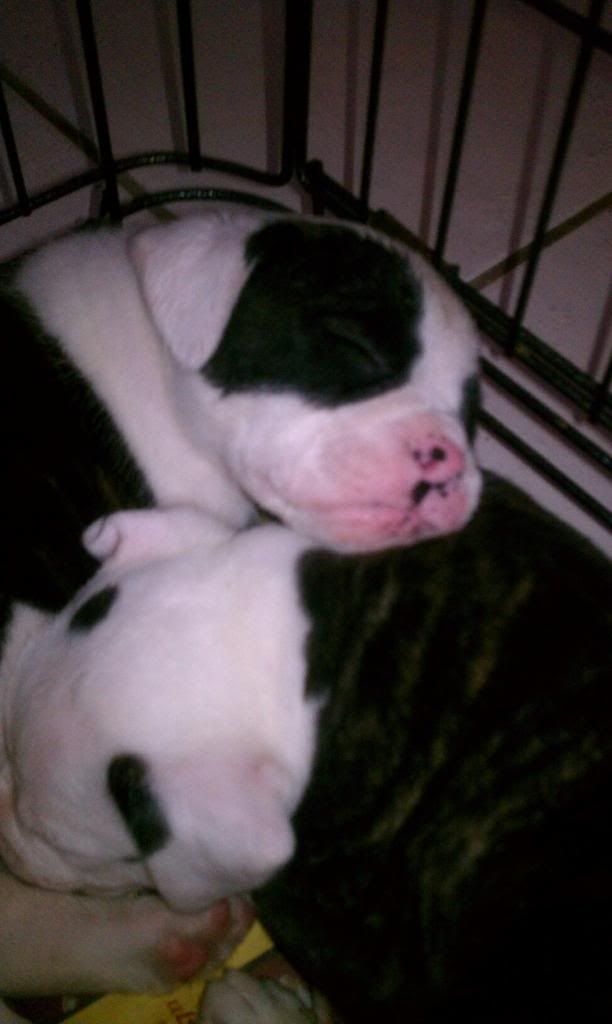 to be continued.......
---
---
Last edited by Vickytoria3112; 06-27-2013 at

09:33 AM

.
Member
Join Date: Jun 2013
Posts: 119
Zeus and Zoey were awesome. I couldn't ask for a better duo. They got along great and were always playing and running and chasing and pulling. It was amazing. Since I got Zoey on a Thursday and Zeus on Saturday, I had to wait till Monday to take them to the vet. Just to make sure they were in good shape. That Monday vet said everything was fine and to bring them back for their 6 week check-up and first set of puppy shots. Before then, we bonded even more and it was fun having them around.
Zeus top Zoey bottom.
Zoey
Zeus
Upper left Zoey Lower right Zeus
Everything was lovely with my babies. They were heavily adored and spoiled. On the day of their appointment as I was waiting in the waiting room, everyone was complimenting on my pups. I can't lie, they were cute. Everyone wanted to pet them others were going crazy with the puppy breath smell (sounds weird but I love the smell of puppy breath too).
We were called in. Vet tech was looking over the pups while the vet was getting the needles ready. Oh how I hate needles and I'm paying this guy to stab them with my pups. I know it has to be done. First is Zoey. She didn't even make a sound. What a tough girl. Then it was Zeus' turn. He didn't make a sound either. The vet was talking to me and telling when the next appointment was and about the pups in general.
All of a sudden Zeus dropped dead. Right there on the table in front of me. He was just playing before we came. This can't be happening. The vet grabbed him and ran to the back. I was screaming and crying frantically holding Zoey in my arms. "What's going on?" I cried. "Please let him be ok?" What did you do to him?" I called my husband right away and he came as quickly as he could.
The vet did everything he could and said he's sorry, there's nothing else he can do. Right at that moment Zoey started whimpering in my arm and it made me even more emotional. The vet concluded that its very rare, however, there has been cases (that he's read about) where puppy vaccines can cause a fatal reaction due to an underlying condition. All he could do was apologize and he paid me for the puppy. We went home miserable and heartbroken.
My husband knew how devastated I was so the next day he kept calling to check up on me, the kids, and Zoey. I was an emotional wreck. But I had to keep going on for my family. Hubby came home later on and was acting weird. I don't know why but he was. Then he said, "Babe, I left my bag on the passenger seat, can you get it for me please?" So I went to his car and opened the passenger door. As I went to reach and grab the bag I got startled because I saw something move on the floor. I though it was a rat. But I looked again and realized it was another puppy. I smiled. Picked him up, gave hima kiss and went inside the house.
I held the puppy up in my hubby's face and he said, "Before you say anything, I didn't pay for him, he was the runt of the litter, and the breeder felt bad about Zeus so he said we can have him." I said, "He's full of fleas. I will bathe him." After his bath I took him outside and started picking off the dead fleas that didn't come off during his bath. All of a sudden I was in tears thinking about about Zeus. Hubby came outside and notices I'm crying. "Why are you crying babe?" I stood up shoved the puppy in his arms and said, "It's not the same." And walked inside and slammed the door. I jumped in my bed and left hubby finishing off the flea job. I almost felt like i was betraying Zeus. As I layed there crying I started making myself feel even worse by saying to myself. "stop acting like a child." But it's kind of hard when you arlready have anxiety problems.
The following day I decided to give this little guy a chance. So I named him Zorro.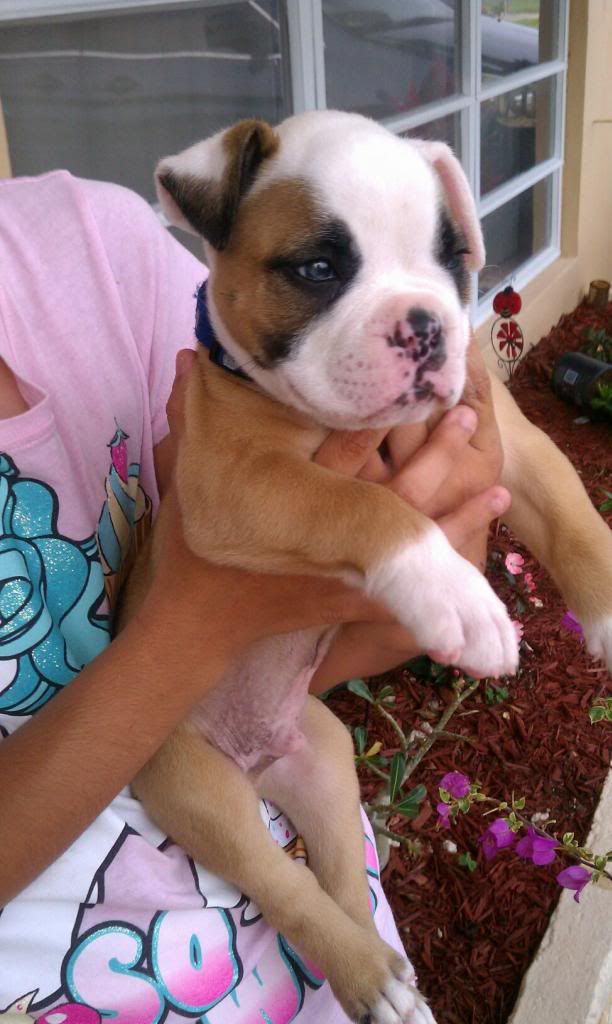 Took him to the vet because I noticed he had diarrhea. Vet said it was parasites so he de-wormed him and said he will not vaccinate him till another 2 weeks because of what happened with Zeus. Since they are siblings. I agreed. Everything was going fine with the pups. They played together, ate together, slept together. It was becoming pleasant again.
They were like 2 peas in a pod, check out these 2 photos...lol.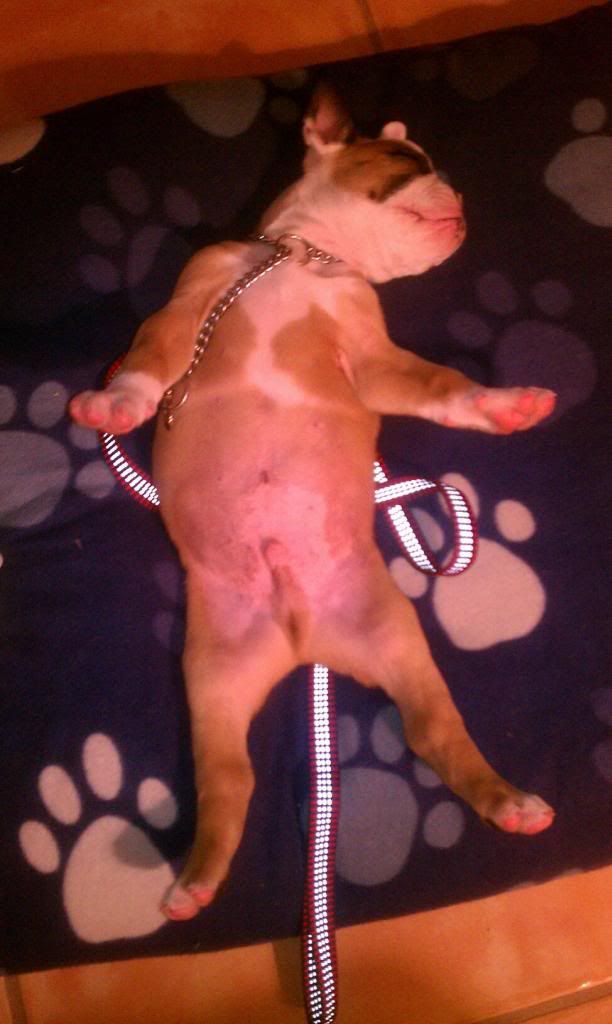 to be continued....
---
Member
Join Date: Jun 2013
Posts: 119
I realized Zorro's diarrhea never went away. I called the vet's office (he was on vacation) and the vets assistant asked if the pup was still eating, yes. Is he gaining weight and active, most definitely. "Then it's not a major concern. Sure when the vet gets here it will have passed by then." Ok. I'm not a vet so they know more than me. Plus Zorro is healthy and playing like mad. He was extra hyper. He would run around Zoey and she will sit there watching him as he goes round.
Then he would sleep.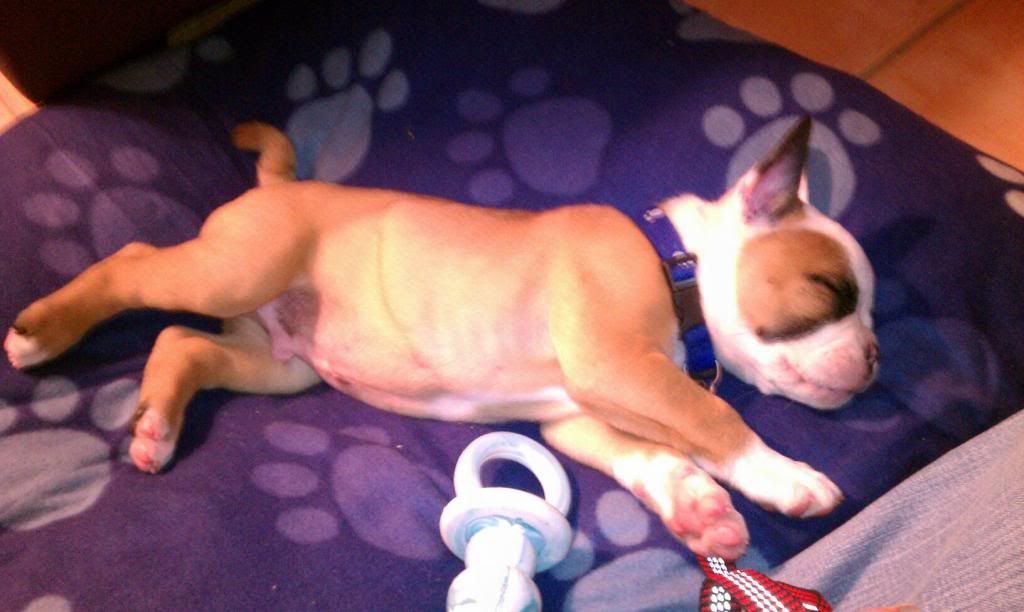 and sleep...
and sleep...
What a sweet sleeper.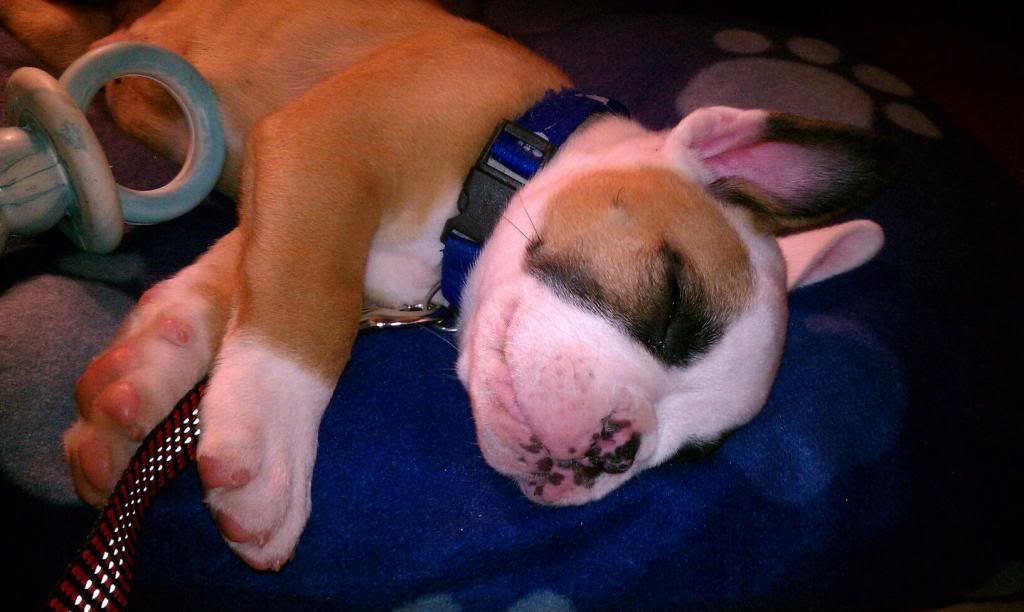 Soon I noticed he was vomiting. Lots and lots of vomiting. His diarrhea became explosive. This started at 3 am. I waited till 9am when the vet opened and told the assistant the symptoms. She did a fecal test and it came back positive for the Parvovirus.
For those that don't know what Parvo is:
Canine parvovirus
is a particularly deadly disease among young
puppies
, about 80% fatal, causing
gastrointestinal tract
damage and
dehydration
as well as a cardiac syndrome in very young pups. It is spread by contact with an infected dog's feces. Symptoms include lethargy, severe diarrhea, fever, vomiting, loss of appetite, and dehydration. - Wikipedia
The assistant had a very strong accent and I knew by the tone of her voice that she was sincere. She says, "This is a pure breed. I don't want you to leave him here. I don't trust him here. Please, take him to hospital where they care 24-hours. It's your choice."
I didn't know what to think. I was in shock. I know he didn't get this Parvo from home, nor did he come home with it from the breeder. It must of been here at the vets during his last visit which was 9 days prior. I got to the car and called my husband. He was busy at work. So, I went home. I put Zorro in his kennel and Zoey was in hers. Zoey didn't like to be in her cage alone.
to be continued...
---
Member
Join Date: Jun 2013
Posts: 119
I sat on the floor next to Zorro's cage. I put one finger through the bars and rubbed his forehead ever so slowly. Trying to take it all in and trying to spend what little quality time we had together. I personally don't know any one person's dog that has survived this. This virus is extremely aggressive and there is no cure.
Zoey is on the other side of me barking and whining and growling. She does that little stance where you know they want to play. When they put their butt in the air and with their head down with that tail wagging. She wants to play with her brother. "Sorry girl, Zorro isn't feeling well." I fed Zoey and I looked at Zorro's empty bowl. I say to myself, "should I feed him? will he even eat it?" I'm going to try anyway. Put him some yummy wet puppy food in his bowl. I warmed it up like I always did and mixed it with goat's milk. They love it like that.
I walked to his cage and he was sitting up. Looking at me with his sad eyes. You can tell he didn't feel well at all. "Do you want to try and eat something sweetheart? Mommy brought you your favorite." His tail wagged and I put it in his cage. He actually gobbled it all up as he usually did. I was impressed.
My husband finally called me and said he was on his way his way home. I told him what Zorro had. Explained to him what parvo was and he was so upset. "If that virus is what you say it is then maybe we should just put him to sleep. That way he won't suffer babe." I started crying and said, "You don't know what this is doing to me. I'm going to go crazy. I can't lose another dog Jose. My heart can't take the pain again. Besides, he just ate all his food. If he was at death's door he wouldn't still be eating and drinking. He still has a chance. Please, let's try and save him." My husband stayed quiet for a few moments, then said, "Ok, get the kids ready so when I get home we can take him to the hospital."
We took him in, they told us their is no guarantee which we already knew we were taking a chance. Said they can only treat the symptoms and hope he stays strong enough for his immune system to start kicking in and help him fight it off. We left him in the care of the professionals. They told me to have other dogs in the home tested and quarantined. I had Zoey and 2 other dogs. My 2 other dogs were older and were already vaccinated against the virus.
Following day I took Zoey to the vet to have her tested. She was negative. But she didn't look right to me. This is her in my car on our way back home.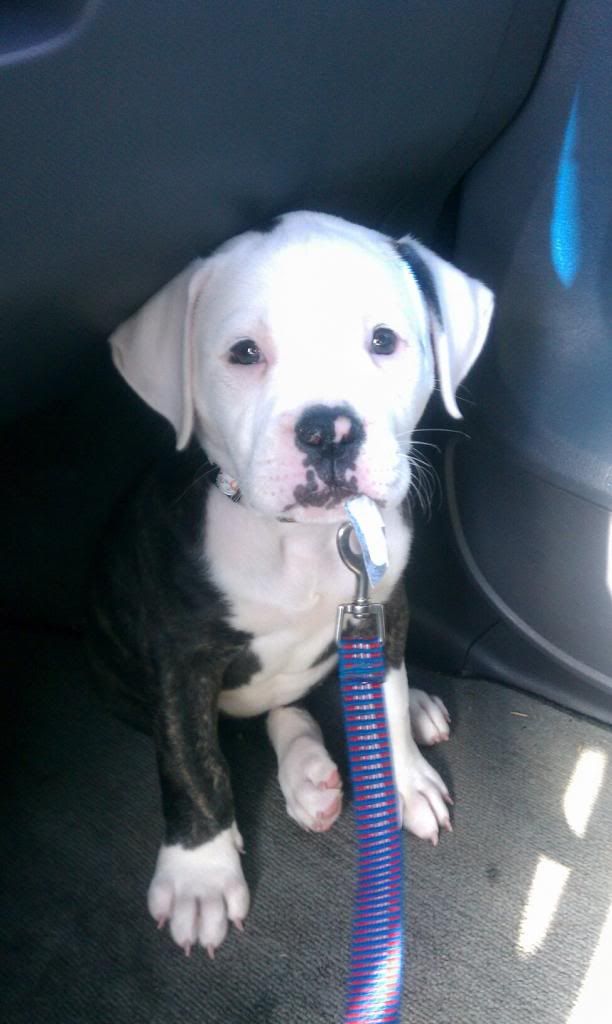 to be continued...
---
Member
Join Date: Jun 2013
Posts: 119
After getting home from the vet I cleaned every nook and cranny of my home with bleach. Bleach is known to kill the Parvovirus. I had a garden hose sprayer that I filled with bleach and watered my lawn with it not caring if it killed my grass. I read that somone could step in dog poo and walk around to the mall. You at the mall can step on the floor where the other person's shoe touched and now the virus is on your shoe. You take it home and your dog sniffs your shoe (virus can be inhaled) or they take a little lick and they are infected. I just had that one hope that Zoey didn't get it and we still have a chance to make it right for her.
The following day I decided to take a visit to the hospital to check on Zorro. OMG was he so sad. They shaved both his arms and had 2 IV lines in him. He's wearing that lamp shade thing. He was quarantined in an area that had a drain in the floor and an actual shower head for fast and easy cleaning I assumed. It had a gate and was locked!
I called his name and he didn't respond. He was sitting and he had his head drooped down facing the floor. I went up to the gate and was making little kissy noises and talking sweet, nothing. I cried. He was there, but it was like he wasn't there.
The vet came to the back and said, "That's what happens with this Parvo. They become unresponsive sometimes and that's due to the progression of the Virus. He will stay like this till he's getting better or until he passes. Zorro is losing a lot of blood. I don't want to scare you but if it came to the point he needed a blood transfusion, do I have your permission to do it? Wanted to know since your here because if it becomes an emergency and I can't get you on the phone I would already know your answer. Remember also that the transfusion itself may kill him. It's really a hit and miss with dogs." "Whatever it takes Dr. Householder. Whatever it takes," I whispered. Well then I will let the rest of my staff know and my dog will be the donor and I will have my wife bring him over for the night."
It's kind of scary to know that this could happen overnight while I sleep. WTH am I talking about? Who can sleep now after knowing this? I swallowed hard. My mind was racing all sorts of stuff. Thinking of Zeus, thinking of Zorro, and thinking of Zoey. This is way too much for me to handle.
The vet left me and Zorro alone and I noticed a key on the table. Without thinking I grabbed it and used it to unlock the gate. It unlocked! I slowly opened the gate. I knelt down. I touched Zorro's head. He jerked a little so I knew he knew someone was touching him. I grabbed him and hugged him. "I love you", I whispered in his ear. I put him down and put my hand under his head and took a picture of his little face wearing his vomit stained cone. I locked the gate back up and left.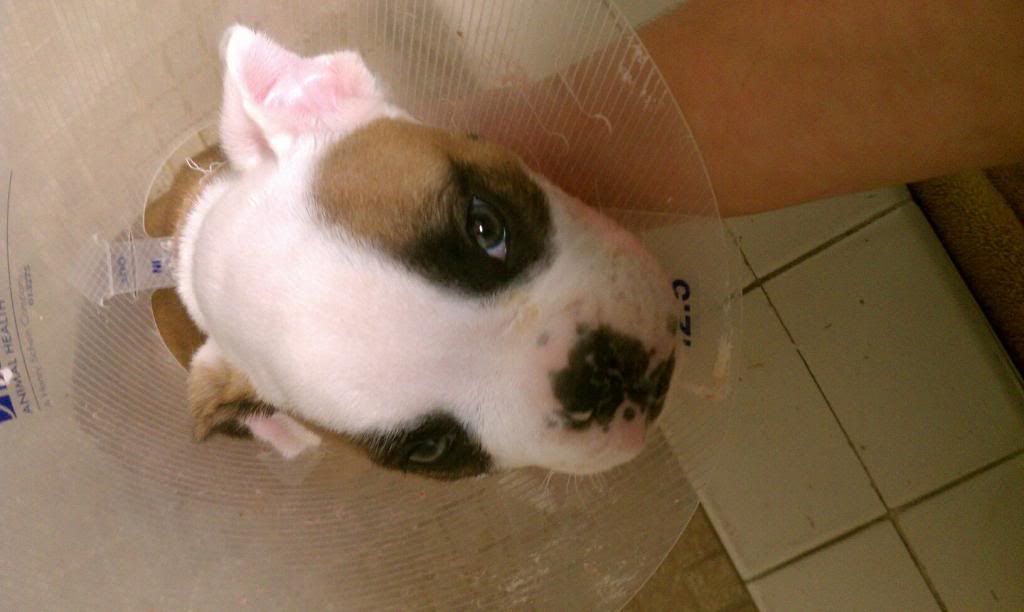 to be continued...
---
Member
Join Date: Jun 2013
Posts: 119
I wonder who's been reading so far....

I have to keep taking breaks, tearing up too much.
---
---
Last edited by Vickytoria3112; 06-27-2013 at

05:00 PM

.
Holy crap. I'm on this reading. I'm so sorry to hear about Zeus. How tragic. I'm waiting for the rest of the story. I mean, I know Zorro is fine (bc of the beginning of the thread) but I still am hanging on as if I don't know the ending.!!
---
"Education is the most powerful weapon which you can use to change the world." -N. Mandela
To my journal!
http://www.tropicalfishkeeping.com/j...ourami-592858/