Summer Harvests
---
Well I spent the morning in the garden and came back with a few things. Mostly beans and gooseberries. Which is great because gooseberries are my favourite thing. :D Also 3 blackberries (woo!) a few red currants (ew) and a few early jostaberries (ew). As well as a few leaves of sage and basil.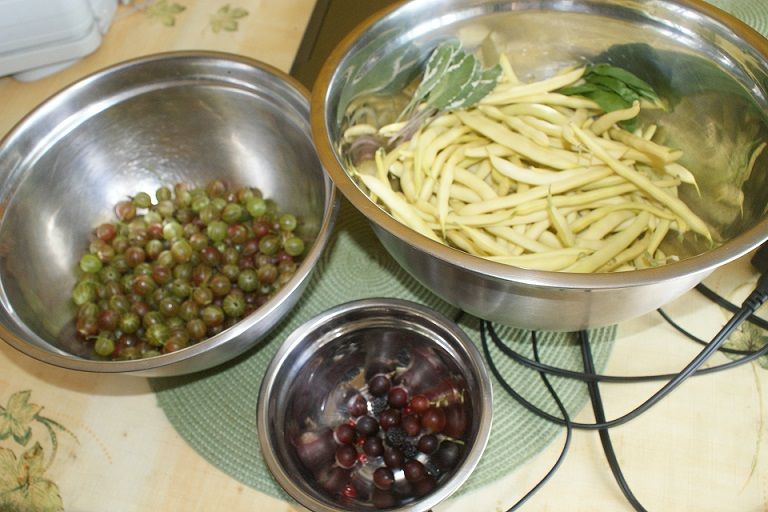 Discouraged by my pitiful amount of blackberries I went out wildcrafting. And got a small amount from there (as well as the last raspberry of the season- I picked some leaves for tea though).
I also picked a cup of milkweed pods for pickling, and dug up some juniper berries I dried back in April for them. I'm excited. This amount of milkweed costs $13 in the wild foods store. o.o
Soo, what is everyone else harvesting this summer?
---
taking a break from fish-keeping.
3 lovely male betta still keep me company.

---
Last edited by Olympia; 07-24-2013 at

01:53 PM

.
Wow looks good Olympia!

So far from our garden we've gotten tomato's, summer squash, zucchini, string beans and cantaloupe! We've still got some radish's growing along with carrots I believe. But we also have Morning Glories growing up our center post (fenced in garden) to the bird house on top and then Sunflowers growing at the edges! They're small still but the first ones we've really been able to grow in this garden! So we're excited!!
---
Rembrandt II, Suiché
Leopards: 1:4 Hawkeye, Luna, Astrael, Dorian, Cullen
Gargoyle: Cloudjumper and Toothless
The only things I'm growing this year are herbs. My basil is out of control so have been making pesto in mass quantities :)

Nice harvesting Oly!
---
Animal testing is a terrible idea; they get all nervous and give the wrong answers.
Herbs are fun too. :D
We can't seem to grow any squash family members at all here. Or melons. :(
But we do have a huge pepper turning red on the vine. :D I think pepper plants are so funny, I never imagined such a small plant would produce such huge peppers.

I'm hoping to pick up some native plant books soon so I can start ID'ing more things in the woods. :D
---
taking a break from fish-keeping.
3 lovely male betta still keep me company.

Similar Threads
Thread
Thread Starter
Forum
Replies
Last Post
Summer!!

dbooknook

The Lounge

14

06-09-2012

11:12 AM

Summer!!!!!!!!!!!!!

xswornxoffxjello

The Lounge

10

06-02-2010

09:20 AM