How many of you have heard of...
---
...Skinny pigs?
(I'm just curious and have nothing to do
)
When I told my friends I had gotten one, they were very confused. They literally though I meant a skinny pig
In case you don't know, a skinny pig is basically a hairless guinea pig.
Yep, you heard me.
They were originally "created" in labs. I believe they were originally meant for feeder animals for snakes and such. But then they somehow leaked into pet stores, and can now be found across the world!
Here is Ivan. He's an albino
He's got so much personality. He openly shows when he's sad, happy, excited, hungry, angry... and all that. He's quite a bit of work though... I keep him on fleece (since he's got no hair, he has to keep warm.) that needs shaking out, washing, drying, and then more washing and more drying just to ensure I've gotten all the odours and soiled parts out. He also eats a TON... and needs fresh veggies and fruits every day.
Not to mention daily cuddles as well
Some of you are probably thinking I'm crazy, but he's... an aquired taste lol.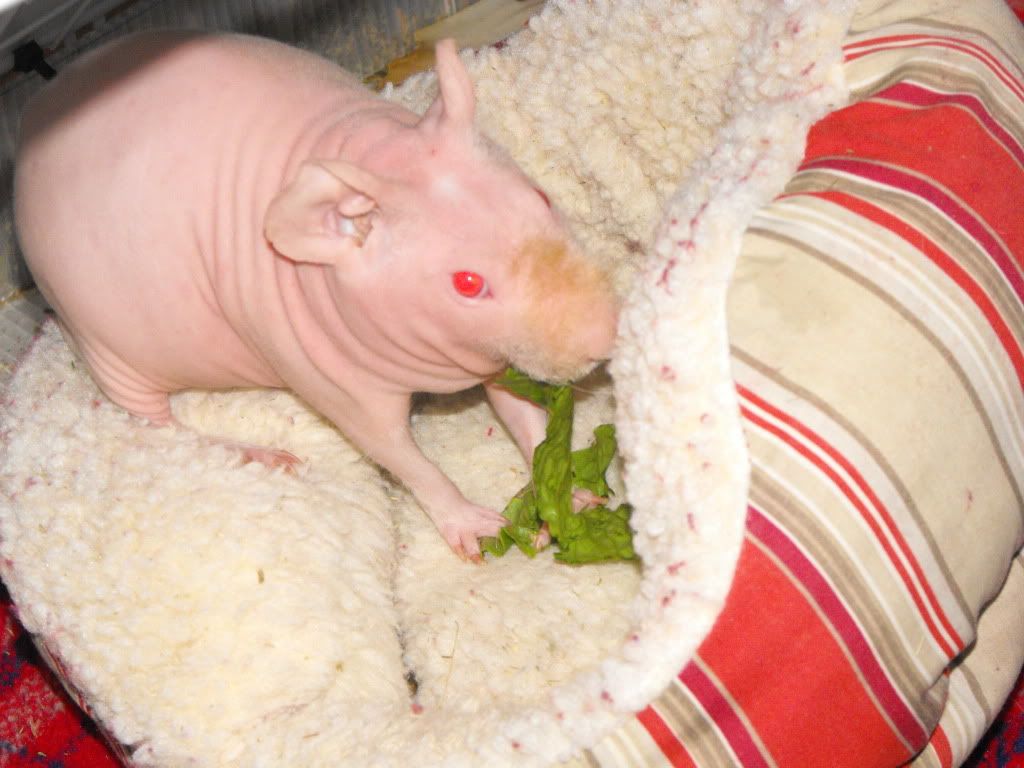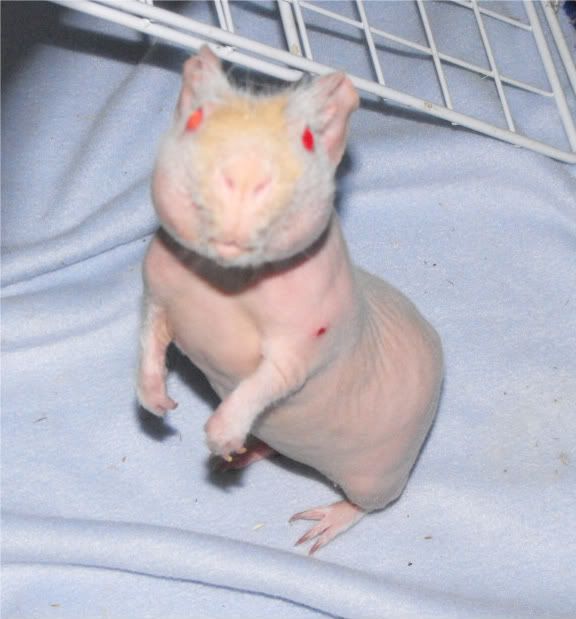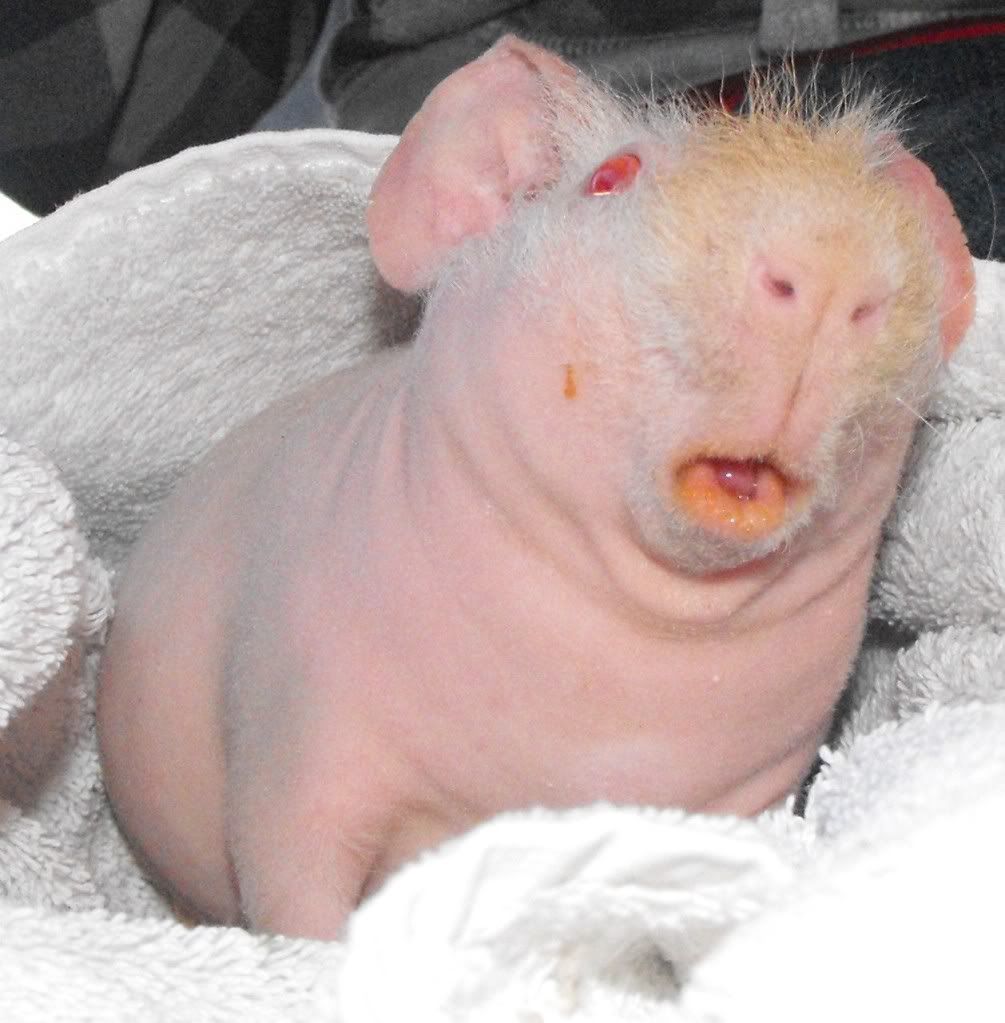 And... just for the heck of it, here is a video of him enjoying his favorite snacks
He could eat all day... lol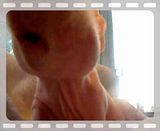 ---

In the hobby for 9 years.
He's actually very cute. =)
---
Proud owner of:

♥45 gal future divided betta tank
♥Capt'n Jack Sparrow, the turq. marble DT
♥Mars, the red bf veiltail
♥30 gal community


Thanks :) Everyone I know think's he's just ugly beyond words... He isn't THAT ugly, I don't think... lol
---

In the hobby for 9 years.
he is kinda like so ugly he is adorable.
aweh :3
hish eyes are pretty :)
He is kind of goofy looking but in a cute way. I think his face is adorable. lol He has such a confused look on his face. WHat a little piggy... looks like he LOVES food!
---
*~* Sarah *~*
Nero, Buzz, August, Nimbus, & Percy

. .·´¯`·.. >><((((º>
¸.·´¯`·...¸(><((((º> . .·´¯`·.. >><((((º>
`·.¸¸.·´¯`·>><((((º> `·.¸¸.·´¯`·. (><((((º> ·´¯`·. (><((((º>
Hahaha!! he's in such a hurry to finish his food!!!!

I love him! If you take him outside, does he need sun block or anything??
---
"Whoever said fish were low maintenance obviously never owned fish"
Banned
Join Date: Nov 2009
Location: Orange County, New York
Posts: 578
Awwww I think he's adorable!!! I had a naked rat once, I made him little sweaters and stuff! Hehe! Do you have to put lotion on him so his skin doesn't dry out? I had to do it with my naked rat <3
I have to admit, they kinda creep me out. I like my furry versions better :P maybe I am biased who knows. I do reallllly want a hairless rat though :P (I have had the furry versions of those too in the past)
---
~TPF

1 Doberman Mix: Emmy, 2 DSH Cats: Rowan & Jacob, 1 Bearded Dragon: Rainier (aka Mista Lizad Man), 1 Eastern Box Turtle: Greta, Two 5g tanks: Alchemy (Halfmoon) and Custard (Yellow VT)

That is an odd looking little guy. But he'd steal my heart in half a second. I'd wanna hug him all day to keep his nakies warm! :D
oh my goodness...I have never seen one of these. He's so ugly he's cute!!!! So cute!