Banned
Join Date: Nov 2009
Location: Orange County, New York
Posts: 578
The Saddest Thing You'll Ever See - My Rescued Pony <3
---
Rascal was rescued from a horse auction about a month ago. We paid $75 for him
Rascal is a registered American Miniature Horse. When we got him he was Skin and Bones! After letting him settle in for a week we did a bunch of blood tests and fecal tests. All of the blood tests came back relatively normal but the fecal tests came back with 500 worm eggs per gram! A huge amount in a horse, it can be a death sentence in something as small as Rascal! We've carefully been deworming him, gradually introducing a high quality, high fat senior feed (not because he's old, he's only 4, but because senior feeds are easy to chew and easy to digest, which will be great for him) We've also been gradually getting him used to more and more grass, in the next week or so he'll be able to go out on grass all day!
Here are a couple pictures from today! He's already gained quite a bit of weight, so you can just imagine the condition he was in when I got him. The fact that he's even still alive is nothing short of a miracle.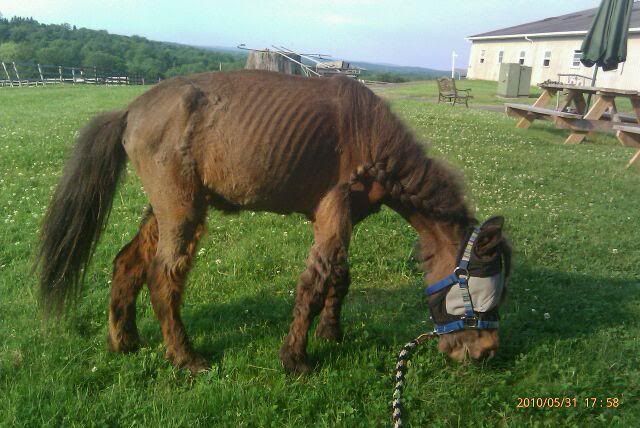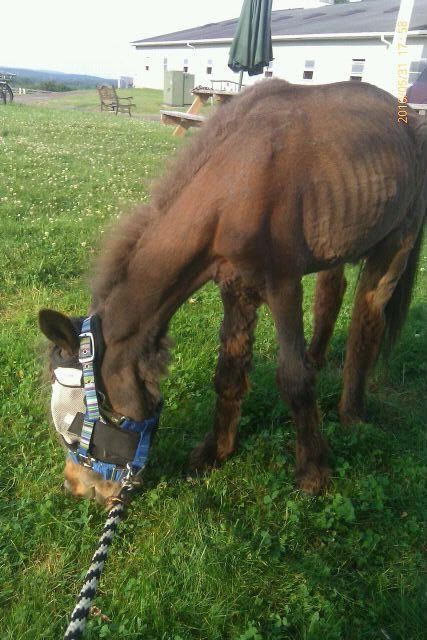 Member
Join Date: Sep 2009
Posts: 3,477
Poor baby! :( That makes me so irrate that someone could do that to an animal! He's lucky you found him, he looks so happy now! :)
---
AHH! That is one seriously emaciated horse! That is just heart-breaking.
I'm sure he'll recover well with you!
---

In the hobby for 9 years.
That makes me sad!!!! Thank God you saved him.
---
*~* Sarah *~*
Nero, Buzz, August, Nimbus, & Percy

. .·´¯`·.. >><((((º>
¸.·´¯`·...¸(><((((º> . .·´¯`·.. >><((((º>
`·.¸¸.·´¯`·>><((((º> `·.¸¸.·´¯`·. (><((((º> ·´¯`·. (><((((º>
OMG, he looks like something you'd see on Houston Animal Cops! That's terrible! Why don't they arrest these asses when they drop these animals off at the auction???

I'm glad you rescued him, really. How tragic. Please post pics as he improves!
---
Kristen

Sorry if I repeat any "obvious" info you already know, but I like to cover all the bases, just in case.
I don't know how anyone can have that on their property and see it and not do anything about it! Sick, just sick.
---
"Whoever said fish were low maintenance obviously never owned fish"
I'm glad you're taking such good care of him. Poor little thing. I'm looking forward to seeing pics when he's all healthy. What a tragedy.
That makes my blood boil!!! Poor thing. Thankfully there are people like you out there to help when possible.
---
Animal testing is a terrible idea; they get all nervous and give the wrong answers.
Oh!! Poor little pony (yes, I know it's a horse)!

That's so sad. How people could do that I don't know. He looks almost unreal! But it's a good thing he found you! XD
---
The Boys

Atlas
blue metallic marble HM

Forest
red VT
Leander
red/pink dragon Delta
Mister Intelligent
orange/white BF VT
Phrixus
teal marble dragon HMPK
The Girls
Psyche
blue/red PK
Rhea
black/red BF DT
RIP Alexander, Morpheus and Phobos. You are missed :'(

Banned
Join Date: Nov 2009
Location: Orange County, New York
Posts: 578
Thanks for all the comments guys! Isn't it just so sad?!!? But the good news is he's improving a little more every day! Yesterday he got a bath with brand new shampoo with Aloe to help his horribly dry skin! And after I took him out for grass and he was actually trotting on the lead trying to pull me toward the grass, something he's never done before, those little improvements every day make everything worthwhile! I'll take more pictures of him today if anyone would like to see them!