Our 3 Horsie Boys!
---
So since I keep seeing Zenandra's horses on here I'd thought I'd share ours!
We have 3 geldings. The lovely paint is mine, he's 8 years old, and his name is Pecos. Then an 11 y/o sorrel named Vegas, and an older bay named Joe. For a school project I dressed up like a cowgirl to reenact like capturing a wild mustang (for which Vegas was such a trooper!) So that's why it looks like we're chasing him in a few pics! Haha enjoy!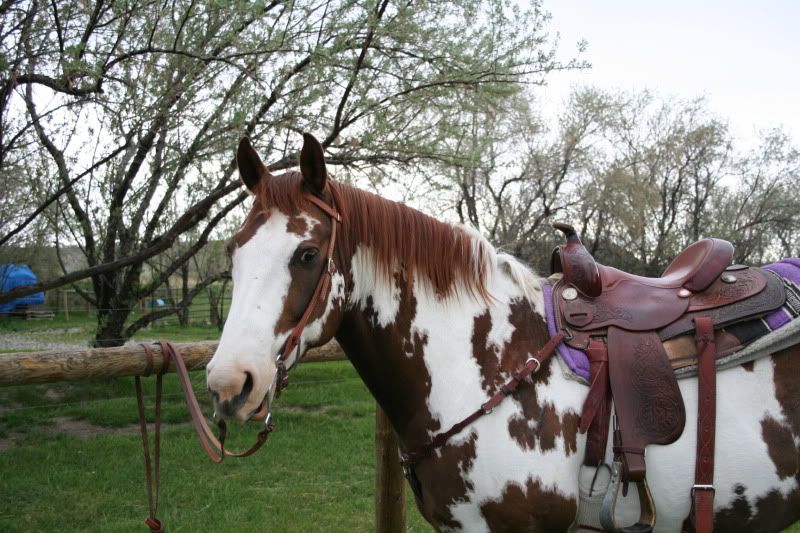 ---
~3 betta boys~
~Goober~Snow~
~Bo~
Member
Join Date: Sep 2009
Posts: 3,477
Your horses are gorgeous! LOVE LOVE LOVE your Paint!!!!! :)
---
Gorgeous horses! I love your Paint, too! I would have horses, but I'm like deathly allergic. 0.o
---

In the hobby for 9 years.
Banned
Join Date: Jul 2008
Location: Central Texas
Posts: 27,607
WOW I am sooo jealous. I haven't ridden a horse in years. When I was 13 I had a whit ehorse named White Cloud. I loved her so much but sadly she passed and I never got a new horse. BTW your horses are beautiful and I love the paint.
---
*~* Sarah *~*
Nero, Buzz, August, Nimbus, & Percy

. .·´¯`·.. >><((((º>
¸.·´¯`·...¸(><((((º> . .·´¯`·.. >><((((º>
`·.¸¸.·´¯`·>><((((º> `·.¸¸.·´¯`·. (><((((º> ·´¯`·. (><((((º>
LOVE your paint!!!!!!

My friend has a beautiful quarter/morgan mix.. She's HUGE though!! I'm kinda scared of her. LOL
---
"Whoever said fish were low maintenance obviously never owned fish"
Thanks everyone! :) Mr. Pecos is the perfect horse, and I'm so happy he's mine! Haha I'm taking him with me for senior pictures to make me look good! Haha
---
~3 betta boys~
~Goober~Snow~
~Bo~