Who Hates Baths?
---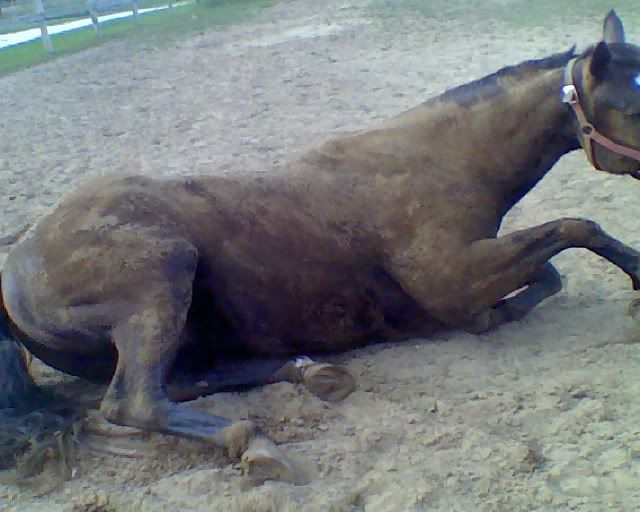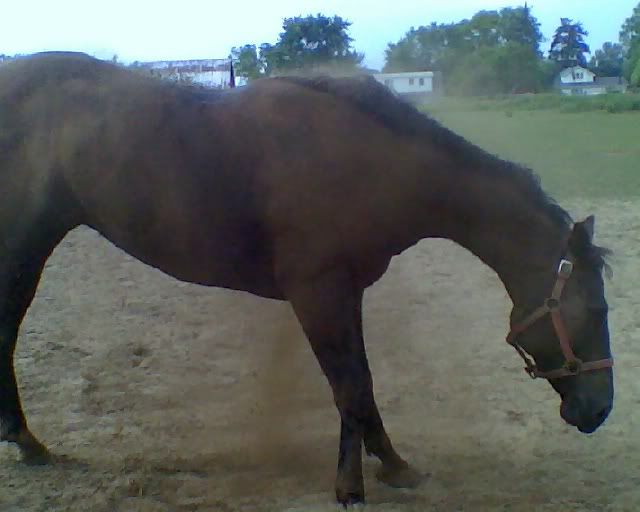 Moontahr does!! Every time he gets wet, he rolls.
I have to tie him every time I am done bathing him. Other wise the pictures show what happens.
I don't expect them to stay clean, but I want them clean long enough until they're dry. Good thing he is not a lighter color, other wise all the grass, poop, and dirt will show up more.
---
~~Owned by 3 spoiled horses and a growing amount of Betta fish. Thats why I'm broke~~

Betta Boys:
~Shinji ~ Renji ~ Hiei ~ Kenshin ~ Light ~ Hotohori ~ Sasuke ~ Vegeta ~ Ayato ~

Betta Girls:
~Sasami ~ Ryoko ~ Washu ~ Sugar ~ Kaede ~ Rei~

Expensive Hay Burners That Are Called Horses
~Diego ~ Moontahr ~ Frasier ~

R.I.P poor little bettas
I LOVE horses my sister in law's mom has some at her house (even though she lives in Oregon and the horses are Colorado we take care of them).
---
Who am I? Well I am a Junior Member of the International Betta Congress and a breeder of white HMPKs, red dragon HMPKs, black/red dragon HMPKs, metallic multi HMPKs, blue masked HMPKs, and now multi color HMs. Soon to add black HMs. I will be showing in New Breeder class in fall of 2012.
I love horses! and your horse is very cute!
---
5 gallon,natural planted tank with 1 betta.
20 gallon community tank.
6 gallon guppy fry tank.
when i give appa my boston terrier a bath he'l plop in the middle of the house and roll
---
\
My dog runs to the back door to go to the bath room :)
---
Echo: Purple/Maroon VT male
Chaos: CT male (Black-red-blue)
Charcoal:DT Male white with black spots.
Lona: RIP Female
Koi:RIP male
LOL! My horse Romeo is the same way -_- He never stays very clean for long xD
---
Clara <3
Amour
R.I.P I will never forget you Alexander. You brightened my life
♥Alexander ♥- Maroon VT 11/14/10
I miss you every single day. You were more than just a pet to me. I love you forever and always. I hope you always know that I would have done anything to save you.
Banned
Join Date: Jul 2008
Location: Central Texas
Posts: 27,607
My dog used to run and hide under a table after being groomed. He would be so embarrassed! He would also roll around on the carpet.
My cat LOVES baths lol. Well, she drinks the water... O-o
---
Hello, it's Frogipoi. If you need any help, fonts, or pixel bettas, please PM me. Thank you and good day.