Thanks!
---
Feel free to message me any questions, I'll try to help the best I can!
Spike- Cockatiel
Rummy- Mini Rex Rabbit
Diz jr- Betta
Yoshi- Crested Gecko
Same here, thank you!
---
"It is the mark of an educated mind to be able to entertain a thought without accepting it." - Aristotle
"For when Thou art our strength, it is strength indeed, but when our strength is our own it is only weakness." - St. Augustine (Confessions 4.XVI)
Feminist, Neo-Darwinist, Libertarian, Animal-Loving Christian
Okay so, I dont have any recent pictures of me not underwater. (hey I was testing the camera) So this is what you get!
---
Sunshine!
"I am not afraid, I was born to do this." -Joan of Arc
Blogger at
Hello Wench
i noticed the pic i posted a few weeks ago doesn't even show up so hurr u go
Not sure if I posted any yet, but here's my most current one of me. Same as my avatar xD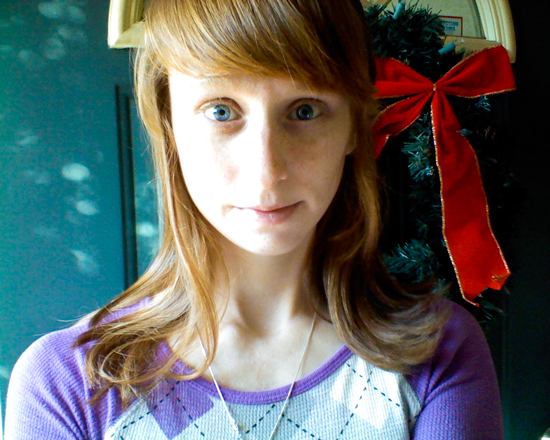 This is unrelated to your picture (which is great, by the way!), but I just noticed the banner in your sig. It's too perfect! Aha! And I just noticed the names of your fish!
When are you getting 'Dah'? ;)
---
"It is the mark of an educated mind to be able to entertain a thought without accepting it." - Aristotle
"For when Thou art our strength, it is strength indeed, but when our strength is our own it is only weakness." - St. Augustine (Confessions 4.XVI)
Feminist, Neo-Darwinist, Libertarian, Animal-Loving Christian
Unfortunately, little Fus passed away about a week ago from unknown causes :C So right now I just have Ro, but she will have "Dah" and a "Fus II" once I upgrade her current tank to a 55gal :3
Awww, I'm sorry to hear that :(
But 55 gallons sounds great! Goldies like a lot of space, hahaha
---
"It is the mark of an educated mind to be able to entertain a thought without accepting it." - Aristotle
"For when Thou art our strength, it is strength indeed, but when our strength is our own it is only weakness." - St. Augustine (Confessions 4.XVI)
Feminist, Neo-Darwinist, Libertarian, Animal-Loving Christian
Yeah, I'm still really bummed about Fus. He had lost his tail out of no where, which didn't seem like fin rot and he started getting better, but then all of a sudden took a turn for the worse the next day and then passed. My poor guy :(

Surprisingly, 55 gallons for 3 comets isn't as ideal. They get to be 12 inches long O:
Oh and one more picture I took of myself and my baby, Deezel <3