Guess I'll get in on this too. :)
Me and my sister (I'm in pink)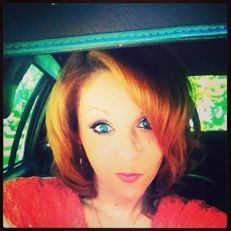 Just me!
---
"The only way to deal with an unfree world is to become so absolutely free that your very existence is an act of rebellion." -Albert Camus
Here's me and my boyfriend - he's being silly and wearing my coon hat.
---
100g Native Fish Pond, 55g Goldfish/Catfish Community, 50g Plant Pond, 40gB Tetra/Cory Community, 20gHM Community, 20gH Turtle (Bender [RES]), 20gL Turtle (Kif [YBS]), 15g Reef, 5.5g Betta (Okami), 5gFBH Betta (Pron), 5gHex Betta (Twister)

2 dogs, 13 cats, 2 turtles, 1 bearded dragon and 1 crested gecko
I'm at work, and missing my little betta baby! So here is a picture :>
This is one from last fall, when I'd just gotten my long-enough-to-sit-on hair chopped off and dyed blue. That's pretty much the happiest I've ever been with my hair. I should do that again.

Right now it's in a pixie cut though, and it's grown out to my natural dark brown. I've been badgering my mom to go pink with it, but she's a little skeptical about that right now. The roots didn't really show with the blue, but she thinks they'd look bad with the pink. I think if they did, I'd just dye it dark purple over them and it wouldn't be an issue.
---
<>< MistersMom <><
¸.·´¯`·...¸(><((((º> . .·´¯`·.. >><((((º>`·.¸¸.·´¯`·(><((((º>`·.¸¸.·´¯`·
CasGer the dark lord:
Annnd regular CasGer:
Member
Join Date: Dec 2013
Location: Colorado Rockies, the Land of Skiing, Festivals, and Incredibly Rich
Posts: 1,533
Its so weird to see the faces behind the user names and avatars.

And i guess its my turn, now i know it is not the best picture, but it is the only one i can find where I'm not trying to block the camera or is of the back of my head. And its with my pretty pony, which makes it pretty awsome, like her (which i hope is obious by now as she is also my avatar and in my signiture).
---
Don't blame the dyslexic for bad spelling or grammar.
Horses for Life
Blue Spruce Lacee and her filly Cadue