For anyone who likes horses...
---
This is my lease horse, Mr. Jiggs. He's a Welsh cob/Arabian mix.
He's such a sweetie, and so cute! Very lazy though.
My mom would've taken some pics of me going over jumps, but there are no lessons on Sundays and so they don't have the jumps up.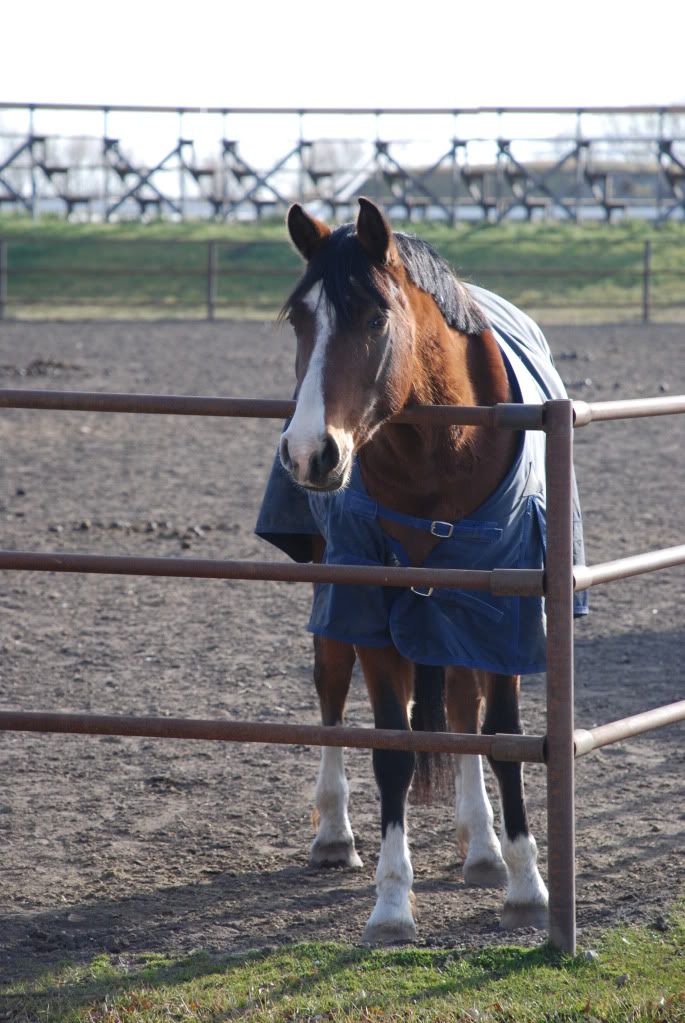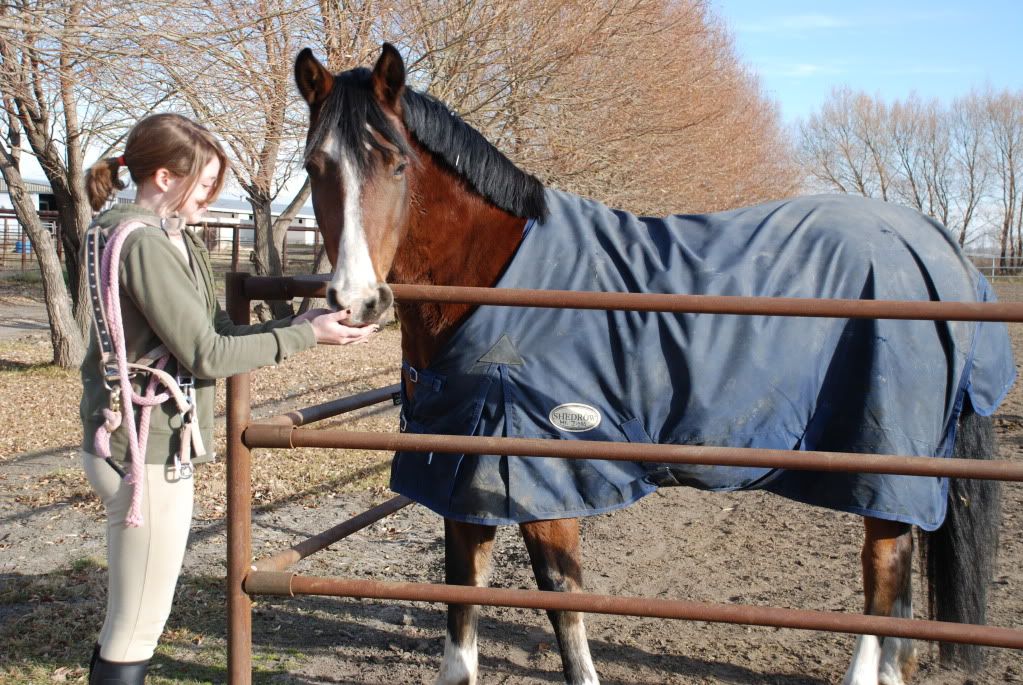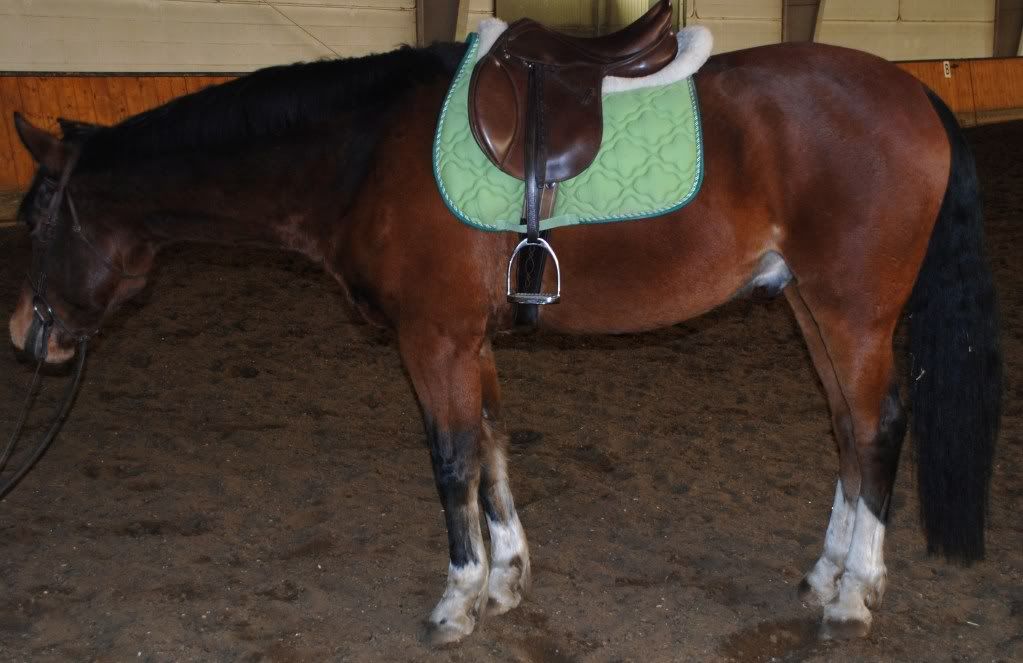 ---

In the hobby for 9 years.
Banned
Join Date: Nov 2010
Location: N/A
Posts: 152
Very nice. One of the horses I work with is a Welsh/QH cross (I believe). Gorgeous under saddle, even at 28 years old.
---
*Be smart.. Do your research!!*[/COLOR][/FONT]
[/CENTER]
Oh, he looks amazing! He makes me miss my old horse Jiggs. :/ You're so lucky!
---
Addicted for life
He's a handsome boy! I just started riding about a month ago and have been having a great time. There's an Appaloosa who always makes me laugh, Quarter Horses galore, and two Haflingers. I've been having such a great time and really enjoy going for trail rides.
---
10 Gallon Divided Betta Tank
Shaman the Halfmoon
Durban the Crowntail
20 Long Community Tank
9 Glowlight Tetra
6 3-Lined Cory's
A mob of Ghost Shrimp

Aww he's really cute! How tall is he?
Just because this is a thread about horses and I can't help showing off Louie, I have to put a couple of pics in here sorry :)
This is cross country at the show I was just at. Yes, I cropped my face out because, of course, I can't steal the attention from him ;)
Hope you don't mind lol
Copy of BNX5-L6838 Ofest Oct 2010.jpg
Copy of BNX5-L6843 Ofest Oct 2010.jpg
They're both bays :D
---
The Boys

Atlas
blue metallic marble HM

Forest
red VT
Leander
red/pink dragon Delta
Mister Intelligent
orange/white BF VT
Phrixus
teal marble dragon HMPK
The Girls
Psyche
blue/red PK
Rhea
black/red BF DT
RIP Alexander, Morpheus and Phobos. You are missed :'(

Awwe very beautiful.. I love horses, they are so majestic.
---
Sometimes goodbye is a second chance <3

"We got our backs against the ocean, it's just us against the world. Looking at all or nothing, babe it's you and I"


He's pretty small... I'm not sure. I'll ask when I go next time though.

LTF, of course I don't mind! He's gorgeous.
---

In the hobby for 9 years.
AHH!! this makes me even more excited for my evaluation on friday so I can get into regular lessons! Thanks for making this thread Betta Slave, I think I am gonna get into a horse crazy phase again after a longgg time :P
I love Arabs. This is the Arab/Paint X I used to ride all the time.
For the LONGEST time in the beginning when I'd ride him we would fight so bad, but after a while we became sooo in sync, really we had an awesome bond. All the kids who were scared to ride him in the beginning kept telling me that since I started working with him they weren't scared to ride him anymore cus he became much more responsive and better behaved. But the owner of the farm gave him to her niece cus she was a manipulative lady and started playing with my mind and feelings for this horse after a while. I left after that. It was a pretty toxic place, but I did learn my best riding at that place.
---
~TPF

1 Doberman Mix: Emmy, 2 DSH Cats: Rowan & Jacob, 1 Bearded Dragon: Rainier (aka Mista Lizad Man), 1 Eastern Box Turtle: Greta, Two 5g tanks: Alchemy (Halfmoon) and Custard (Yellow VT)

Beautiful horses! I used to volunteer at a therapeutic riding stable - it lasted for five years and I LOVED it there. I miss "my" horses ... especially Coco. Coco was a purebred Canadian mare, 25 years young. I loved that girl like she was mine. There was also Dora the Fjord, sweet sweet old girl. I think she must have been around thirty. I also used to ride and I miss being around horses so much! I might try lessons again sometime, when I have the chance.
---
SAPPHIRE (Blue Mustard Gas OHM) / Quill (Brown Tabby and White Pancake Monster)[/FONT]
Similar Threads
Thread
Thread Starter
Forum
Replies
Last Post
Help with Horses!

Betta Slave

The Lounge

35

07-28-2010

09:07 PM