we are looking to get a dog Aug. 2011! :D We are going to the local humane society and we'll probably get a medium size dog since my boys are still young.
Banned
Join Date: Jul 2008
Location: Central Texas
Posts: 27,607
Get a schnauzer. They're like little rubber balls bouncing all over the place.
GEt a PWC (pembroke welsh corgi) they are very energetic, medium sized dogs that weigh between 25-35 lbs. Heres a puppy pic:
And heres a dog pic (cute and energetic and lovable as dogs, too!)
---
If guppies are jewels, than Bettas must be rainbows
Proud owner of Neon, Ryu, and a still unnamed CT
Most corgis that came into my work (vet clinic) were not that nice, besides the few used on farms. make sure you socialize, socialize, socialize.
---
Sometimes goodbye is a second chance <3

"We got our backs against the ocean, it's just us against the world. Looking at all or nothing, babe it's you and I"


Quote:
Originally Posted by
LikeDiscoSuperfly
View Post
Awwe Bloo your dog really does look kinda like mine =]
wiley must have some min pin in him.
Wow, cool! :D
---
"Do your duty in all things. You cannot do more, you should never wish to do less."
~Robert E. Lee
I would stay away from any terrier, herding dog or chihuahua for an inexperienced dog person. These three types can be difficult if not trained and socialized well. Schnauzers are great little dogs, but require brushing and grooming. Beagles are great dogs too. medium small sized and energetic, sweet. They do yodel though.
---
~TPF

1 Doberman Mix: Emmy, 2 DSH Cats: Rowan & Jacob, 1 Bearded Dragon: Rainier (aka Mista Lizad Man), 1 Eastern Box Turtle: Greta, Two 5g tanks: Alchemy (Halfmoon) and Custard (Yellow VT)

I would say shih-tzus. Incredibly loving dogs. They love giving cuddles and being cuddled back, and are SOOO CUTE!
Love to play too. Very lovable. Our shih-tzu's in bliss all the time. He never bites, ever, he's very playful. He rarely barks but "talks" to us occasionally, through little squeaks and grumbles.
They're gentle, loyal, and do respond well to consistent training. Love people and are good with other pets too. As long as you have a backyard and a comfy place to sleep they'll be happy.
Their hair can be kept at medium length, long (show-dog length) but most people just keep it in a puppy cut (see below pics.)
And of course here are a few shots of my boy, Jeffry- (sorry if the pics are huge... D:)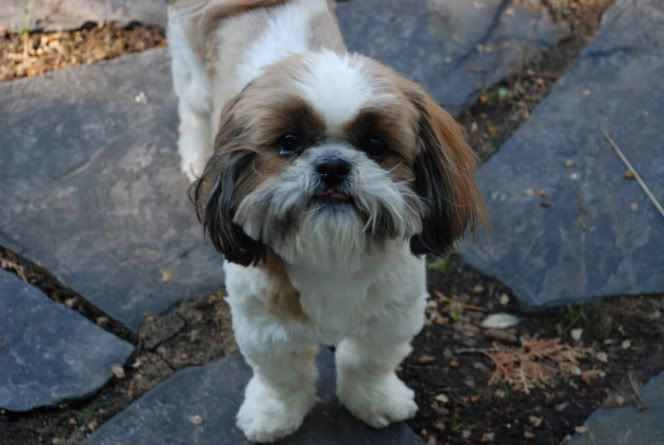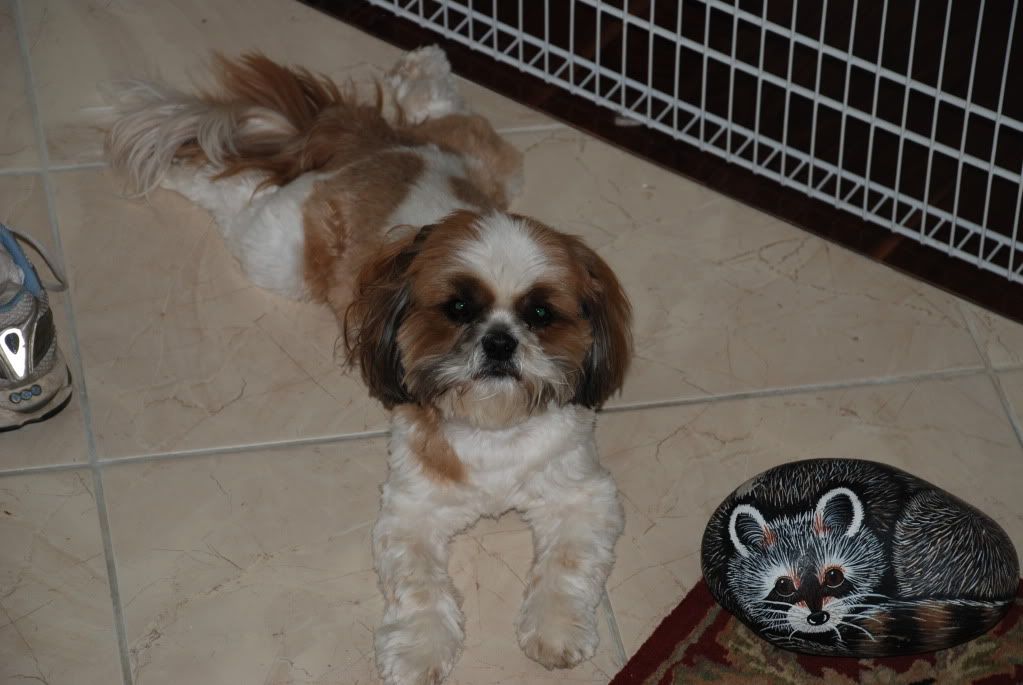 ---

In the hobby for 9 years.
The biggest issue with shih-tzus is they need a lot of grooming...and are hard to housebreak. They need time, and aren't good for people who don't have the time to clean them and make them not stinky! My boyfriend's family has one, and despite him having access to outside, being taken outside at least 5 times a day...there isn't a day that goes by where he doesn't find SOME place in the house to poo.. Or pee..or both.. Usually on electronics. Or MY PURSE :( I was over for 5 minutes, what the heck. He also gets greasy so fast!

My aunt has one that is adorable(though won't tolerate other animals) but she takes the dog to the groomers twice a week and has a schedule of when her dog will need to go to the bathroom after he eats and she has to rearrange her work day so she can go home when her Sammi needs to poo!

They can be great dogs, they just aren't 'easy' dogs!
---
Really? Huh. Jeff was easy to housebreak but of course there are lots of other shih-tzus out there.

Take them to the groomer every two weeks or so and you'll be fine. Jeffry doesn't get greasy very fast, his coat stays nice for a long time.

But it really depends where you get your shih-tzu from. We got our from a breeder. His dad won ribbons, etc. in dog shows, and so Jeffs has good genes overall... whereas shelter shih-tzus sometimes do not and can have health problems.
---

In the hobby for 9 years.