Show your guitar!
---
Like the title says,please post pics of your guitar(s) here! :)

I just picked up a new Epiphone SG today....Very nice guitar!
Unfortunately my computer is broken,so no pics. :(
---
Bummer; i had a female betta named Guitar but may she rest in peace ;(
Edit- sorry the pics are so big
Got 3... the two acoustics from Nicaragua, and a Squier Affinity Precision Bass, that is my absolute favourite... love the sound.
So let's start with the little one- body is mahogany, fingerboard is rosewood, I believe. Great sound, deep and rich.
Now the bigger one- Body is Cocobolo, fingerboard's ebony. It has a more resonant sound, but I prefer the little one.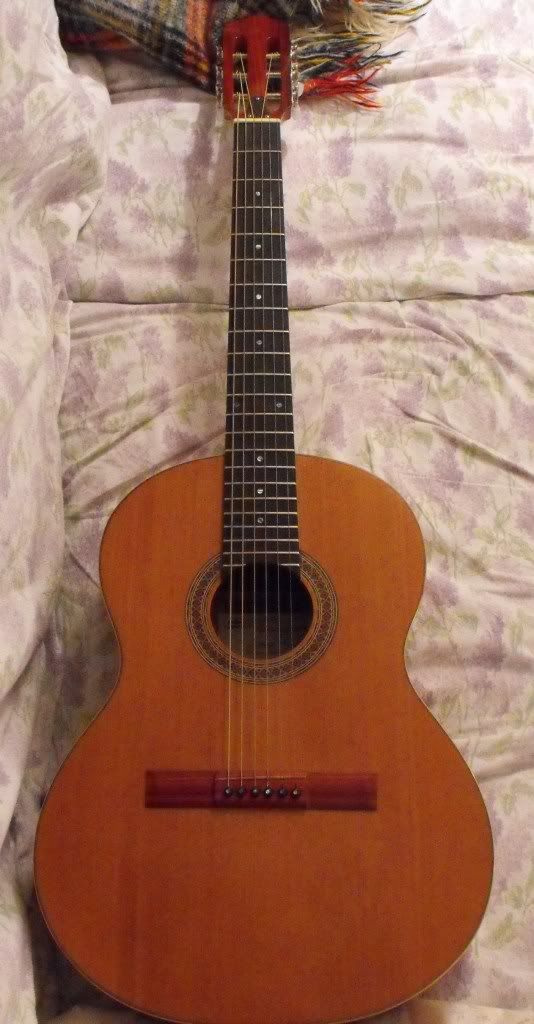 And now for my favourite... the bass.
---

In the hobby for 9 years.
This is my Electric Guitar. It is a Behringer (Bee-hrang-ir). I use this one for Serious Distortion/Metal. I just play on it. Written some acustic songs, but I don't sing while I play distortion.
DSCN2995.jpg
(if you look closely, you can see that my B string is missing. Sorry, I put the E and B in the same spot when I was changeing the strings, so now I don't know which is which. lol)
This is the bass. Got one to match my electric I got 3 years ago. The bass is relatively new. I play bass at my youth group band. I don't play electric in a band, though.
DSCN2994.jpg
These are my guitars! Play them every day.
---
small fry,

FireOasis - 3g
Zachary the Halfmoon Plakat

CichlidHaven - 55g (under construction!)
0.0.7 Black Widow Tetra
1.0.1 Convict Cichlid
0.1.0 Firemouth Cichlid

HermitBase - 10g
Zephus & Monoculus the Purple Pinchers (Coenobita clypeatus)

BreedingProjects
x1 Convict Cichlid Pair (actively breeding)
Well they're not mine and not all guitars, but some of them are in our dorm room during school so it sort of counts? These are my roommates string instruments (minus the violin and cello) Needless to say, our room is the loudest on the floor. This is what happens when 5/6 of my neighbors and my roommate are music majors!
In order:
Electric ukelele, ukelele, mandolin, electric guitar, banjo and acoustic guitar.
and here's a better look at her acoustic. She glittered it herself, lol.
I have to say, that is probably the most interesting acoustic I have ever seen. Seen solid color glittered violins (I also play the violin BTW) but I have never seen rainbow glittered guitars.
---
small fry,

FireOasis - 3g
Zachary the Halfmoon Plakat

CichlidHaven - 55g (under construction!)
0.0.7 Black Widow Tetra
1.0.1 Convict Cichlid
0.1.0 Firemouth Cichlid

HermitBase - 10g
Zephus & Monoculus the Purple Pinchers (Coenobita clypeatus)

BreedingProjects
x1 Convict Cichlid Pair (actively breeding)
Cool guitars and instruments you guys! And lol at the glitter guitar,very original. :P
---