Member
Join Date: Oct 2009
Posts: 1,492
Oh that single is neat! My freshman year I lived in the oldest dorm on campus as well BUT it was not a single and I HATED IT. I'll put a few pics up.
And yes, I love my PS3!! My brother gave it to me along with his games so most of those I don't own anymore. However, I still have Assassin's Creed, and bought MetalGearSolid4 and LittleBIGPlanet (the most epically awesome game in the entire universe) and very impatiently waiting for LBP2 to arrive at my doorstep :D :D :D
---
Last edited by nochoramet; 02-14-2014 at

04:47 AM

.
Member
Join Date: Nov 2010
Posts: 3,651
Your beds are so low in your dorms!! O.o Ours are literally up to my hip and then some, and Im 5,8'!! 0_0 That mustve been cool and kinda nice, though :D
Fchhyeahahhhhh I love all those games >.<
Im absolutley addicted to ACB atm, like...infatuated with it. I really wanna play it right now ~-~ <3
Member
Join Date: Oct 2009
Posts: 1,492
Yeah the beds in the dorm I'm in now I have to jump to get on the bed!! But the other beds were teeny tiny. I didn't like 'em cuz you couldn't fit anything under them!
I am craving me some LBP right now AHHHHHH class is so boring when all you can think about is video games or drawing or baby rabbits!
Our beds are adjustable - the one I had in my previous dorm was three and a half feet off the ground so we could fit more stuff under it. XD I'm only 5'2" so I had to run and jump. Haha.
Quote: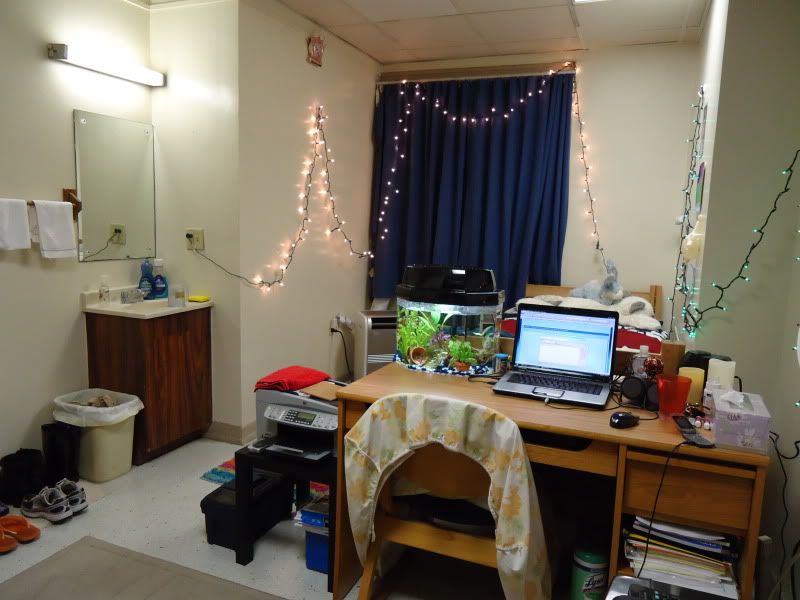 anyone notice whats on the computer screen? lol
---
Five Boys:
Red, Casanova, Habanero, Falkor, Eragon

Five Girls:
Thelma, Babycakes, Black Sheep, Mystique, Dew
Banned
Join Date: Jul 2008
Location: Central Texas
Posts: 27,607
Member
Join Date: Nov 2010
Posts: 3,651
Ahah, that's really funny XD Kfish is just hardcore ;D <3
Here's mine. It's one of the biggest rooms in the dorm and other than 4 other rooms I know of, most rooms don't have the bookshelf like we do.
This is what my area looks like when you first enter into the room and go past my roommmate's bunk bed.
Closets and bookshelf. There is another column to the bookshelf that just holds more stuff and there are more cabinets under the bookshelf.
Desk, dresser head on.
Other than that, my roommate has a similar setup but the fridge and microwave are under her bed instead of a dresser.
That's really neat! I love that you can loft your bed like that. I wish we could! We can only bunk them and put the lower bunk like 4 ft off the ground.

All the shelves and furniture is really cool! I wish we got more shelves- I have way too much stuff (dishes and everything) stored in big containers under my bed. Haven't bought a shelf yet.
Similar Threads
Thread
Thread Starter
Forum
Replies
Last Post
Random post is random...

Sweeda88

Betta Chat

12

01-01-2011

01:21 PM