New Member
Join Date: May 2010
Posts: 41
Hurricanes Thread
---
Have you ever been in a hurricane? You can tell the story here. Also, you can chat about the upcoming season.

Anyway, Hanna minorly effected where I live.
---
A few of me and my mom's past bettas...
Titus-Red VT
Cutie Pie-Brownish-Tanish body Redish-purple fins
Moonlight-White delta tail
Banned
Join Date: Jul 2008
Location: Central Texas
Posts: 27,607
I've never actually been in one but a few years ago, the remnants of Hurricane Ike did damage to our roof. Pieces of shingle were flapping in the wind and it sounded like a herd of elephants were stomping all over mty roof. We ended up needing a new roof.
No but I have been stuck in my car during a Micro Burst Storm, scarry as heel.
---
Live, Laugh, and Love.
Well Ike hit my house. If flooded our whole neighborhood. Several houses were torn down and some rebuilt. We got about two feet inside our house and we rebuilt it. If it wasn't for the water we would've been ok. One oak tree behind our house fell and and landed on our pool and probably ruined it and it clipped the back of barn. The concrete is cracked, and we haven't even drained it and tore the lining out to check it. We actually just finished rebuilding the house itself. I always hated seafood, but after cleaning up all the dead fish and gars.... it just sealed the deal. Plus a dog we had at the time would always dig the fish out of the burn piles so we saw the same fishes a hundred times ._.
---
Storm- 14 yr APHA PHBA Mare
Tucker- June '09 Buckskin Colt
Bailey- Blue Mini Rex Rabbit- State fair winner
Lacey- Great Dane
Dolly- Toy Poodle
Smokey- Cat
Abbie- cat
Alibie- Cat
Amore- Cat
Yup, several... Had a tornado rip through my grandparents' house while we all were in it too. Want to talk about an image that sticks with you, imagine turning around and seeing a boat come flying at you at 70 mph through a sliding glass door. Naaaaaaaaaasty.

And yes we all survived...I was just the only idiot still in the living room. A few other houses nearby weren't so lucky though.

When they say tornadoes come upon you really fast...they do...I was laying on the couch watching TV with everyone else when it got REALLY dark outside at 2 pm, then the wind kicked up HARD...and I said holy (expletive) it's a tornado!

It's also true you can hear it coming...it sounded like a train. This was about exactly 3 years ago.
.
.
.
---
10 gallon 'Atlantis' tank semi planted: Delta Tail "Khan"
6 Emerald Cories, Gold Inca and Black Mystery Snail.
Banned
Join Date: Jul 2008
Location: Central Texas
Posts: 27,607
Oh, my gosh, what an experience!!
Yeah, no kidding! I have some pics somewhere, let me try to find them...
.
.
.
---
10 gallon 'Atlantis' tank semi planted: Delta Tail "Khan"
6 Emerald Cories, Gold Inca and Black Mystery Snail.
Alright here's some pics...
This is looking back toward the house from the street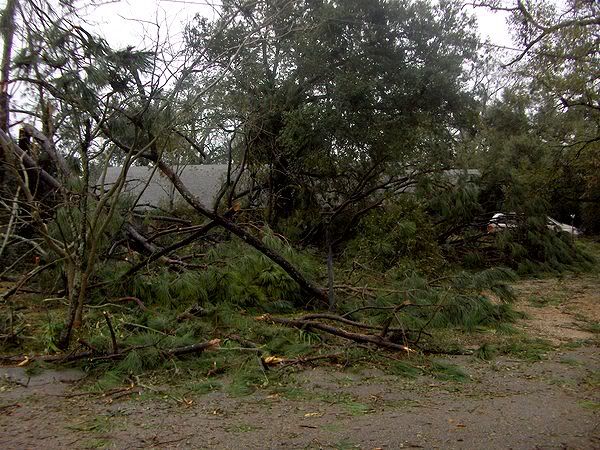 And yeah, somehow our van survived lol...
This is a heavy metal picnic table that ended up in the backyard, we have no idea where it came from...
Bunch of trees n junk in the backyard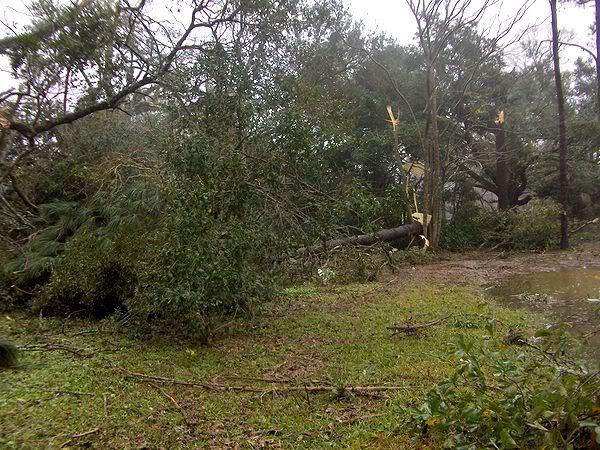 More trees down...the river flooded too which was just kind of like throwing salt in the wound lol
The river had receded a bit by the time I took this pic
Last pic, flooded river and you can see their pier/dock thing pretty much underwater in the center of the pic
Overall it was not an experience I'd care to repeat.
.
.
.
---
10 gallon 'Atlantis' tank semi planted: Delta Tail "Khan"
6 Emerald Cories, Gold Inca and Black Mystery Snail.
I love storm pictures...

I live in Florida, so I've seen quite a few hurricanes. I love the little ones and tropical storms, personally. We've never been hit directly by a bad one in my area. Charley was coming RIGHT for us (we had evacuated across the state), but turned south just before hitting. Driving back across the state was HORRIBLE, since Charley turned straight up the middle. It took us seven hours to make a three hour trip. Roads closed everywhere because of the downed trees, power lines, and houses. Had to take so many detours. I think we took some pictures, but I don't have any of them.

We lost power for 3 days during either Jeanne or Frances. Got five days off of school... total of ten that season (and we didn't have to make any of them up... ten free days off! Now you see why I love hurricanes...). Some people lost power for two weeks. We live on the same grid as a sewage pumping station (and it was baaackin' up), so we got lucky.

When I was 2 or 3 Andrew hit... my family from across state came over, but it was still bad where we live. I remember looking outside and watching the trees toss around. It was soooo dark and windy.

Aaand we've had tons of tropical storms/depressions/cat 1s... we usually stand out in the garage and watch... and play in the rain. XD Not much lightning during hurricanes.
---
Last edited by kfish; 01-27-2011 at

10:47 PM

.
I was waiting for thread like this!

I went through Frances on the 11th floor of a hotel. Joy.
The wind was going nuts and I could hear the...wind..in the window. The build ing was swaying so we were forced to head down onto the first floor. I swear they needed a Bio-Hazzard thing because it smelled like mildew.
All in all, a palm tree fell on our house, but landed on our patio so it did no damage. But, our fence came down, and our AC was destroyed. When it's 90* outside, and there is moisture, it isn't comfertable.

I don't remember much of Jeanne because I was asleep, but little damage was done to our house.

Geez, West Palm Beach Co. was bad in 2004. o.o
---
"Do your duty in all things. You cannot do more, you should never wish to do less."
~Robert E. Lee