Thought I would share this it's beyond amazing to me.
Take a mug about like this:
It's a little bigger then the average coffee mug I think. A regular coffee mug would work, it might turn out a wee bit stronger though.
Addicting Latte
Empty 1 Starbucks Via Colombian packet in the bottom of the mug.
Add boiling water approx half way in the mug.
Let sit for 1 min then add about 1 teaspoon of sugar (or to your own taste) Stir well.
Add in 2% milk to fill the mug, stir and it's cool enough to drink without burning the crud out of your mouth immediately after your done mixing.
It makes a latte close to the Starbucks latte you can buy at their stores. (It's sad when Starbucks appears on the spell checker)
For a cold version:
Replace milk with your favorite vanilla ice cream. (can add a bit of chocolate syrup too to go for the mocha experience, but be careful some brands can be a bit oily.)
Thought I would share this, I'm in love with these. I tried this with a couple different blends of the Via. The Colombian is my favorite.
You can probably use other instant coffee brands if you have a favorite, just be sure you add in however much you would to a whole cup, to that half a cup of water.
---
.....Betta Fish are like potato chips, it's hard to have just one!
Arm yourself with knowledge.
Consider advise.
Make informed decisions.
kewl! - looove coffee and everything related.
---
My Betta's: Fluff - Giaus - Penny - Gwen - Leia


Banned
Join Date: Jul 2008
Location: Central Texas
Posts: 27,607
If I was a coffee drinker I would probably like this. Lol
I can't drink normal instant coffee,(I get sick to my stomach) but those via things are the closest I can get to real brewed coffee. No one else drinks enough coffee in the house to justify my making a whole pot so it's those things or a french press, and my press is half broken.

It doesn't have a really strong coffee bean flavor.(I'm not a fan of coffee flavored things) Even with the milk and sugar it's very mild. You can make it less strong coffee wise if you add a bit more sugar but be careful not to overdo it. :D I got hooked on latte type drinks/ice cream drinks, first from a baskin robins that was by my work a while back.

I will need to start playing with tea and see if I can come up with a version of the bubble tea from some of those Chinese restaurants that sell the black tea with milk and that black tapioca. (love those too)
---
.....Betta Fish are like potato chips, it's hard to have just one!
Arm yourself with knowledge.
Consider advise.
Make informed decisions.
Banned
Join Date: Jul 2008
Location: Central Texas
Posts: 27,607
I had milk tea when I was in Japan and it was good. Mmm
I've made homemade strawberry milk tea! It was gooooood. Just have to make sure your blender can handle hot things, unless you're buying some premade mix. I actually pureed my own strawberries with the tea, though. I had to put a dish towel over the blender so the tea didn't spurt out, lol. I suppose you might be able to do it with cold tea, but it probably wouldn't be as smooth, since the strawberries wouldn't dissolve in the tea. I guess that's where a strainer would come in handy. XD Looks like you can pre-puree the strawberries, then just shake the (while it's still hot) tea with the strawberries in there when you ice it, as well.
http://www.ehow.com/how_7700147_make...erry-boba.html
. I feel like that'd be too chunky, but then again, most fruit milk tea is made with powder mixes so it's smoother than it would be.
I always drink my black tea with tons of milk, though, lol. So I guess I make black milk tea everyday. :P Neeeed boba, though.
---
Pascal 8.27.14
Sky 3.14.11-11.17.12
Mr. Fish 8.19.10-8.18.11
---
Last edited by kfish; 06-19-2012 at

08:32 AM

.
Recently, we've discovered two extremely delicious recipes from a Jacques Pepin cookbook we have.
Best Beef Roast in the World, Ever
(this one I've modified, as it's meant for veal and I don't particularly enjoy the idea of eating veal and it's expensive... and I've upped the proportions of vegetables by double, basically, because it's not enough... the recipe in the book is called "Roast Veal with Artichokes"):
You pretty much need a stainless steel pan for this (or cast iron... you'll be putting the pan straight in the oven after browning meat in it)
Ingredients:
-
1 beef oven roast
(bottom round, top round, whatever you want, as long as it's a lump that can go in the oven :P... I've had success using bottom round, which is the cheapest option)
-
Dried thyme
-
Salt
(I use sea salt in a grinder)
-
Pepper
(I use mixed multi-color peppercorns in a grinder)
-
1-2 tbsp butter
(I don't measure)
-
1-2 tbsp olive oil
(I don't measure this, either... just enough to cover the bottom of a pan)
-
The equivalent of ~5 artichoke hearts
(I use jarred ones that don't have vegetable oils, unless it's olive oil... you can use fresh, too, but they're so expensive!)
-
24 pearl onions
(easy way to peel - throw onions in boiling water for about a minute... drain the water, let them cool a bit. Cut off the hard root end, squeeze from the stalk end and the good bits will come right out)
-
20-30 cloves of garlic
(YES, 20, OR MORE, THE MORE THE BETTER... PEEL PEEL PEEL
http://www.youtube.com/watch?v=0d3oc24fD-c
... if you don't have 2 bowls like this, you can go individually and just crush them with the flat of a knife and it makes it easier, but still a pain)
-
3 tomatoes
-
a bit o' water

Preheat the oven to 400 degrees (I usually wait until I start browning the meat to do that).
I cut the excess fat off of the outside of the roast, because I don't like chewing it. Don't go too crazy - you can leave a little bit because a little soft fat helps with tenderizing. Big chunks of hard fat don't, though. Lightly cover the roast with salt on all sides. I work it in to the meat (I say I'm giving it a massage :P). Then lightly cover the roast with pepper on all sides, and work it in similarly. Then cover it with thyme on all sides and work that in as well.
Heat butter and olive oil in a stainless steel skillet. You can also use cast iron. Just remember it's going in the oven as it is. You want the oil/butter to be rippling and throwing off a tiny bit of vapor, almost to burning, so the meat doesn't stick (usually means letting it sit on medium-medium high for a little bit). Brown the meat on all sides. I usually do about 3 minutes a side (4 sides). Peel the garlic and onions while this is happening. After the meat is brown on all sides, take the skillet off of the heat and take the meat out of the skillet and put it on a plate or whatever. Continue peeling onions and garlic if you're not done. You can wait here however long you need to.
Put the whole onions, garlic, and (drained, if canned/jarred) artichoke hearts into the skillet. If there isn't much juice, add a few tablespoons of water. You don't want it to be like soup - it won't have much liquid at all, just enough to coat vegetables. Add a bit of salt and pepper and mix it all up to coat the vegetables in the meat drippings, butter, and olive oil.
Arrange the vegetables so you can put the roast on top of them (steam will rise up into the meat). Put the roast on top of the vegetables and put the skillet in the oven. Roast for 20 minutes.
After 20 minutes, take the roast out, mix up the vegetables, and turn the roast over (this usually involves moving the roast back to the plate, then back into the skillet) and put it back on top of the vegetables. Do not inadvertently touch the pan handle during this process. I've done this EVERY FREAKING TIME I've made this and have burned myself somewhere (including my entire hand 2nd degree, which I'm currently recovering from and thus I don't think I'll be touching the pan handle again). Roast for 20 minutes again.
Chop up the tomatoes while waiting. After 20 minutes, take the roast out, put the tomatoes in, stir a bit (don't touch the pan handle, again), and add a few (2) tablespoons of water. Put the pan back in the oven for 10 minutes (this will make it a total 50 minutes of cooking). Let it sit for a bit after taking it out (like 10 minutes) because it's crazy hot. Cut it up and EAT IT IT'S SO GOOD.
A picture (this was without doubling the vegetable quantities):
Chicken in Red Wine Vinegar
(this isn't really modified from the cookbook... well, a teeny bit)
:


This is a really easy recipe.
Ingredients:

-
4 boneless skinless chicken breasts (I like to cut chicken breasts in half like... slit-wise?... to make them thinner, otherwise it's too much like a huge chunk of meat, and we each only eat half of one... we cut this recipe in half or less, because there are only two of us)
-Salt (freshly ground sea salt)
-Pepper (freshly ground)
-2 tbsp butter
-2-3 garlic cloves, minced
-1/2 cup red wine vinegar
-1/3 cup water
-1 1/2 cups seeded tomatoes, chopped
-Parsley, fresh or dried
-Tarragon OR basil, fresh or dried (we use tarragon)
Sprinkle the chicken with salt and pepper. Melt butter in a skillet. Put the chicken in, cover, and cook on medium-low for 20 minutes. Take the chicken out, put it on a plate, cover it or keep it warm somehow (we don't have a microwave, but if you put food in there just to store it in there, it keeps it warm... I just put it on a plate and cover it with the pan lid).
Saute the garlic in the skillet for about a minute. Add the vinegar and water, bring it to a boil and stir to melt it all together. Boil for one minute. Add tomatoes and salt and pepper (about 1/2 tsp of each). Simmer for 4-5 minutes to thicken sauce.
Pour the sauce over chicken sprinkle with herbs.
A peekture (this is just a tiny chicken cutlet, rather than a whole breast D: ):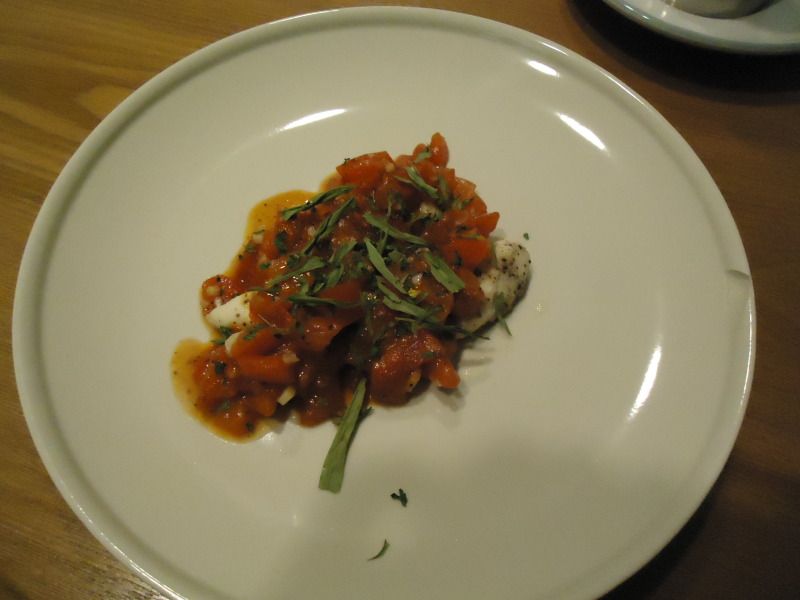 ---
Pascal 8.27.14
Sky 3.14.11-11.17.12
Mr. Fish 8.19.10-8.18.11
Banned
Join Date: Jul 2008
Location: Central Texas
Posts: 27,607
They look so gourmets. Lol. And yummy, too.
Best fried rice:

2 onions diced
1/3 of a cabbage chopped
3 cups of cooked rice
1lb of ground beef
Soy sauce

Dice onions and cabbage and put into medium heat wok then add un cooked hamburg. Cook until meat is cooked through, onions transparent and cabbage soft.
Now add the rice and however much soy sauce you like and cook until rice is hot.

Serve and enjoy. :)
---
My Betta's: Fluff - Giaus - Penny - Gwen - Leia