haha cute lil guy!
---
Five Boys:
Red, Casanova, Habanero, Falkor, Eragon

Five Girls:
Thelma, Babycakes, Black Sheep, Mystique, Dew
Member
Join Date: Aug 2006
Location: Lupin Information Super Highway/Goldfish Information Super Highway
Posts: 520
He's a fantail. If he grows a wen (brain-like growth), then he is officially an oranda.
Which brand of pellets did you use? The only commercial food I would use as staple is Mazuri gel food which can be sourced from Goldfish Utopia online owned by Ed. For more info on Mazuri, please check this link.
http://thegab.org/index.php?option=c...php&f=3&t=7279
The GAB site owner actually collaborated with Ed as she's a nutritionist thus, ensuring Mazuri caters to all the nutritional requirements for goldfish. The only drawback is very low fiber which is why, I suggest that the Mazuri gel food be combined with your homemade gel food recipes. You may add purely vegetable-based baby foods (Gerber) in Mazuri gel food recipe to make it a completely exclusive nutritional food for your fish.
It's easier to do baby gel foods than homemade gel foods which consists of mixing fresh vegetables, etc around.
http://thegab.org/index.php?option=c...hp&f=3&t=17481
http://thegab.org/index.php?option=c...php&f=3&t=3629
---
Sent from my desktop or phone or whatever else I am holding on to

I'm ready for the pressure.
The drama and the pleasure!

If there is one thing I want to see here, it's HUMOR.

I believe I can fly!
I believe I can touch the sky!
I think about it every night and day!
I stand in awe of my body.

Member
Join Date: Nov 2010
Posts: 3,651
Quote:
You might want to pm Lupin about the goldfish. He knows everything about them.
To say the least ;) <3 ha!
They're HBH. I'll see if I can find the gel food at my LFS though, since I can't order online.
I told my dad to give him some veggies while I'm away though.
---
Puck (Yellow koi HM king) / Scar (White HM) / Salt 'n Pepper (Silver HMPK) / 'That fish' (Copper butterfly HM) / No name (White DT) / No name 2 (Turquoise/white marble HM) / No name 3 (Lilac HM)

Bo Peep (Cambodian VT) / Goldilocks (Yellow VT) / Joie de Vivre (Multicolour VT) / Lil' Peep (Blue VT) / No name (Dalmatian VT) / No name 2
Banned
Join Date: Jul 2008
Location: Central Texas
Posts: 27,607
Quote:
To say the least ;) <3 ha!
Haha!! Yep, Lupin is the one you want to go to if you have goldfish or snail problems/questions.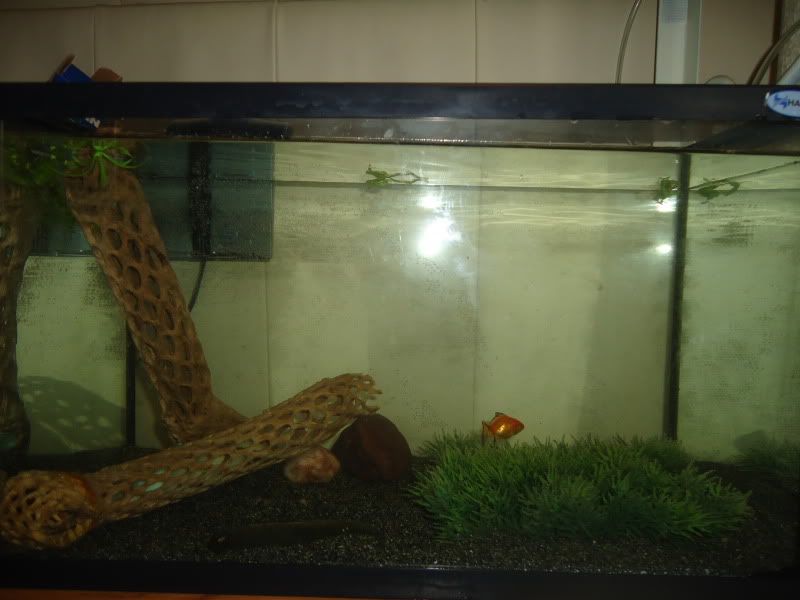 I Showeded my bf this pic and i was like "ISNT HE SO CUTE XD" hes like "uhuh tanks not level"
no comment on fish just a 10 second glimpse and a "tanks not level" lol
---
Female Bettas:Gaia,Bubbles,Tabitha, Rani, Kelsey, 4 unnamed Male Bettas:Oscar, Spyro, Cookie Monster, Kermit The Frog, Grover II, Alvin, Archillies, Moostash
Snails: Yoshi,Peach,Lugi,Mario
Others:Quismodo, Esmerelda, Lavern, Banch(<Guppies) 2 unnamed bristle noses, 2 unnamed reticulate "yoyo" loaches
Furbabies: Kobi & Beau
M F S ˙ʇƨσן ǝƨσɥʇ σʇ ǝɔɐǝԀ ʋƖ ʇƨǝᴚ
"Can never have too many fish"

hes really cute Hikari is a good goldfish pellet to but you want to make sure any pellet you get is sinking not floating goldfish like to gulp at anything on the surface and will take in a bellyful of air with it..only feed them cooked unshelled peas like once a week its a laxative for them. He does look like a fantail and if he is he will stay on the smaller side...I have an Oranda I had imported from hawaii ( yay raingarden ) hes probably 5 lbs and hes HUGE! he lives alone in his own 30 gallon tank congrats on your new buddy and good luck
---
slightly obcessed with bettas
Quote:
Haha!! Yep, Lupin is the one you want to go to if you have goldfish or snail problems/questions.
Oh, what a coincidence. I just got back home yesterday and within the one month absence my other 10 gal has somehow exploded with those little pest snails.
I could have sworn I checked for egg cases before I put the plants in...
I got an Assassin snail today though, so hopefully that will put a dent in them...
@Abby: Lol! Thanks. My sister's like that too. ;)
@Yoshesmom: Thank you! The pellets that I got him were sinking ones. I had thought about Hikari, but when I looked over the ingredients, most of the first ingredients were fillers like wheat and such, so I went for HBH instead. I'll tell my mom to feed him peas if she ever gets some.
---
Puck (Yellow koi HM king) / Scar (White HM) / Salt 'n Pepper (Silver HMPK) / 'That fish' (Copper butterfly HM) / No name (White DT) / No name 2 (Turquoise/white marble HM) / No name 3 (Lilac HM)

Bo Peep (Cambodian VT) / Goldilocks (Yellow VT) / Joie de Vivre (Multicolour VT) / Lil' Peep (Blue VT) / No name (Dalmatian VT) / No name 2