Aaand I think I might have a problem... I thought it was so nice, the background, now that is really dark outside and I had my room-lights on I think Fillet (my male) is seeing his own reflection/shadow from it... he is flaring like mad... Because I will sleep and turn the lights off in like 10 mins I will leave it like that for tonight, tomorrow morning/afternoon I will check better >_>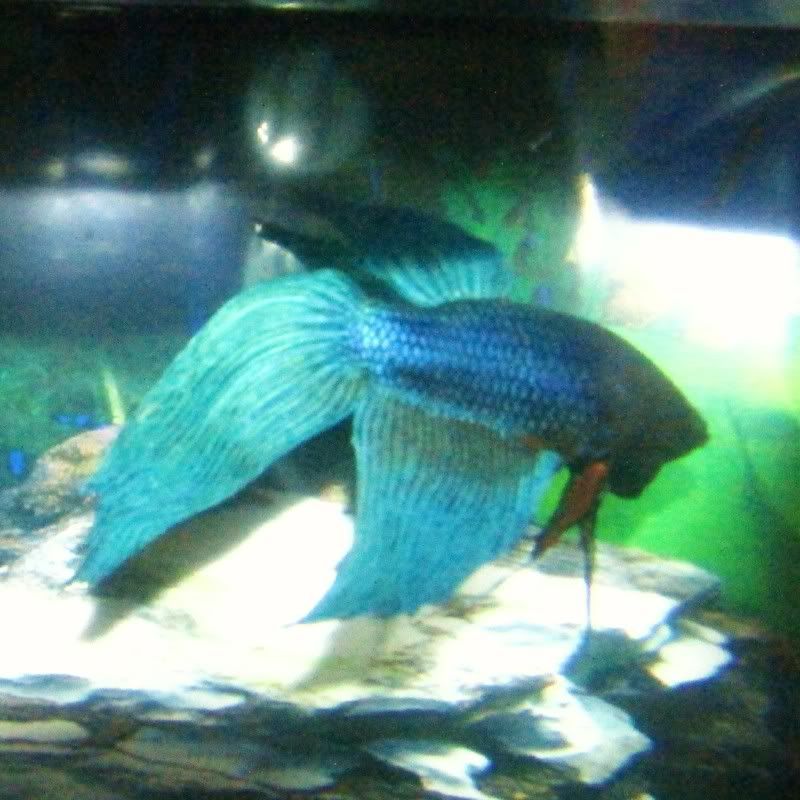 ---
That's me on the photo alright.
Well, he's gotten his exercise for the evening! :)
---
20H: 2 Cory Catfish, One very mellow Cambodian female Betta, Two Golden Veil Angelfish (male and female)
Member
Join Date: Mar 2010
Location: USA
Posts: 10,951
Those are great pics...so clear and detailed....I really need to get a good camera....one of these days...laffs.....
Sorry I haven't been spamming lately on the forum, I've been busy as heck lately :V!
As for example is almost 1am, I just got home and I have to wake up at 5:30am.. huh today xD (also a pigeon managed to poop in my hair this evening so I had to wash my hair again once I got home)
So just a quiiick thing I wanted to show you guys before I go to bed, btw I have to remind myself to recharge the big camera's batteries.. lol!
Is about that bacteria thing OFL, I forgot to actually check about it but like yesterday one of the snails made some small nibbles at it, maybe it was testing if was good... I thought it was like "Nu I didn't liked it :C" But then today, it's fine that I didn't put the algae waffle today (yet) and just half one yesterday but this.. dang :V
I've heard they were algae cleaners but not much... such a shame lol!
(bad angles and bad shots, but whatever :D)
Night night =]
---
That's me on the photo alright.
Also i just found my snails mating... He was force-mating her on the Heat part of the heater... But like, she was FLOATING while he was holding her and mating, how they managed that remains a mistery.. She wasn't liking though... :( I think some weird must be on that algae/bacteria LOL!
---
That's me on the photo alright.
O_o

Your pink betta is very pretty!!
The skull looks cool, i've always wanted to get a dragon statue and let moss grow on it, it looks ancient that way. :D
---
"Life is an adventure full of beautiful things, and a treasure worth more than gold."
Updates :P
Sorry I have been busy and not spamming (again xD); here is some quick news:
I put Fillet's tank near the females for a couple of days and when I took him to his original place guess what happened? I think he's fin biting. >_>!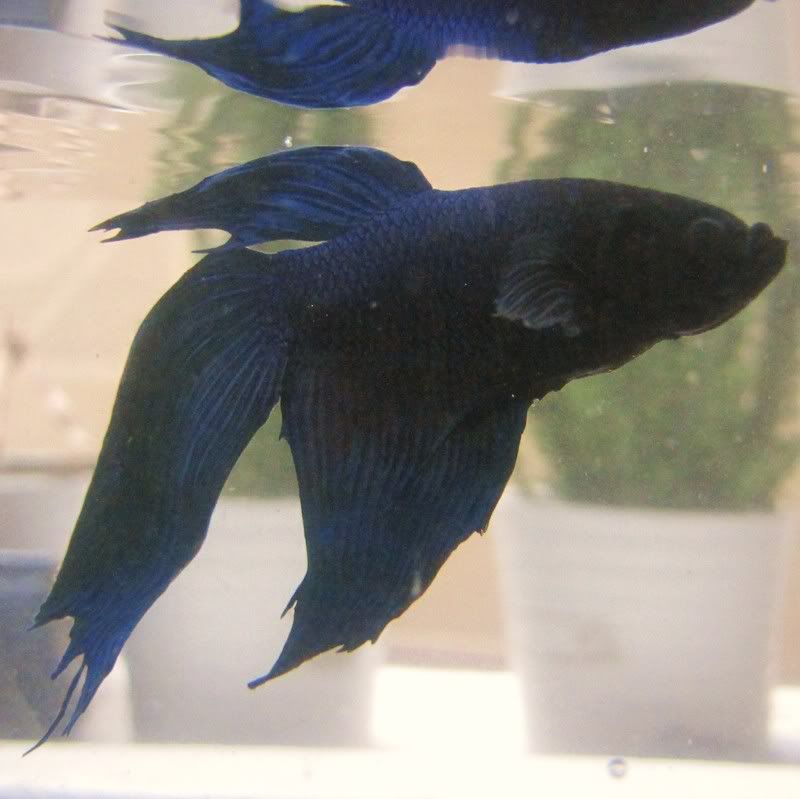 The Double-Trouble females had some fights this last days:
And Columbia got a bad bite: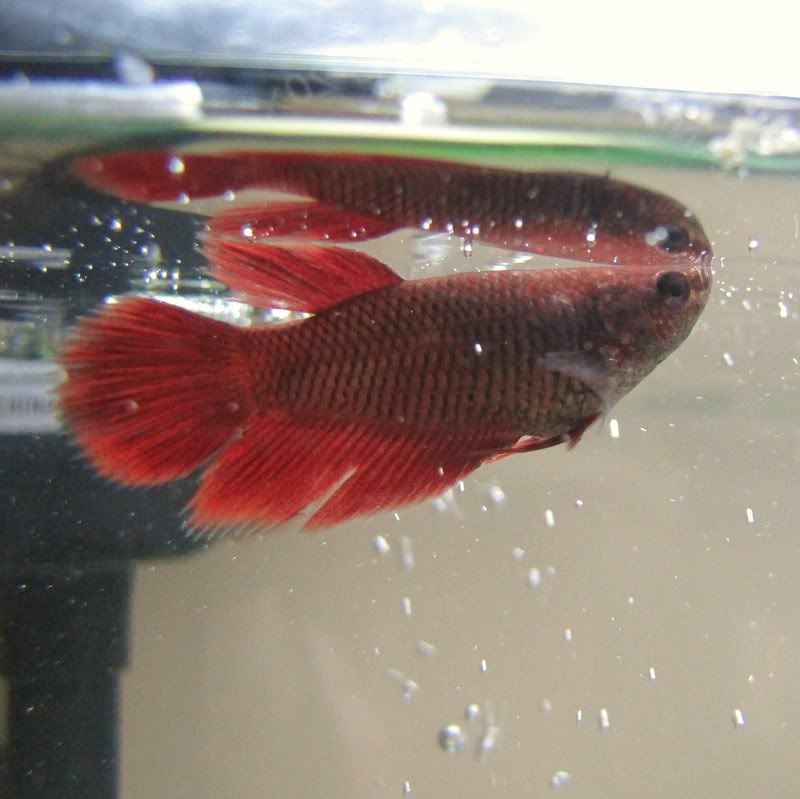 (this photo is actually a lot better)
And her kissing the water for fun :P
So yesterday I went to my LFS but before I would buy anything they received new stock so I had to come back today xD
So I bought the last 3 females few hours ago, 1 was veeery tiny so I took her too, because for some reason they always keep 1 male on the same tank as the females... I don't really know the reason why, anyway these are the new 3 ones, if you have a good name for them I don't mind listening. :P
The Tiny one:
And this one here:
You see, she has something on her other eye, not sure what it is, but I really don't want to take her out to treat it unless I really need it. I'm kinda traumatized having to take a female out to treat outside of the sonority.
That's her eye from far away:
Now close-ups;
She does swims very slightly sideways so I'm not sure =/
Buuut, at least they don't have fin-rot or anything, which is good, just bad fin damages which will grow back :P
Also, OFL, is this the micro-organisms you said that grows on the plants?
(can you see the white-ish layer coming from the leaf?
---
That's me on the photo alright.
Member
Join Date: Mar 2010
Location: USA
Posts: 10,951
I would get the female with the bad eye in QT....personally...I would QT all the new fish for at least 2 weeks to avoid any problems with the sorority...its just good practice...even though they may appear fine....stress of the move and new environment can compromise the immune response and any little thing in the tank that the current fish have antibodies built against can attack the new fish and vice=versa........

Back to the female with the eye issue and clamped fins...I would QT in a small container that can be floated in the heated tank to maintain a water temp in the 76-77F range and start fresh/dechlorinated 100% water changes daily and watch her.....if the eye start to swell more or her behavior changes and/or other signs/symptoms pop-up.....I would start Epsom salt 2tsp/gal, tannins along with the 100% daily water changes....it may be nothing but an old injury...but poor water quality(from the pet shop) and added stress that compromises the immune response...well.....you know what happens......nice looking fish btw...all 3 of them.....nice find.....
thanks, I will prepare something for her tomorrow, it's a bit late for a moving like this right now here. The water quality is perfectly good cus I made 100% before moving them, but yeah, QT for her as I expected lol!
And my neighbour came to my house today inviting me to check their last goldfish in their house, so I went there and in the end I got the fish until saturday, where they expect me to help them to clean their tank and give them a whole "diary-care" for him... I might go and buy another one for them tomorrow, because I've heard goldfishes can't live alone (since their other one died), but they have been very patient about them and they are thinking about a new tank, although they really didn't expect this much trouble from them... (guess the same happens with most betta owners :P).
So yeah, now I'm running a "fish-hospital" on my neighbourhood... LOL! I don't mind at all, I love seeing those buggers :P!
Ahh yeah photos, lemme show you him and what you think I could do;
He's on a temp tank I just set up for him and I think I might put some salt on the tank, since he has ammonia burn and they said it hasn't been active at all, staying at the bottom all the time, I think that might be boredom from him, I put him near my tanks he's been very active now, but just to make sure he doesn't have any gill burns as he has in his head I will add some salt (1tsp/G) to boost him up.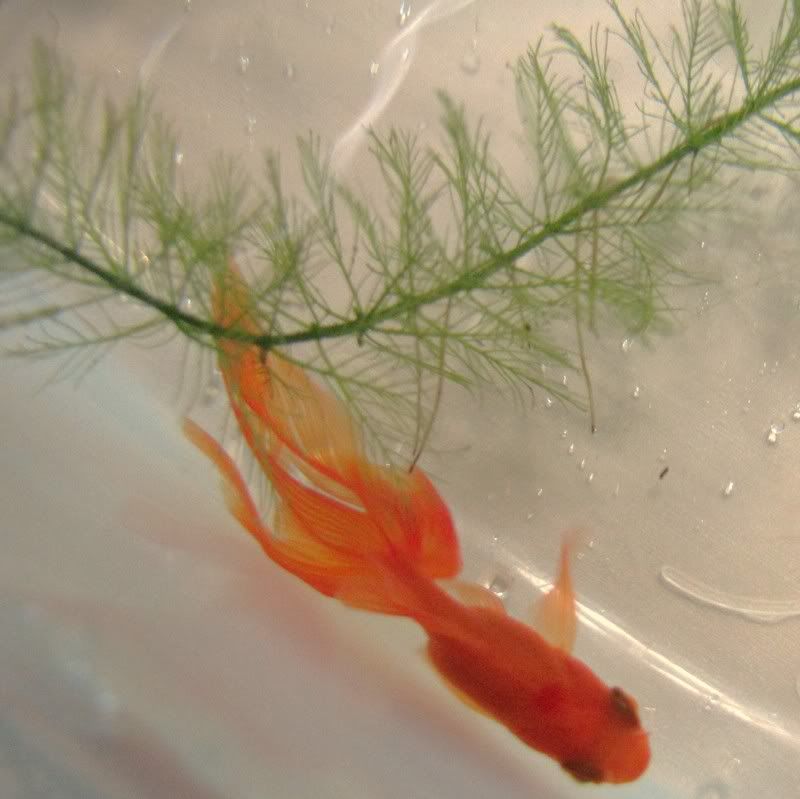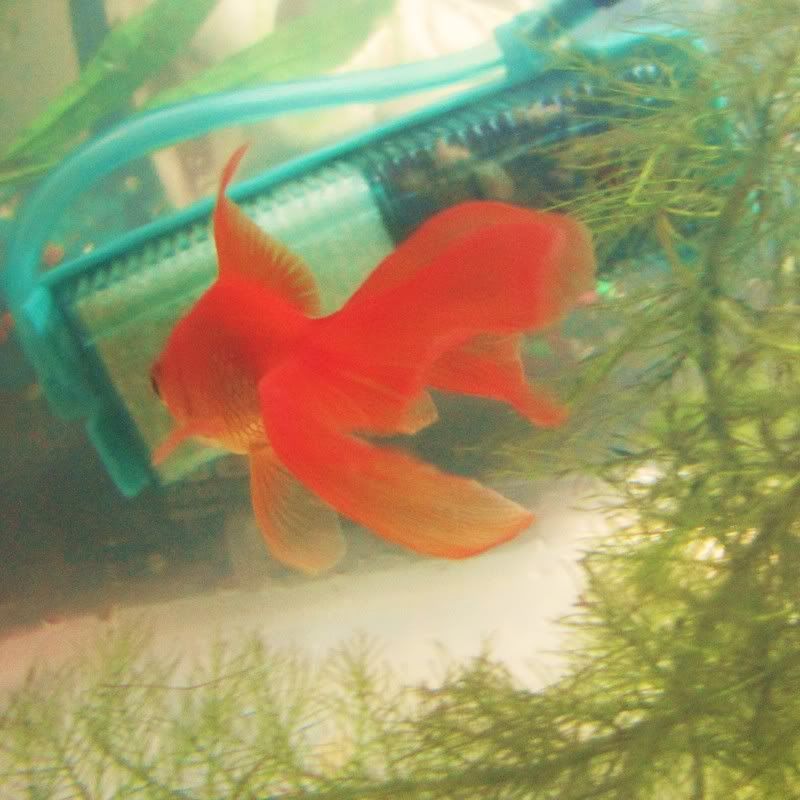 Gosh I love his tail :V
---
That's me on the photo alright.
Member
Join Date: Mar 2010
Location: USA
Posts: 10,951
What a lovely goldie........I would not get another unless the tank can support more than one...lots of aeration, cool water in the upper 60's-low 70's, clean water from lots of water changes, good nutrition-they love frogbit and blanched spinach......be careful changing too much water on a neglected tank-seems like I read that this goldfish was neglected or was it a different fish I am thinking about....anyway...the high nitrate and low pH from a neglected tank can shock the fish when it is suddenly changed too fast...I would test them first and make small volume changes to start.... increasing percent daily......salt will be fine, however, not sure of long term effects with this species that can live over 25 years with proper care and housing.....