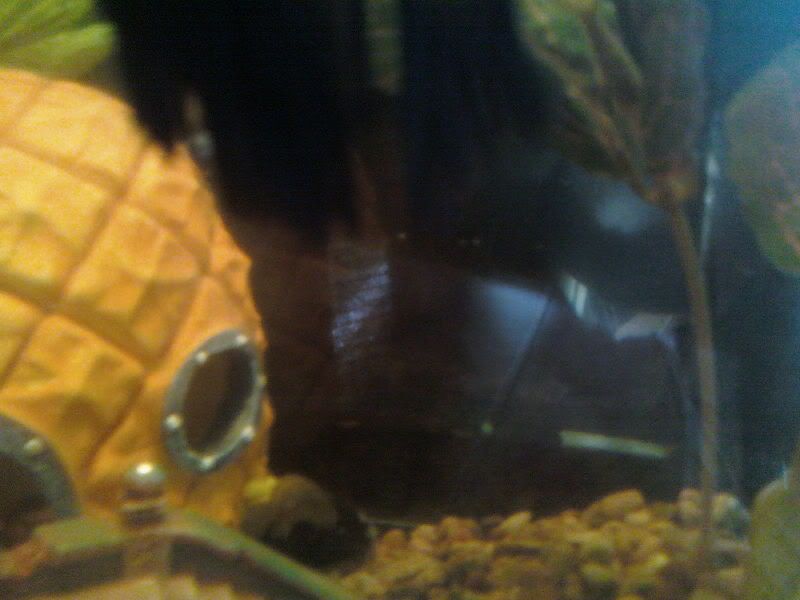 you can sort of see my snail hiding next to the pineapple
---
Last edited by xjenuhfur; 04-10-2012 at

05:25 PM

. Reason: Broken img
Oh, did you see the other picture I posted?
This one?
its before he came out. Apparently there were 3500 people in there.
should i take the remainder of the algae wafer out of my tank? its all squishy and looks like both Swish and Darroh had their go at it.
Banned
Join Date: Jul 2008
Location: Central Texas
Posts: 27,607
We watched his speech today.
Quote:
Tiki, nitrates of 40 are getting to the toxic stage. It's interesting that Prime doesn't neutralize the ammonia in the tap water. But from those readings and knowing you have ammonia in the tap, I'd say the tank is cycled already. o.O Why did your tank cycle so fast but my stupid 55g is still unstable?
odd because i tested again tonight and it was like down to 0 and i didn't change the water. I'm freakin confused
---
hi all back from work
---
( ) ( )
(^.^)
@( > >)
" " ^^ ^^ " " " – Mister Bunny the new voice of reason hee hee
i put a cucumber in the tank...have yet to see the snail go near it.
maybe i should of gotten algae waffers?

Hi yuuie
---
if he's not in with fish, one of those weekend feeders are good for them, calcium, and in a snail taste test, it was preferred over 4 other foods!

(Yes... people actually held snail taste tests...)
Tags
0_o , banana !! , bettathanyou , cornucopia=not yummy , eat the cheese , eyeballs!!!!! 0.o"o.0 , i started a trend - maisy , like a thread in a thread , tag bombed! , tag! you're it! , taggy mctaggerson , taggy mctaggerson ii , that is dobby's cheese , throw the cheese