A lot of the info I need ATM comes from google translated German pages- solid info, I know.
When I finally start getting paid I'm looking to finish off (for now) my aquarium collection with a bang.
I naturally go for the rare and exotic, it's why I got interested in fish.. Somehow I got stuck with all these betta, lol. I currently do have a decent sized list of rare fish I'm looking into importing as soon as I can, and though for some I can find some good info- I'm not gonna get anything on commando crabs or rare halfbeaks/macrobrachium in English. Some of the fish I'm interested in, you pretty much gotta improv what you're doing with them.
So yay, I suffer. This show stopper will be the last tank I can set up realistically until I'm done my studies.
Posted via Mobile Device
Member
Join Date: May 2011
Location: Elk Grove, California
Posts: 10,782
LOL. So that's why you're so excited about Sparky. XD He's a rare fish. :D
YES Sakura, I am living my dream through you for the moment. :p
This is one of the fish I'm quite interested in: (sorry can only post the link on mobile). It's called a peppermint crocodile fish. They do sell them on the foster and smith fish site, so they aren't too bad availability wise, one of the few fish I wouldn't have to import from Sulawesi myself. xD
http://www.fishkeeping.co.uk/uploads...a687e9f2c4.jpg
Posted via Mobile Device
That fish looks so cool. o.o
---
Sunshine!
"I am not afraid, I was born to do this." -Joan of Arc
Blogger at
Hello Wench
I'd need 30 gallons for a group and all that RO water would be an ongoing cost for keeping them.
They are related to gourami, actually.
Which also means related to our betta.
Posted via Mobile Device
Cool fish!
btw I got another PM asking me to join that other forum. This time it's under a different user name. Are we being trolled? o.o
---
"Education is the most powerful weapon which you can use to change the world." -N. Mandela
To my journal!
http://www.tropicalfishkeeping.com/j...ourami-592858/
um so guys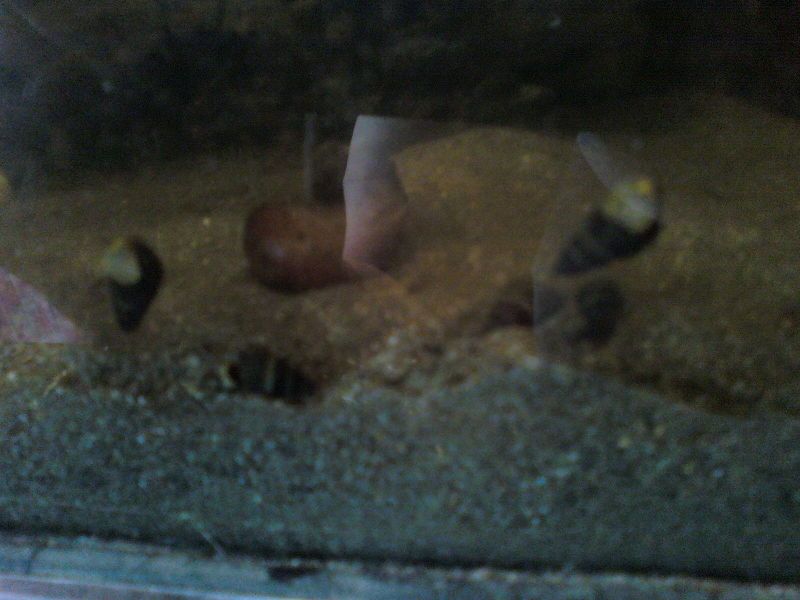 yep i have at least five BABY rabbit snails.
It's an adorable fish.
Bekah is this a problem?! I am getting a pair of chocolate rabbits as soon as I work up the courage to pay $12 for two snails that may be 2 males or two females. >.<

Also, I got a pm too. Something about how everyone is going there! Some dumb forum that'll probably die soon due to a bad reputation of advertising itself against other forum rules.
Posted via Mobile Device
um idk if its a problem, i just definitely have a female @_@ i think i'll be selling some if anyone in the US wants to buy
You can't have too many rabbit snails!
Posted via Mobile Device
Tags
0_o , banana !! , bettathanyou , cornucopia=not yummy , eat the cheese , eyeballs!!!!! 0.o"o.0 , i started a trend - maisy , like a thread in a thread , tag bombed! , tag! you're it! , taggy mctaggerson , taggy mctaggerson ii , that is dobby's cheese , throw the cheese