Sparky is amazing!
---
Guys, Community is a hilariious show! I like not having the stress of a thousand assignments. Here's to hoping my day project paper went ok! (wrote like 1000 words over the limit but upon editing I realised I needed them all.. It's what the prof gets for asking a 3rd yr history student for a 5 page 1st level course paper! lol I'm just so conditioned to write moar than 5pgs)
Bleghr Diablo wlcome back! Can't wait to see pics.
---
"Education is the most powerful weapon which you can use to change the world." -N. Mandela
To my journal!
http://www.tropicalfishkeeping.com/j...ourami-592858/
SPARKY! :D
I wish I had a rare fish like that. ;-; I've been looking into some that won't require me to have a pH of like 4. I'm loving licorice gourami, and noble gourami, but pH things scare me, lowering it from 7.6 to 5.5 just seems like a huge hassle.
I'm thinking in the end I'll just be impatient and set up a mosquito rasbora tank. xD
Posted via Mobile Device
all levels still look good! ph may have dropped slightly, hard to read it in artificial light. And the water is beyond soft, I just wish I could make sense of these calculations it gives me.
>.> Just use my water Olympia, I've gotten readings of about 5 at one point.
So the 5 gallon came in! i need to get a filter (it'll just be water changes every couple of days until i get one that'll fit where i need it) and a heater. but i love it! and the boys love it too.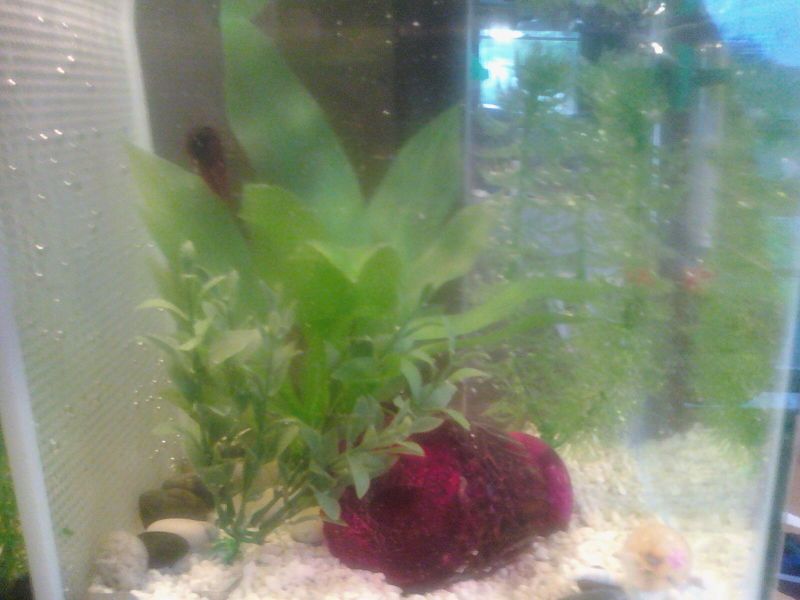 Member
Join Date: May 2011
Location: Elk Grove, California
Posts: 10,782
It looks fantastic, Bekah. :D
i'm super happy with it :3
Member
Join Date: May 2011
Location: Elk Grove, California
Posts: 10,782
You should be, it looks good. :)

I fed Sparky some beefheart tonight. The first time I checked, 5 minutes later, he hadn't moved. The second time I checked, about 10 minutes later, the food was gone but it looked like he still hadn't moved. Hahah, the stealth eater. Looks like he just snarfed the thawed cube down whole.
Tags
0_o , banana !! , bettathanyou , cornucopia=not yummy , eat the cheese , eyeballs!!!!! 0.o"o.0 , i started a trend - maisy , like a thread in a thread , tag bombed! , tag! you're it! , taggy mctaggerson , taggy mctaggerson ii , that is dobby's cheese , throw the cheese