It wasn't momma it was a boy shrimp. But still really annoying. :(
Momma dropped her eggs but I haven't seen anything. Removing gobies and putting them in a plastic tub, maybe they'll stand a chance now...
I bought a betta and farlowella today anywho.
Posted via Mobile Device
oh no the shrimp ;-;

what tail/color? and farlowella, that's an interesting fish
Oh man yes he's so cool! Plus he won't eat my shrimp!! >:(
I can't believe I gave the gobies aquarium salt in their punishment box. It's like I'm rewarding them.

What should I name the farlowella?
Member
Join Date: May 2011
Location: Elk Grove, California
Posts: 10,782
Hello all. Returned the clown loaches today. :( I'll miss them. Got two more congos so the 4 I have now will hopefully feel more comfortable and stop HIDING! And a blue halfmoon female. 29gal is now fully stocked.

Olympia, awww, I'm so sorry about the shrimp. Bad gobies! They eat everything they can fit in their mouths, from what I know from my friend who has them.

Call the farlowella Farlow. See how creative I am.

That's one long-finned pleco.
the substrate in my shrimp tank is 50% snail. I tossed in some blanched zucchini... my adult apples haven't touched it yet. The babies have covered it. And the ponds are gonna be happy in the 10. I bought it for the pleco!!!!!
Farlow. If no one has anything better. He's so cool, he has like really dark stripes on him while the rest were just one colour. The lady was so nice. I told her I wanted exactly him and she chased him around the tank for like 5 minutes. xD
Here's the new guy. I went into Petsmart to look at the new halfmoons (and get the farlowella). There was a cool marble, but he had such bad scale deformities, looked bad. Looking between him, my CT and another CT. Then I slowly watched a little veil tail dragged off to his death in a little betta cube with a 4 year old girl. Then I looked at the 3, and was like "whichever of you I leave behind will probably die that way." So I wasn't going to get anyone. Was putting the crowntail down, and he gave the biggest flare ever at my shirt. Couldn't say no to that.
I am SO weird.
Anyways, this guy is a MONSTER. I plopped him in, first thing he did was try to eat a bunch of ramshorns. Then he body slammed the side of the divider to try and get at Reuben. Like, he went vertical with his body slam. I've never seen a betta come straight out of the cup and do laps around 10 gallons of water with a filter like nothing.. They hate each other. It's so funny, Gilbert and Reuben always sit side by side, they don't flare at each other or anything, Reuben slipped through the divider when I was cleaning it and they just chilled together. But the new guy and Reuben HATE each other. Hehe.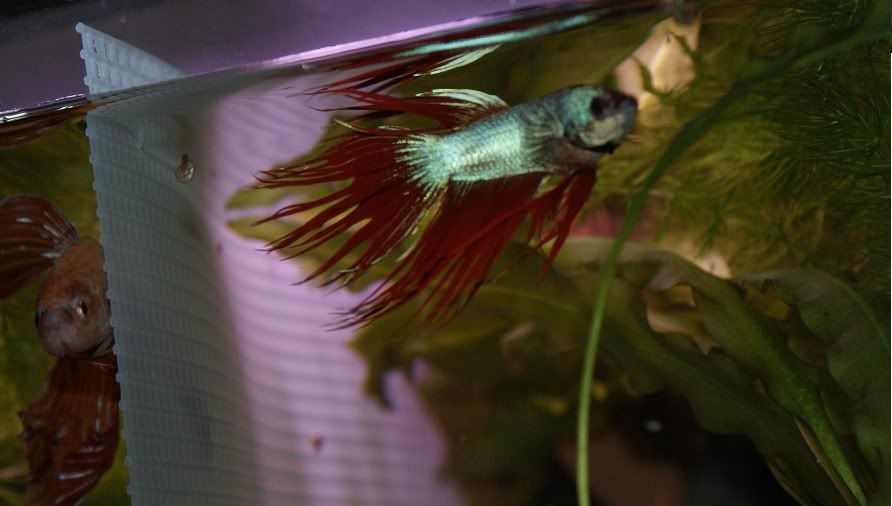 You can SEE Reuben's hatred in this photo. HEEHEE.
Anyways, is he a dragonscale or does he just have a stripe?
---
taking a break from fish-keeping.
3 lovely male betta still keep me company.

that is one PO'd betta :P he is lucky to have you
Aw, what cute Bettas! I think they're adorable when they act grumpy. xD
---
You will always be my best friend,
.
Tags
0_o , banana !! , bettathanyou , cornucopia=not yummy , eat the cheese , eyeballs!!!!! 0.o"o.0 , i started a trend - maisy , like a thread in a thread , tag bombed! , tag! you're it! , taggy mctaggerson , taggy mctaggerson ii , that is dobby's cheese , throw the cheese