Sulu is SO cute!!! i want to give him hugs Elizabeth :3
Aw hugs Sakura!
We could never get Slender to work. We DL'ed it, and ran it but couldn't even collect the first paper without it bugging out. Matt's computer just isn't equipped for online PC gaming. :(
I would like someone to seriously tell me what the heck I'm doing wrong!!?!?!??!!?! My hornwort is withering...Uses fert. and everything this time.
---
"Education is the most powerful weapon which you can use to change the world." -N. Mandela
To my journal!
http://www.tropicalfishkeeping.com/j...ourami-592858/
Member
Join Date: May 2011
Location: Elk Grove, California
Posts: 10,782
It might be too warm. Hornwort does better in cooler tanks (some varieties do well in warm tanks but pet stores never tell which variety you have). Same with anachris. There's a variety of anachris that is ultra sensitive to warm waters.

Stopped by Petsmart on the way home and bought a raphael catfish for snail duty. Same thing as the clowns: if he doesn't eat the snails, he's gone. He's like 2" right now so I'm just hoping he doesn't eat the rummynoses I'm supposed to be giving to Kfryman this weekend. -___- 2" is too small to eat a 2" rummynose, right?! Right?!

Elizabeth, Sulu is awesome! Get a whole bunch of toads, you've still got most of the crew to go through. :D (Personally, Chekov was always my fav)
Quote:
Aww no Sakura! Poor girl. :[
Went out to dinner tonight, twas nice. Supposed to hang out with a friend tomorrow, let's see how that goes over I love awkward hang outs with guys. D:
Frog... obese.... ugh..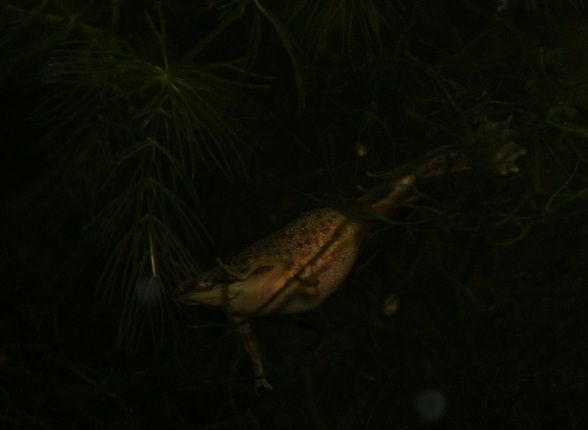 Her name is Atilla and her "mate" is The Hun. Fits them perfectly.
You do know Atilla the Hun died of over eating?
did the clowns go back already?
Member
Join Date: May 2011
Location: Elk Grove, California
Posts: 10,782
Bekah, yeah, they went back a few weeks ago. Apparently a few weeks too soon.
Kinetic, hahah, no actually I didn't know that. I get it now.
My brother forgot my dad's birthday. Again.
Says he choked to death...
Uhhh so I've just cursed my obese frog to a horrible death. Wonder what will happen to "The Hun"
---
taking a break from fish-keeping.
3 lovely male betta still keep me company.

-rolls around-

WELL, I haven't been on here for awhile, how are you guys?
Hehe. Sulu likes you guys too! He is WAY skinnier than our others, it worries me. He looks healthy, but I hope he fattens up and the others lose a little. xD Kirk peed on me today. ._.'' He is the only toad out of five that has ever peed..

I wish the person I emailed on Craigslist would answer me. I want to know if she is still trying to get rid of those rats!
---
You will always be my best friend,
.
Tags
0_o , banana !! , bettathanyou , cornucopia=not yummy , eat the cheese , eyeballs!!!!! 0.o"o.0 , i started a trend - maisy , like a thread in a thread , tag bombed! , tag! you're it! , taggy mctaggerson , taggy mctaggerson ii , that is dobby's cheese , throw the cheese