I have plants. A lot of dead plant matter too, hornwort and duckweed pieces. Never had a chance to clean them yet.

Yea, I think I just want to add things to the tank. I don't want to supplement snails with wafers though, I know my bettas would eat them. I'll just suck it up and wait until an opportunity presents itself (ie., ADF or another betta for my 3g)
---
"Education is the most powerful weapon which you can use to change the world." -N. Mandela
To my journal!
http://www.tropicalfishkeeping.com/j...ourami-592858/
Laki no they won't, my king is a little piggy and he doesn't touch the wafers.
lol really??

**DONT.. TELL.. ME ... THAT**
vfjkhrb

I'm some tired now. university orientation training all day tomorrow, at least I get a good feed from it. AND I'm totally psyched to volunteer and freak out all the new students! lol I mean, um.. help...
---
"Education is the most powerful weapon which you can use to change the world." -N. Mandela
To my journal!
http://www.tropicalfishkeeping.com/j...ourami-592858/
Snails clean my big tank.
---
taking a break from fish-keeping.
3 lovely male betta still keep me company.

Laki, my girls created a sandstorm to get a small bit of a wafer. Depends on the betta. Blanched veggies are safer. Speaking of. The water should start to be frosty, time to feed my lovely snailies... and uhm plec.
Yuuie? finished what?

Relic? 18 hours? omg have fun, share what you bring home? hehehehe

The snails i have got right to cleaning. The clean the plants, and the sides and the bottom and the heater and the filter and well everything. The are even cleaning the mesh with the xmas moss in it, lol.

I wanted the trapdoors cause it said they eat andy dead parts of the plants and leave the rest. But then I read elsewhere lastnight, that they will eat the dead plants if they are starving, but prefer, flakes, and fish foods, and goodies, lol.

Sakura, did you make it to the theater? I hope so.. You sleep schedule is going to be so confused .. I feel for you.
alright, things are coming together!

We got a stand thing, and though the ten gallon doesn't fit, i've got a new place for that. I've got my 3 gallon on the top shelf, the five gallon divided on the second shelf, and a spot for the new 5 gallon on the bottom shelf.

The ten gallon is set up on a shelf above our extra tv. I took all the fake plants from the 29 gallon, two fake ones from Swish, and a fake plant from both Zeddie and Reuban. I think it fills the 10 pretty well, but i will probably get some terra cotta pots this payday. Also, i need to get a filter, and a hood for this new 10 gallon. For now, plastic cardboard will have to do.

And the 29 gallon is all set for the angelfish! i'm super stoked. Mom was so excited about angelfish- that's the only reason she let me do a 10 gallon for the female bettas.

jfasd;ljfdlsaj; YAY
I hope shrimpies appreciate the zuchinni I added. I know the snails and pleco will be happy. 3 slices half a cm each.
I forgot to buy some fresh snail tenders, lol. will have to get some next trip to the store..
'
Glad the angels get to stay. Sounds great. Although not sure id have anything with water in it above any tv o.O. I ruined a monitor like that, lol. Watering a plant. Beg duh!

I was going to say, if you are skilled and have a saw and screw driver you can build a stand for about 3 tanks vertical, but they have to start lower, to fit and still be able to clean, etc, with out a ladder, lol.

I have the plans, havent put in sketchup yet, but can if you ever want them. And it costs about oh 25 or so to make it, with longer shelves , leaving an area to one side for plants, or whatever.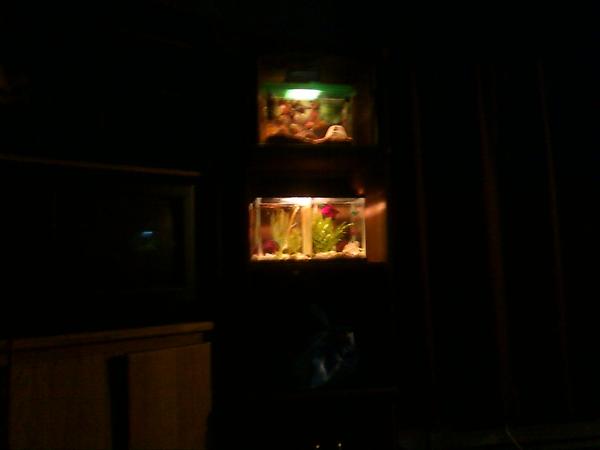 you cant see it but there is a bottom shelf under those two tanks. and to the left on the top shelf is a ten gallon
Tags
0_o , banana !! , bettathanyou , cornucopia=not yummy , eat the cheese , eyeballs!!!!! 0.o"o.0 , i started a trend - maisy , like a thread in a thread , tag bombed! , tag! you're it! , taggy mctaggerson , taggy mctaggerson ii , that is dobby's cheese , throw the cheese