Member
Join Date: May 2011
Location: Elk Grove, California
Posts: 10,782
I envy you and your space for more tanks. *glares*
I went to the local aquarium today.. Now I'm depressed.. It is the sickest, grossest place I've ever seen! The tanks have crack and are sooo dirty! The piranhas were gasping for air, the cat fish had popeye, some even had popped eyes. The sea turtles had one which was probably dead and fungusy and the red ear sliders had no basking area and all had shell rot :( I'm filing a Public interest litigation against them! ><
---
"You are forever responsible for what you have tamed."
Betta love: it's an international thing.
Azure, Sterling, you will be with me forever. Peaches, my crazy girl, I'll miss you the most.
Fishies

The Boys: Tranny, Inky "Yume" Zuko, Mao, Onishiki, Chopin, Maelstrom, Kabuki
The Girls: Kamikaze, Beeuty Qveen, Beefcake!, Chunkers, Awesome Sauce
_____
Meeces: Koko, Bijli, Baadal, Barkha
Turtle: Hi Handsome (female -__-)

D: That's so horrible fighter! How do they even keep their license!
---
Elrohir the plakat
Galah cockatoo & African Grey
They're run by the government.. I'm so ticked off!
---
"You are forever responsible for what you have tamed."
Betta love: it's an international thing.
Azure, Sterling, you will be with me forever. Peaches, my crazy girl, I'll miss you the most.
Fishies

The Boys: Tranny, Inky "Yume" Zuko, Mao, Onishiki, Chopin, Maelstrom, Kabuki
The Girls: Kamikaze, Beeuty Qveen, Beefcake!, Chunkers, Awesome Sauce
_____
Meeces: Koko, Bijli, Baadal, Barkha
Turtle: Hi Handsome (female -__-)

well he's stressy and sinky but he had enough energy to swim around acting upset and he took a nip at some of the junk at his water
I'm guessing the lady in charge of the fish section is on vacation or something, there were several in not so great shape. I saw this gorgeous ct as well but my qt's are full right now with this guy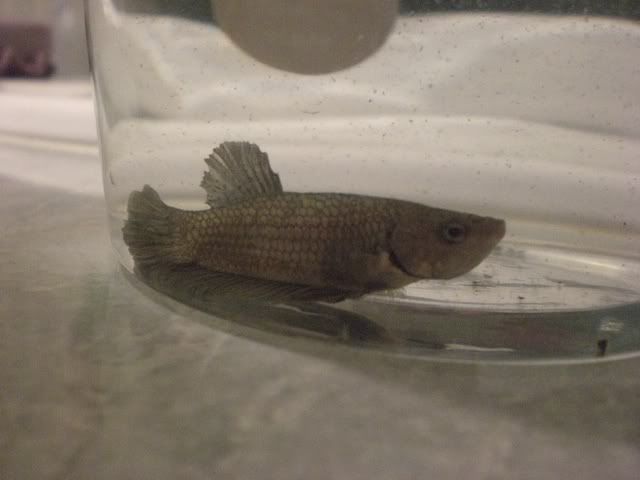 Member
Join Date: May 2011
Location: Elk Grove, California
Posts: 10,782
Woohoo, you got him, way to go Tisia! Another betta rescued!

Fighter, aww, that's so awful about the aquarium. :( Those poor fish, when you said they actually had popped eyes I cringed.
Member
Join Date: May 2011
Location: Elk Grove, California
Posts: 10,782
I just got back from my pet store and the fish lady was telling customers how she keeps her bettas in a 2 gallon with danios and African Dwarf frogs with no filter or heater and he lived for 5 years. *cringes*
Yeeks! I was close to tears in this place.. Sister too and she doesn't even like fish! Tisia the new boy has potential :D can't wait for new pics :}
---
"You are forever responsible for what you have tamed."
Betta love: it's an international thing.
Azure, Sterling, you will be with me forever. Peaches, my crazy girl, I'll miss you the most.
Fishies

The Boys: Tranny, Inky "Yume" Zuko, Mao, Onishiki, Chopin, Maelstrom, Kabuki
The Girls: Kamikaze, Beeuty Qveen, Beefcake!, Chunkers, Awesome Sauce
_____
Meeces: Koko, Bijli, Baadal, Barkha
Turtle: Hi Handsome (female -__-)

Member
Join Date: May 2011
Location: Elk Grove, California
Posts: 10,782
Places like that should be closed down. I'm sorry you had to see such a horrible sight. :(
Tags
0_o , banana !! , bettathanyou , cornucopia=not yummy , eat the cheese , eyeballs!!!!! 0.o"o.0 , i started a trend - maisy , like a thread in a thread , tag bombed! , tag! you're it! , taggy mctaggerson , taggy mctaggerson ii , that is dobby's cheese , throw the cheese