Heh heh. Got to love cats and all their quirkiness.
Willow, the puppy in the picture, is my favorite of all three puppies. The other two, Wynona and Winston, the larger and chubbier ones, are cute as buttons, don't get me wrong, but I have a special place in my heart for Willow.
---
~~~~~~~~~~~~~~~~
"The day the power of love overrules the love of power, the world will know peace."
―
Mahatma Gandhi
~~~~~~~~~~~~~~~~
---
Last edited by TheCrabbyTabby; 10-17-2012 at

07:11 AM

.
My eggs were eaten. I'm simultaneously bummed and relieved. But now I know I have a pair, so I think need to start preparing for just in case they do this again.
I thought you meant like.. Breakfast eggs and I was really confused. xD Physics class is so unproductive still. -__-
Posted via Mobile Device
lmao Olimpia. didnt you see my picture?
No. Where's it at?!
Posted via Mobile Device
lol I read it a few times too and was like, try next time? What? Like, real eggs from a neighbor's chickens or...

So I'm really upset that my folklore teacher tested us more than half on an article we NEVER discussed in class. I don't even know. I had her before and she was always so fair and good on tests and never any surprises. Not impressed. It ruined my day, until I had to go see my history prof in his dungeon about something. And then that ruined my day but what's worse is I have another folklore class at 7 pm and the prof for that ate dried fish in our last class. That's what kind of person he is.

fjnguib


Sorry about your eggs Bekah! :(
---
"Education is the most powerful weapon which you can use to change the world." -N. Mandela
To my journal!
http://www.tropicalfishkeeping.com/j...ourami-592858/
Quote:
oh my god
KAEPORA AND GAEBORA
THEY SPAWNED!!!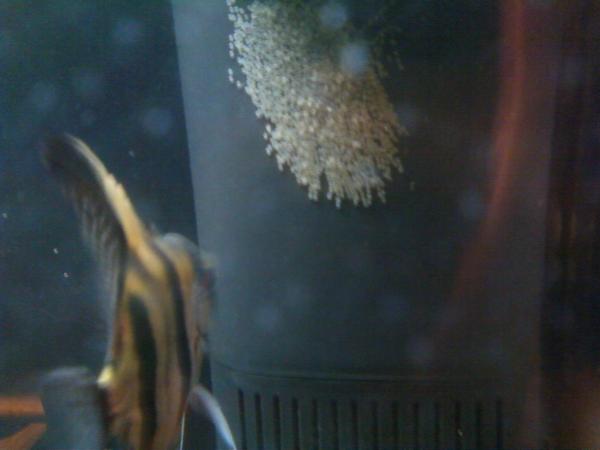 WHAT DO I DO DO I GO BUY A BIG BIN TO PUT MY OTHER FISH???
Now i know though, that Kaepora is a boy, Gaebora is a girl...
also, that's why Kaepora was trying to kill the danios u.u
here limp
paranoid they arent actually a pair though. the eggs didnt stick around long enough for me to know if they were fertilized.
See your egg story is confusing!!
ANGEL FISH.

Lol some creep told my friend he loves her today. First thing he's ever said to her. And he left a poem in her locker, creepy, and his fb status is the same poem. He also stares at her constantly. Whadda creep.
Posted via Mobile Device
He did the same thing to my other friend at the start of the year. We think he has something like Aspergers cause he reminds us of our one friend that has it. :/
Either way, not good. He transferred from another school and half his fb is about how awesome our school is... For non uniform day, he wore the uniform tie with regular clothing. :/
Posted via Mobile Device
Tags
0_o , banana !! , bettathanyou , cornucopia=not yummy , eat the cheese , eyeballs!!!!! 0.o"o.0 , i started a trend - maisy , like a thread in a thread , tag bombed! , tag! you're it! , taggy mctaggerson , taggy mctaggerson ii , that is dobby's cheese , throw the cheese