Member
Join Date: May 2011
Location: Elk Grove, California
Posts: 10,782
Don't put fish in the garage and rats in the closet. I have no idea how to do water changes on Sparky without shocking him because the hose water is like 65 F. But he's got like 40 ppm nitrates. I have to do a change in the next day or so . . . somehow. And the rats pulled the hem of my brand new dress into the cage and nibbled holes in it. T_T Brand new, dangit!
I must have nitrates in my water. Even my heavily planted, triple-filtered tank gets up to 40ppm in a week.
And honestly, I don't know how this guppy is alive. He has no dorsal fin; the loaches bit it off a long time ago. But he waggles along anyway.
Tiki, Kanaplex will be gill-absorbing but to target an internal infection, it will be most effective being fed.
Mo, that's a lot of fish. Good luck. :)
Sakura, maybe you can put the fishy(s) in a separate bucket or tank with a separate heater to keep that water at the correct temp. When the original tank's water is at the correct temp you can put the fishy(s) in the tank.
LAZORS! LAZORS ARE FUN! Well as long as you don't blind you'r self.

Or Sakura you could put the water in a small tank with a heater and heat it that why.
Member
Join Date: May 2011
Location: Elk Grove, California
Posts: 10,782
Yeah, I think that's what I'm going to have to do is take him out and put him in a separate tank while the water heats up. *sobs as she watches more money being doled out for fish heaters*

Oh, Fishy! I don't see why you can't use a Top Fin air pump. It might be noisier than a Tetra but it should be fine. I just don't trust their heaters, is all.
Sakura, I'm pretty sure at this point it would be easier and less expensive to heat a whole room at 80 degrees, and keep you'r fish in there. But I'm pretty sure you'r going to replay that you don't have an extra room, so I'll now stop.
INDIAN FOOD. ME WANTS!

I've noticed Poppy only bites when I have either just woken her up abruptly or I have just eaten. Most of the time when I have just eaten because hamsters don't have good vision, but especially Poppy since she is albino.

I need to check this website. Hopefully some new members!

And... I love my iPad Mini! It is perfect! I wonder if Admin would possibly hire someone to make a bettafish.com mobile app?!
---
10 Gallon Tank:
~Countless Pond Snails~1 Espe's Rasbora~1 Harlequin Rasbora~
5 and 5.5 Gallon Tanks:
~empty~
Avatar by Fenghuang
Many of my scaly friends from my original tank from 2011 have passed, except for two! I am in the process of re-doing my tank. :)
I opted for the soup today. Tomorrow Indian food.
---
~TPF

1 Doberman Mix: Emmy, 2 DSH Cats: Rowan & Jacob, 1 Bearded Dragon: Rainier (aka Mista Lizad Man), 1 Eastern Box Turtle: Greta, Two 5g tanks: Alchemy (Halfmoon) and Custard (Yellow VT)

got more plants today. I might be satisfied now? maybe not.
pulled a petco betta cup's worth of floating plants out. Fishy, you said you wanted some floaters right?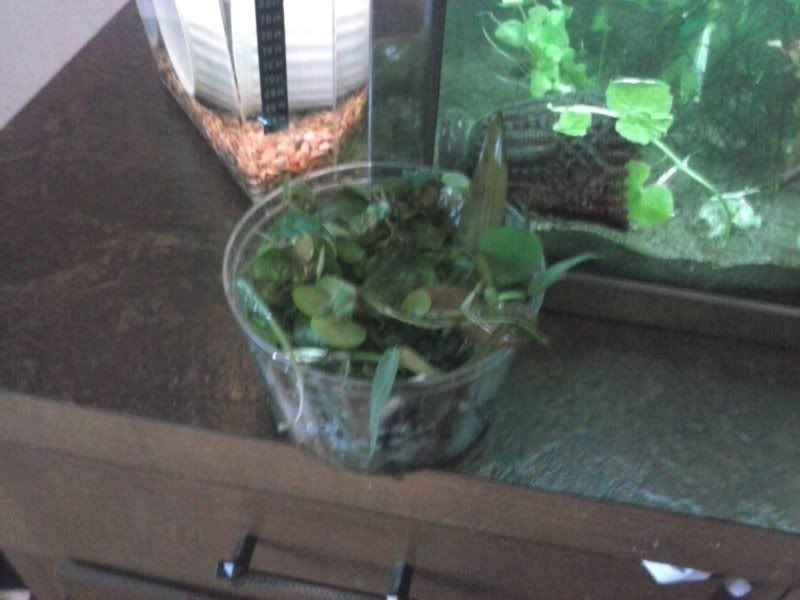 Frogbit, asian water grass, and salvinia, was covering like 3/4s of the top of my 29 gallon tank. you might not need that much lol. OR WAIT you have that 75 to set up dont you fishy
if fishy doesnt take em I will! I am in need of some floaters for my spawn tanks and divided tanks
---
i'll keep you in mind mo :)
Tags
0_o , banana !! , bettathanyou , cornucopia=not yummy , eat the cheese , eyeballs!!!!! 0.o"o.0 , i started a trend - maisy , like a thread in a thread , tag bombed! , tag! you're it! , taggy mctaggerson , taggy mctaggerson ii , that is dobby's cheese , throw the cheese