I imagine so. It would almost be the same idea of someone always dying their hair to be black when their hair is genetically blonde. It will always grow out blonde until that person grows "wise".
Here's two of my orandas (Paisley and Penelope)
Paisley when I first bought her:
Penelope about two months after I got her (she had black on her wen and it was way thicker in other places when I bought her: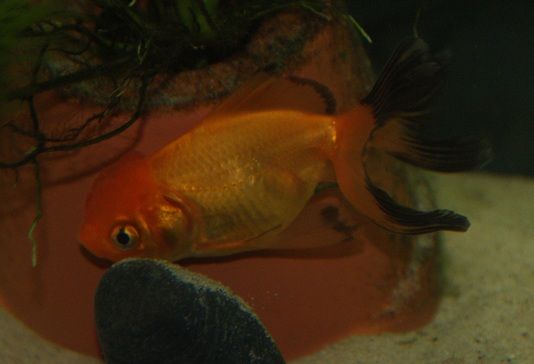 Today, Penelope is 100% orange, and Paisley has no black either.
SO, don't fall for those adorable black patterns cause they tend to disappear.
The whole "panda" colouration that some stores market doesn't last (unless you are buying high quality show fish that have good pedigrees).
---
taking a break from fish-keeping.
3 lovely male betta still keep me company.

On the other hand, calicoes go either way..
Piper when I bought him: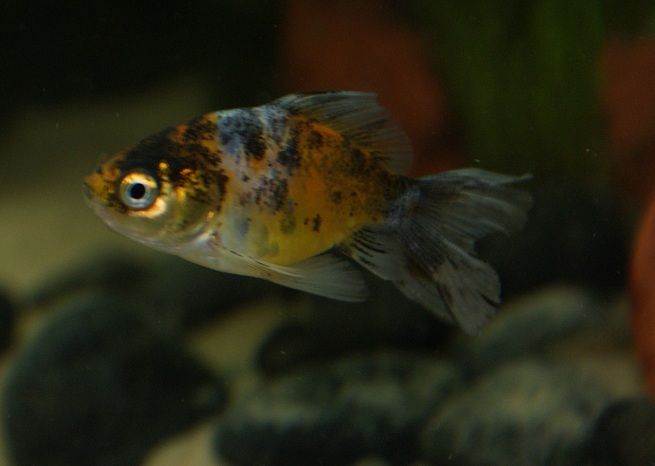 Piper now (way more black and that orange has really popped):
---
taking a break from fish-keeping.
3 lovely male betta still keep me company.

I knew there was a reason why I always like calicoes more xD
Aw they're cute! So goldies are like marble bettas! They always change colors.
I am making myself sad about this new tank thing. I don't think I have space for a 10g :( I measured where I thought it would go but it's a pretty tight corner. It would need a very strong table/stand and then it's so close to the porch door that I'm afraid something could go wrong.
Then I was looking at apartment ads for fun and we cannot afford to move. fml.
I was, however, reading for my seafaring course. One of the books intro's was so social historical I was just entranced. It was about slave ships in 1700-1808 and I cannot wait to get more into it. I downloaded the Pianist for my alone Saturday night movie (Matt;s out).
And I have 4$ on my bank card.. Want chips.

Fishy, lol I love fish supplies warning labels!! Don't put the electrical cords in the tank! lol
---
"Education is the most powerful weapon which you can use to change the world." -N. Mandela
To my journal!
http://www.tropicalfishkeeping.com/j...ourami-592858/
LOL Laki. Yeah, I can see someone going "dur dur dur" *plop* "Oh look bubbles!!! Hey whats wrong with my fishys??" xD


Speaking of tank locations; Hubs actually wants to see about putting the 75 gal where my desktop was. That reminds me, I need to take measurements to see if that would work.
A nope nope nope
Not gonna work. The space is exactly 50" and the 75 gal's stand is exactly 50". Too squishy for comfort. I could see hubs bumping into the tank half asleep.(the area is diagonal to our bedroom)
I shopped today. Massive sale on bras at Lane Bryant=happiest Bekah :)

Also found a bowdabra at the thrift store. make all the bows!!!
Posted via Mobile Device
Awesome Bekah! About the bras and bowdabra xD

I've always wanted a bowdabra and be able to make all those cool bows.
mmmmmm....frozen milkshake
Tags
0_o , banana !! , bettathanyou , cornucopia=not yummy , eat the cheese , eyeballs!!!!! 0.o"o.0 , i started a trend - maisy , like a thread in a thread , tag bombed! , tag! you're it! , taggy mctaggerson , taggy mctaggerson ii , that is dobby's cheese , throw the cheese