Quote:
Yep, pics soon!
Metronidazole, praziquantel, kanaplex... Iodine for humans can be brushed on the fish for external wounds but this may be difficult with small fish like bettas. MS-222 to euthanize or sedate a fish for operation..... But that is way beyond basic stuff to have around. ;) Better to see if you can find these pure and unmixed than buying stuff like general cures.
Posted via Mobile Device
woah so many XD I was like thinking of... one. :P
my vet tech friend has a bazillion meds and thy all make me go o_O cant tere be just... one?
mer mer mer
i wonder, i wonder, how can i squeeze in time wit WOW.....wait! I tink I knows!
Hey guys, do any of you have otos? I currently have 2 (they didn't have another one, I'm waiting) and they are uprooting all my darn plants! Granted they are fake, and its sand so its not like its hard to replant, but they are little turds. -__-
I did go on vacation though and they cleaned up my algae problem in a week.
Fat little things they are now.
---
Sunshine!
"I am not afraid, I was born to do this." -Joan of Arc
Blogger at
Hello Wench
Maybe they're trying to find some where to hide? Try giving them some oak or maple leaf piles to entertain them.


Hey Algebra, stop asking us to find your X, she's not coming back! And we don't know Y either.
Member
Join Date: May 2011
Location: Elk Grove, California
Posts: 10,782
Jen, no, my otos never uprooted anything. Now that they're out of algae, make sure to feed them cucumber or they'll starve to death (learned from experience).

Olympia, don't taunt us! Pics!

Oh yes, there were cockatoo apistos at the aquarium too. Big ones, and one that had some kind of back defect and was hunched over. Pretty things. And I think maybe some kribensis in there too.

I may return the pea puffers. I'm really worried they're not getting enough to eat. I feed them bloodworms, which all sources I've checked say they'll eat but it seems like the worms are too big for them. Also giving serious consideration to calling my planted tank quits, selling the fish, and starting over with a 20gal nano reef.
I might give up on the plants too - all that grows is swords, everything else goes all gooey
unless I plant the whole tank with nothing but swords? or maybe try eco complete or something?
Plus I really hate the mulp or whatever that goo is called that is all over the sand.
---
sakura, dont u have a million snails? I heard the pea puffer especially love their pond snails :)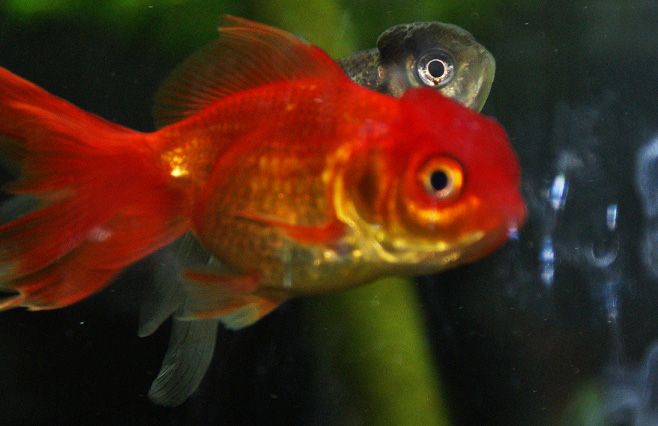 Penelope says you can't see them.
---
taking a break from fish-keeping.
3 lovely male betta still keep me company.

Tags
0_o , banana !! , bettathanyou , cornucopia=not yummy , eat the cheese , eyeballs!!!!! 0.o"o.0 , i started a trend - maisy , like a thread in a thread , tag bombed! , tag! you're it! , taggy mctaggerson , taggy mctaggerson ii , that is dobby's cheese , throw the cheese