OMG I wanna know what you got, Tiki!!!

and holy moly those goldfish are HUGE!


Does anyone know how soon we'll see the march winner for the picture contest?
---
If we are made of cells, then a scientist who studies cells is actually a group of cells studying themcells!
---
Last edited by Hadoken Kitty; 03-31-2013 at

01:45 AM

. Reason: changing wording and adding things
Likely on April 1st :)
Was in denial, but I'm pretty sure i lost a white spot rabbit snail. you can see in my pic where its tral door fell off tonight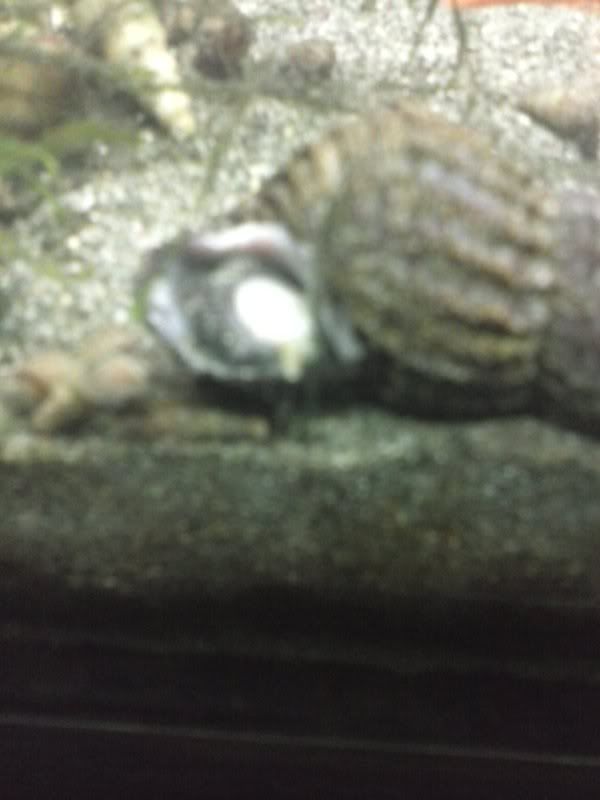 bummed but I've got three more white spot adults, plus many babies I've lost count of (could be as many as ten and as few as five). i almost want to keep shells but digging snail flesh out....ylech
Posted via Mobile Device
Sorry about your snailie :(

Wow, tiki.. Poor fish! It looks like a recent kijiji ad here: someone is selling their 10 gallon with "4 fish included", I click the pic and there's four enormous goldfish packed into it. :<

I, too, want to know what you got!!

omgomgomgomgomgomg I forgot it was easter bc I don't care about it and therefore forgot about it, had planned to spend the day in the library. Then I woke up and had one of those annoying mass texts from a friend "happy easter" and got annoyed thinking I'd have to spend the day at home depressed again.. But the library is open!
---
"Education is the most powerful weapon which you can use to change the world." -N. Mandela
To my journal!
http://www.tropicalfishkeeping.com/j...ourami-592858/
Happy Easter!
---
Flame - Red and Blue Veiltail Male
Oswald - Blue Halfmoon Male
Happy easter Laki (and everyone else)! :b Don't worry Laki you're not the only one who doesn't care about easter, yet I somehow got suckered into making a pie THAT I DON'T EVEN GET TO EAT! >.<
We had homemade sausage, eggs, and bread for breakfast.
I hate Easter breakfast. -_-
Posted via Mobile Device
That sounds good oly! Why do you hate it?
Banned
Join Date: Aug 2012
Location: Hogwarts
Posts: 2,082
I got a giant Kinder Surprise lol. Easter is not a big deal for me either yet we still get together with all out family for a party... Can't even get a good gift like a fish tank heater or an apple snail or shrimp....
Happy Easter everyone!
Banned
Join Date: Jul 2008
Location: Central Texas
Posts: 27,607
I'm not eating until dinner.
Ugh I don't blame ya olympia I can't stand sausage and eggs mess with my stomach. :(
Tags
0_o , banana !! , bettathanyou , cornucopia=not yummy , eat the cheese , eyeballs!!!!! 0.o"o.0 , i started a trend - maisy , like a thread in a thread , tag bombed! , tag! you're it! , taggy mctaggerson , taggy mctaggerson ii , that is dobby's cheese , throw the cheese