I wonder what kinda dent it would give the ich if I drained the entire tank, salt dipped the fish/refilled the tank?
Probably not much. I am pretty sure ich can only be killed when it is off the host. This is why treatment usually takes a couple of weeks as you have to wait for it to finish its life cycle.

However, I don't believe the parasite can survive without a host, so if you leave a tank running with no livestock the free-swimming ich will eventually die off.
---
I used quick cure efor ich and it was gone in like 2 days but the main ingredient is malachite green - not sure what it does to live plants or inverts.

I undivided the 10G into 2 compartments - one for Mr Shrooms and one for El Kabong. I dont think Ba sing Se can see too well so he is going into a 3G and that leaves ferb without a home :( I'm thinking of either a 5G or the bookshelf tank. I need soemthing that as tall as a 10G because there isnt enough room for my hand to fit or a gravel siphon. Gonna divide it and and add a sponge filter.
---
---
Last edited by Tikibirds; 04-29-2013 at

06:07 PM

.
Pft, one of my juveniles has built the puniest bubblenest ever in the film canister I put in his grow-out yesterday. I think he is in with at least two sisters and they are about 1/3 the size of an adult fish. Talk about over enthusiastic.
---
Lol. Ok, LBF. I see you talk about film canisters all the time, so I just have to ask, how do you use them? Do you float them?
I just put them in and they float along the top. The male swims in and builds his nest in there and then spawns with the female in there too. Unlike splendens, the coccina complex seem to like to build their nests under/in things.
This is one of my males with his eggs at the bottom of the tank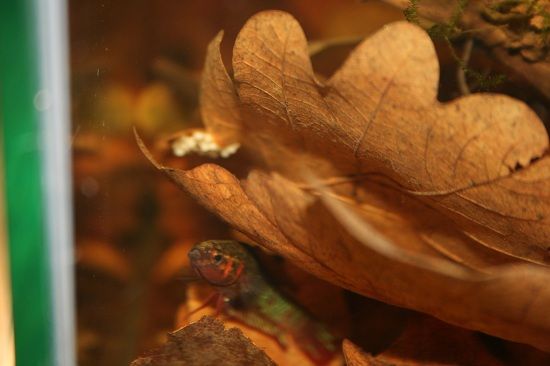 ---
film canisters
like the ones you could store film in? O.O
Yeah just the ordinary black ones. They are very commonly used for the smaller bubblenesters. My males live in them some weeks. I never see them out.
---
Tags
0_o , banana !! , bettathanyou , cornucopia=not yummy , eat the cheese , eyeballs!!!!! 0.o"o.0 , i started a trend - maisy , like a thread in a thread , tag bombed! , tag! you're it! , taggy mctaggerson , taggy mctaggerson ii , that is dobby's cheese , throw the cheese