Thank you Laki...Omg Bekah WTH!? Why no pics!?
---
If we are made of cells, then a scientist who studies cells is actually a group of cells studying themcells!
LOL don't fret. here they are! i got distracted...by Mick...so yeah.
Ariel
Min
Min is like IMPOSSIBLE to photograph so far. Soooo small. Energetic. Cute as all get out even though she's in rough shape!
SO. the female bettas were housed in a tank with another species: betta coccina. Min might very well be betta coccina.

LBF idk what wild bettas you keep, but do you know anything about b. coccina?
They need really soft and acidic water (like think around 5-6 for pH) otherwise they tend not to thrive. I have kept coccina in the past and keep many species from that group and they are one of the more delicate and difficult group of species to keep because of that.

I can't really tell from that photo, but if you want more info on keeping B. coccina, check out my website in my signature. It has a ton of information on housing and caring for these fish.
---
awesome. Thank you! I think my pH from the tap is quite low, around 6. I could probably keep it okay...i just don't know if i SHOULD.

maybe i should order IAL.
---
Last edited by djembekah; 06-03-2013 at

11:34 PM

.
Yeah they can be quite a shy species, and I have found that a tank that mimics their natural habitat (lots of leaf litter, dark substrate and minimal lighting) gets the best colouration and behaviour from them.
Here's a bad photo of one of my old B. coccina
---
Oh what a cutie :) Are they alright kept alone? or should i work on finding a mate. i have no idea how to tell the gender.
Females are quite hard to find. This group seems to throw a lot of males and sexing can be difficult, particularly when they are all stressed out.

I find in a pair/group setting they seem to be more comfortable, but I am sure you could keep a singleton.
---
okay. what tank size is recommended for a group?
Maybe 10 gallons for a group of four, but with plenty of cover. I used to use a combination of wood, java moss and leaf litter to provide hiding places for mine.
They can be surprisingly aggressive towards each other at times. Especially when a pair are courting. However, they don't usually seriously injure/kill each other like domesticated splendens will.
Here are two of my wild betta tanks to show what I mean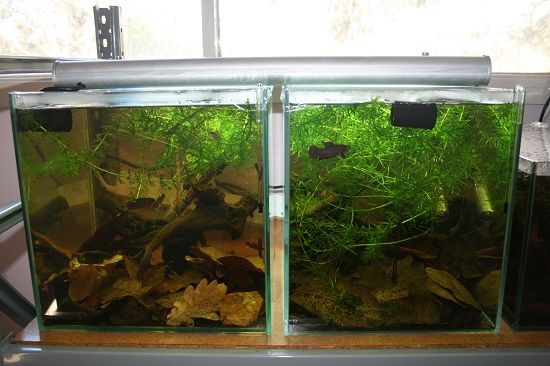 ---
Tags
0_o , banana !! , bettathanyou , cornucopia=not yummy , eat the cheese , eyeballs!!!!! 0.o"o.0 , i started a trend - maisy , like a thread in a thread , tag bombed! , tag! you're it! , taggy mctaggerson , taggy mctaggerson ii , that is dobby's cheese , throw the cheese