Ah.....I see. I wish platys were like that. But most of the time, they "do".
Adorable! I wish I had a dog, so I could dress her up ;)
Member
Join Date: May 2011
Location: Elk Grove, California
Posts: 10,782
Laki, I'm so glad your sister is moving back! Yay! I'm jealous of people who are close to their siblings.

Yuuie, how long have you played the violin? I always wanted to learn but never did.
Needy dog is being very needy >.<
and I am bored so I shall take personality quizes to amuse myself.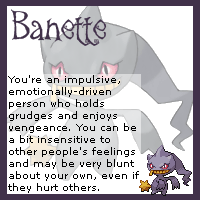 Must I be a posesed doll?
---
not long really i did try last year i think but couldn't afford to keep renting one so now that i had some extra cash i just bought one.
---
( ) ( )
(^.^)
@( > >)
" " ^^ ^^ " " " – Mister Bunny the new voice of reason hee hee
snuggling the new little girl
i need to think of a new name for her. I keep forgetting the name she came with LOL
Oh hey look! Another violinist! :D I would totally offer you lessons if you were in my area XD
---
5 bettas:
Шостакович
Shostakovich
, Dimitri, Blood, Fancy Pants & Miss Priss;
1 cat:
Rajah
Tags
0_o , banana !! , bettathanyou , cornucopia=not yummy , eat the cheese , eyeballs!!!!! 0.o"o.0 , i started a trend - maisy , like a thread in a thread , tag bombed! , tag! you're it! , taggy mctaggerson , taggy mctaggerson ii , that is dobby's cheese , throw the cheese