Any Axolotl owners here?
---
Hey all!
I'm thinking about getting a axolotl sometime this year, and I was wondering if anyone knew anything about them.
I'm doing a lot of research right now, but I'd love to talk with people with personal experience!
I've joined a newt and salmander forum, and am searching it for info as well.
I love these "little" guys (they actually get quite big) and am really excited about this.
For those that don't know what an axolotl is, here's a pic of one: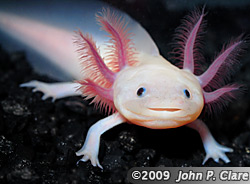 ---
Life with Lupus is still a life worth living.
Dishing out the truth one post at a time


Banned
Join Date: Jul 2008
Location: Central Texas
Posts: 27,607
I never heard of them. What are they?
---
That's me on the photo alright.
---
Last edited by SillyCone; 06-21-2011 at

03:21 AM

.
I own them! (; I was just recently given two juvenile axolotls by a friend of my parents. Her axolotls laid eggs, and she was rehoming some of the offspring, so we took two. They're really easy to care for, and come in a variety of colors, so I think that they would be a cool pet for someone thats looking for a "different" type of pet. I believe they are closely related to tiger salamanders, and they are basically the larval stage of one. Axolotls reach sexual maturity in that stage, so they're gills never disappear, instead they just stay in same form. They kind of look a bit like tadpoles when they're young, later they develop front legs and then back, and the gills also get larger and "fluffier :P. The one in your pic is a leucistic axolotl, also the ones I have. Right now, mine are very pale in color, including their gills. In addition, since mine are still juveniles, they have rather transparent bodies, I can see the food they take in. They grow pretty big, so a big tank is definitely needed. Also, axolotls prefer cooler temperatures, so be careful not to overheat in the summer. I don't know of many pet stores that carry them, so the best place to buy one may be online, the larger ones can be a bit pricey, but its worth it. They have more personality and look better when they are adult, so I'd recommend getting an adult. My juvies tend to just "float around" in the tank. You can PM me with any questions or comments (;.
| | |
| --- | --- |
| The Following User Says Thank You to Duncan13 For This Useful Post: | |
Haha, Finally someone! You just answered a lot of my questions! LOL.
What size tank do you keep yours in?
I think they are just TOO CUTE <3 :P
I found a store near me that is going to be selling them in a few weeks, so I will be checking back with them often, LOL!!
What do you feed yours, I've been getting mixed reviews on what to feed them?
---
Life with Lupus is still a life worth living.
Dishing out the truth one post at a time


I don't have one, but I've seen one at Zamzows. So CUTE!! <3
---
Addicted for life
Mine are in a five gallon right now, lots of space because they're about two inches long each, and they don't move much. I'm not really sure on the adult tank size, but I'm guessing maybe 15 gallons for one adult. For two, 20 gallons would be the min. For young axolotls, you need more space to prevent cannibalism.
For my axolotls, I feed frozen blood worms; the ones in the little cubes. I heard that that's best for juvies that are still growing, like ittle promote their appetite or something. I think that adults should be fed a balanced pellet died that you can sometimes find at stores.
Eh, I think I prefer animals with the gills on the INSIDE... *shiver*
---
20H: 2 Cory Catfish, One very mellow Cambodian female Betta, Two Golden Veil Angelfish (male and female)
I've ALWAYS wanted one!! Someday I will get one! They are sooo cute..
---
"Whoever said fish were low maintenance obviously never owned fish"
Quote:
I've ALWAYS wanted one!! Someday I will get one! They are sooo cute..
My friend (who, coincentially, is the one who thinks that I'm obsessed with fish..fff :P) is convinced that I want one. I think that they're completely adorable, but I dunno. If it's not a fish, I like to be able to pet it.
---
Addicted for life