New Member
Join Date: Jun 2011
Location: Jersey
Posts: 124
horses anybody?
---
i've got two. my five year old registered chestnut quarter horse named athena (registered indians lil missile) and my twenty eight year old flaxen chestnut arabian pony named belle.
athena had a bad injury a couple of months ago resulting in massive atrophy in her left pectoral and a scar on her left shoulder you can kind of see. if anybody wants to hear the story just let me know lol.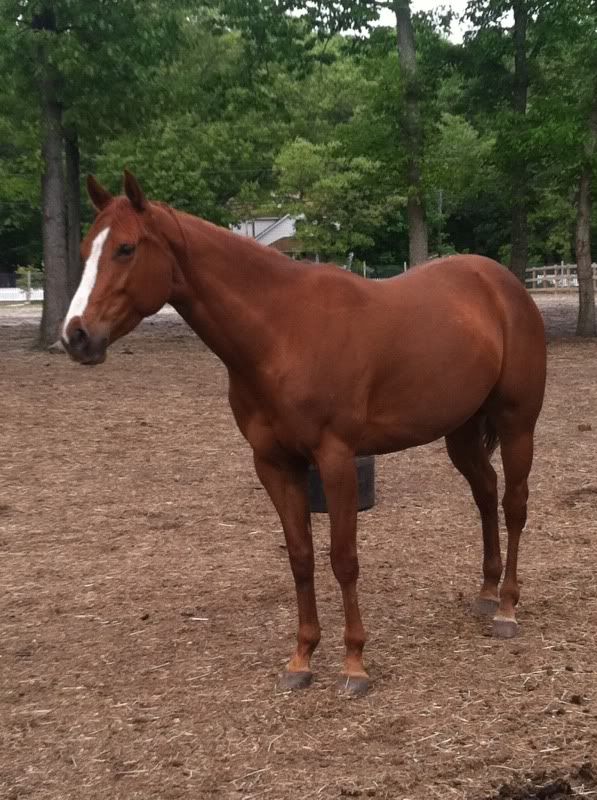 belle my little pony pony girl :) (great with kids)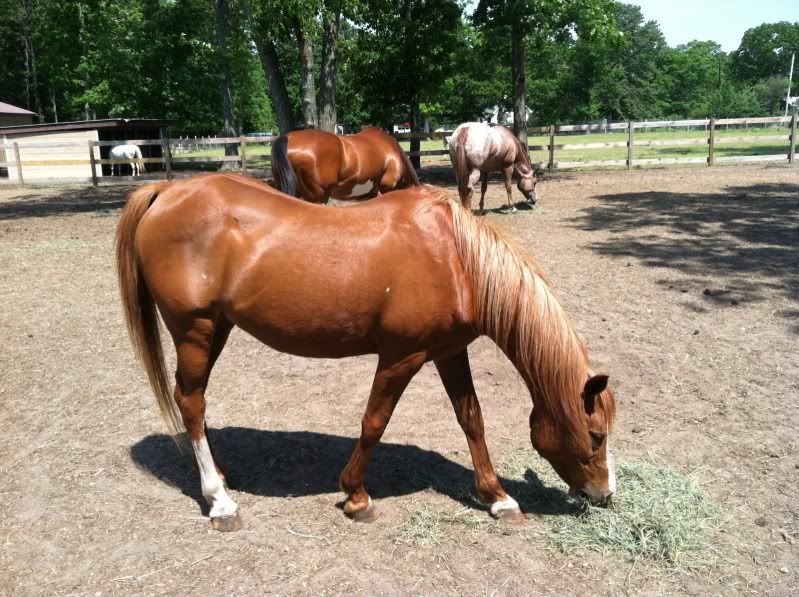 and here is a video of my two and the other two i care for. we have them so that they all walk themselves in and out of the barn for grain at feeding time.
http://www.youtube.com/watch?v=YTQcJwgWKf8
Banned
Join Date: Jul 2008
Location: Central Texas
Posts: 27,607
beautiful!
I've been riding for 10+ years.. currently in hunter/jumper but have a background of some western training..
I'm still looking for a horse..and a steady job so it's not on my parents.
I hope to just go to an auction nearby and save one from slaughter.
---
~Bettas

Males; Apollo, Akio, Li,
u/n Dragon/2 & u/n halfmoons/3

Females; Katrina, Little Red, Mala, Arco Iris, Opal
u/n crowntail/2

awe, they're beautiful!
---
*monet*Oscar*Blaze*panda*Robin*Milo*Sherlock*Flippy Picasso*August*Mr.Roboto*
New Member
Join Date: Jun 2011
Location: Jersey
Posts: 124
there are loads of horses by me that go to the kill pen every week in the auction. thankfully most get bailed out before the pick up. the woman i got my arab pony from found her on cl listed that she was going to the auction if she wasn't picked up and she's such an old lady i love her.
New Member
Join Date: Jun 2011
Location: Southern California
Posts: 55
just beautiful!
i've absolutely loved horses my entire life!
athena's coat is gorgeous(:
New Member
Join Date: Jun 2011
Location: Jersey
Posts: 124
athena is always getting compliments on her coat, thank you. it's also incredibly soft everybody is so surprised at how much softer she is than the other horses. she is the youngest, i don't know if that has to do with anything.
I don't have a horse but my best friend does. :)
Her name is Baby (short for Baby-Cakes). I believe she's a thoroughbred/draft cross(is cross or mix the right word? LOL)
She's gorgeous, but actually quite small (height-wise). My friend also rides another horse named Becky, for some reason I'm thinking she's arabian(?). She rides for the lady who owns Becky, because the lady is having some family health issues. My friend recently found out Becky is actually trained to do tricks, like knock down pylons when told and then put them back up, getting certain objects she's told to get, "counting". Things like that. I haven't met Becky yet, but I'm planning to go up there with my friend sometime this summer!

Your horses are gorgeous by the way. I especially love Bella.

I really like the horses with the two different colors in big circles, but I can't remember what they're called >.<
---
Life with Lupus is still a life worth living.
Dishing out the truth one post at a time


New Member
Join Date: Jun 2011
Location: Jersey
Posts: 124
I really love horses and it's great to be able to play with other peoples horses. I've done it most of my life, its a lot of work having horses. I do rough board so I go once a day to feed and my friend I share a field with feeds the other feeding.
Similar Threads
Thread
Thread Starter
Forum
Replies
Last Post
Horses!

alg0181

The Lounge

36

11-29-2010

05:03 PM