New White Tiger
---
This is our newest pet. Can you believe it is not another betta?
He is so tiny right now, and it should be fun to watch him grow into a huge monster of a fish. My daughter picked him out for the large tank in her room, and she has named him Whitey. Whitey is an albino tiger oscar, but he acts more like a puppy with fins.
Member
Join Date: Mar 2010
Location: USA
Posts: 10,951
Nice looking Oscar....makes me miss mine......mine grew out of their 75gal in less than a year and I had to rehome them....did get one clutch of eggs.....and Oscars are great to have around to help with culling......

These guys have the neatest personality too.....so puppy dog like....if mine could have got out of the tank they would have followed me around...lol.....and toys....they play with toys and rearrange the tank on a regular bases...lol.....help with water changes....so much fun.....mine loved to play in the water flow when I put fresh water in their tank from one of 2 weekly water changes they needed.....I fed lots of homemade foods.....so I cleaned a lot...messy eaters and poop producers......
Your daughter is going to have a blast raising this Oscar.......
Member
Join Date: Nov 2010
Posts: 3,651
Oh my goodness, how cute! Theyre really neat fish.
Banned
Join Date: Jul 2008
Location: Central Texas
Posts: 27,607
Member
Join Date: Mar 2010
Location: USA
Posts: 10,951
Here is one of my Oscars....8 months of age and little over 7 inches.....great species to keep...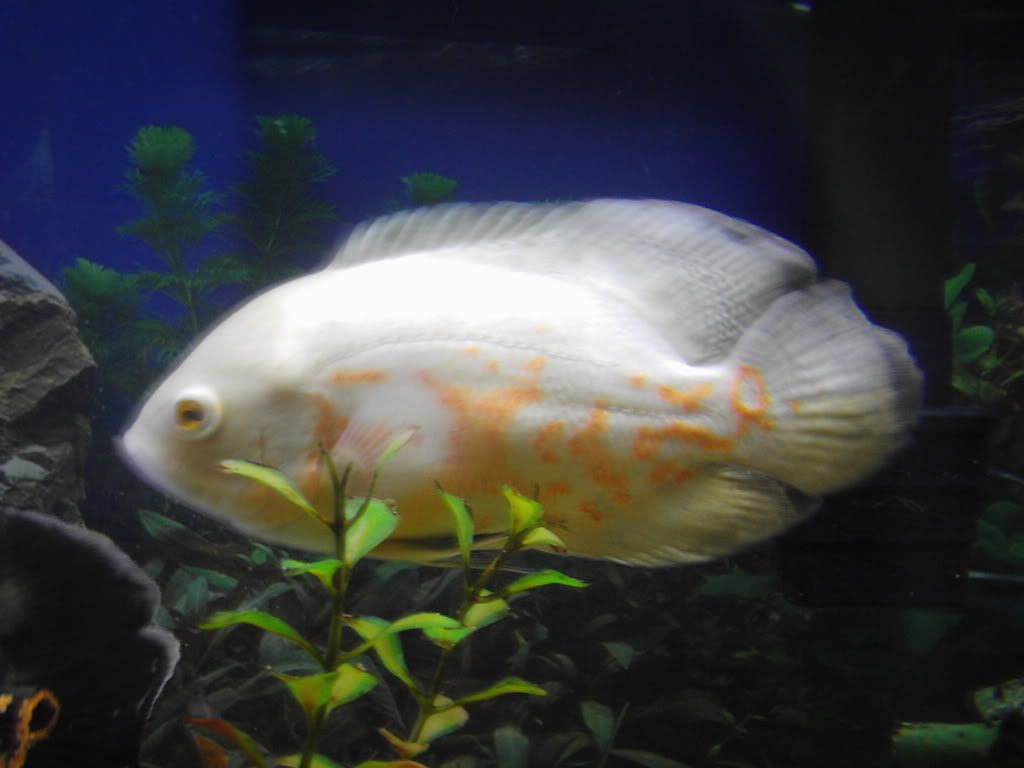 I love these fish!

OFL and DragonLady...you both have perdys!
---
I can't believe you're gone, Tom.

aw thats cool this is my new little guy !
---
Go big or go home !
They're all beautiful! Congrats. on your new addition Dragonlady :)
---
Animal testing is a terrible idea; they get all nervous and give the wrong answers.
Thank you guys! I have heard that small oscars are capable of growing an inch a month. It was very nice to see some of the other members oscars, too. The pattern on the black tiger oscar is very nice, and I especially like Oldfishlady's white tiger oscar!
He looks almost like a larger version Whitey.