Aww shes just an adorable puppy >.< I want to snuggle the crap out of her XD
---
Bettas:
Females: Morgana (CT), Gwendolyn (CT), Amethyst (CT), Hebe (CT), Iris (HMPK), Amphitrite (HMPK), Artemis (HMPK) Dottie (?), Lulubell (CT), Mirabell (CT) & Jubilee (HMPK)
Males: Cronus (CT), Tian (OHM) & Anubis (OHM)

Dogs:
Zeeva (Siberian Husky)
Binky (Samoyed)
LOL, and she would greatly enjoy that, I assure you xD She thinks shes a 70 pound lap dog....at least when she knows you.
Her and her sister are guard dogs though; if they feel your threatening/they don't like your energy....they'll go at ya, especially Jade. And she can look really scary.

..And I JUST actually noticed your username xD I gotta comment on how awesome it is ;D <3
Why thank you, my second hobby is manga. I have over 300 yaoi manga. I also have some DvDs. Yay for understanding and loving parents who just want me to be happy!

Oh god, I know how you feel. Both my dogs think they are lap dogs Xd they are both pictured above.
---
Bettas:
Females: Morgana (CT), Gwendolyn (CT), Amethyst (CT), Hebe (CT), Iris (HMPK), Amphitrite (HMPK), Artemis (HMPK) Dottie (?), Lulubell (CT), Mirabell (CT) & Jubilee (HMPK)
Males: Cronus (CT), Tian (OHM) & Anubis (OHM)

Dogs:
Zeeva (Siberian Husky)
Binky (Samoyed)
Banned
Join Date: Aug 2011
Location: Austin, TX
Posts: 774
Quote:
Originally Posted by
Yaoilover12397
View Post
I have one Betta as of now. He's a Red Crowntail. His name is Dalton.
Mhm. Well there is my other fishy babies. Listed because there are so many.
I have Taz whos a Corydora, I'm not sure what type though. >.<
Nom-Nom whos a common Pleco
Skadoosh the Bamboo Shrimp
Faberry the White Molly
Notte the Black Molly
Tweedledee & Tweedledum the Clown Loches
Fred & George the Orange Glofish
Elwin the Albino Corydora
Vernon the Green Corydora
Fido the Spotted Cory Catfish
Evan & Ethan the Red Glofish
My two Plant babies
Puffalump & Tribble the Marimo Moss Balls
Lastly, My fluffy babies
There is Zeeva. She's a Pure-Blood Siberian Husky. Her daddy is actually a move star. Zeeva is five years old.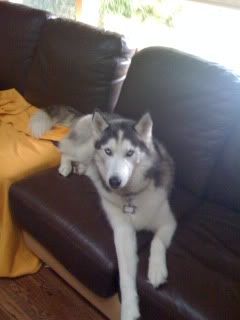 Then there is Bianca, or Binky as we call her. She's a Pure-Blood Samoyed. She's four years old and a fluffy baby.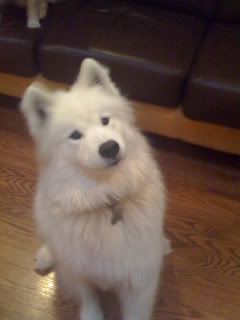 ooooh!! I looove samoyed's!! I had one growing up named sinika. She was one of the best dogs i ever owned. I want another one soo bad but it's much hotter here in Texas that it was 20 years ago so it's not ethical for me to own one here
You are lucky
I have quite the zoo. 8 cats [Spooky, Bubbles, Cally, Lucas, Tofu Kitty, Squirrel, Maxim, Slipper] 12 rats [Coraline, Otis, Templeton, Yueri, Izzy, Janie, Gladys-Love, Cid, Winston, Churchill, Bloo, Buddha] 2 ferrets [Jack, Gideon] 2 bettas [Jango Fett, Takeshi] 2 mystery snails [Supersonic, Lady Snail] and 1 ghost shimp who I just call Ghostie :P
Bettas Rule- i LOVE your little frenchie! SO cute!

DragonFish- your boy has BEAUTIFUL eyes. my blue pitbull had green eyes too, theyre gorgeous!
---
-Amanda

The Boys
Bart (dark red/blue VT)
Schneider (blue/pink VT)
Duster (multi color Double Ray CT)
Croix (blue dragon HMPK)
Lakota is a four year old Appendix QH rescue and Skylar is my lovely little Aussie. She just turned eight months and she is an absolute joy. ( and my favorite driving buddy as you can see below. )
[/quote]
Banned
Join Date: Aug 2011
Location: Austin, TX
Posts: 774
ALS114 Thanks so much! He is a cutie!
Similar Threads
Thread
Thread Starter
Forum
Replies
Last Post
Animals in yer yard!

vaygirl

The Lounge

17

04-12-2011

10:50 PM