other animals?
---
ive seen acouple people mention other animals in their signature and it made me curious as to what other animals everyone had. my other animal/hobby is my horse Rodeo. i barrel race with him and have had him since he was a baby. hes rotten but i love him
a little info on him
11 year old bay tobiano paint gelding
action shot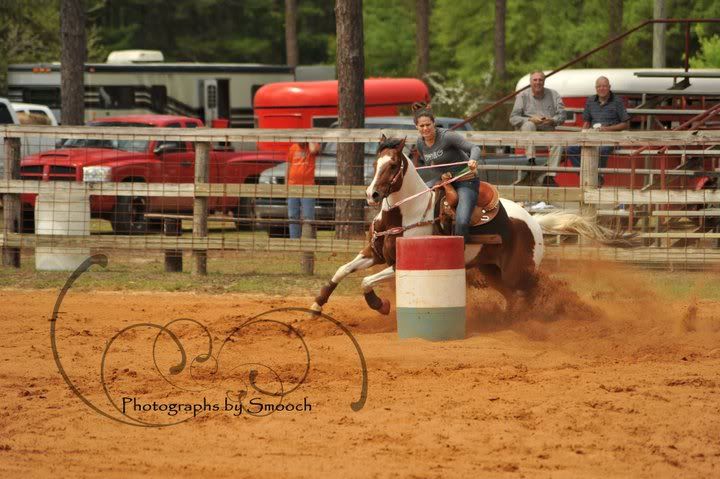 I have a Yellow Pacific Parrotlet, Sprite. He's a year old and his hobbies include Eating and Biting :D
---
6 Betta Splendens
I have my betta, tetras, glofish, and a mystery snail as far as aquatics go.
My other animal love is my Doberman/Rottie/Lab mix named Diesel. He's rotten and spoiled and the biggest pansy you will ever meet, but I love him.

My mom lives out on a farm and has two horses, Glory and Luna both are trail horses that are just ridden for pleasure.

ALS1104, your horse is beautiful, barrel racing looks so much fun, how long have you been doing it?
---
peace. love. & bettas.
I have my Bettas, of course. I also have six Platies, and as far as warm and fuzzies go, I have two female mice. =)
---
Sequin (m), Shortcake (f), Westley (m), and Sir Righty of Walton (m).
Ooh, don't get me started (: 3 kitties, 1 dog, 2 cornsnakes, 1 African house snake, 1 ball python. Love 'em all!
We have (Aquatic) plecos, swordtails, danios, red eye tetras, black neon tetras, harlequin rasboras, glowlight tetras, celestial pearl danios, snails (apple, malaysian trumpet, ramshorn, pond).

Fuzzies we have an 8 year old female tabby cat, a 7 year old female Staffordshire Terrier, 6 year old female Bearded Dragon and 6 Domestic Rats. Hubby's been looking at Hamsters and I say NO. :P
---
my dog 8)
and her puppies (that are now full grown dogs with homes of their own):
---
Boys: Ichabod, Canary, Perseus, Louie, Cherokee, Rojo

Girls: Marie, Hilda, Pixie

Rest in Peace: All of my former fishies. <3

Quote:

ALS1104, your horse is beautiful, barrel racing looks so much fun, how long have you been doing it?
i started out barrel racing when i was around 11 i guess and then i showed western pleasure for along time and then decided i was bored and wanted to do something fun so ive been back in it for acouple years now. i love it!
pitluvs- do you have a pic of your staffordshire? i LOVE bullies! i had a pitbull female that i adored... she died acouple years ago :( but ill get another one day

hmckin20- your girl is very cute! she has such a sweet face! and it looks like she was a wonderful momma
haha thank you! she was, until they started walking. she was really young so after a while she got impatient with them following her around - it was a herd at six!- and she started chasing them, haha. eventually we had to keep her separated from them cause she'd get tired and start roughing them up. but when they were babies, she was awesome, didn't even wanna leave them to go do business outside :3


ahaha at some point i would go to my room and there would be a puppy everywhere i looked..

and when you came into the room they howled and stampeded at you. xD
---
Boys: Ichabod, Canary, Perseus, Louie, Cherokee, Rojo

Girls: Marie, Hilda, Pixie

Rest in Peace: All of my former fishies. <3

Similar Threads
Thread
Thread Starter
Forum
Replies
Last Post
Animals in yer yard!

vaygirl

The Lounge

17

04-12-2011

10:50 PM