Quote:

This is Bella. She's a Boxer mix, presumably with Pit Bull. She'll be 5 years old on Oct 1st.

Looks more like American Staff Terrier mix :)
I have a 14 year old Terrier mix (pic in siggy, upload more later). We got him when I was 9 bc at the time we had a forest born feral beagle mix who, although grew up with us kids, bit and was too unpredictable. My dad found Coco off some hick who don't know the meaning of spay/neuter and traded us for the feral dog. Dad didn't live with us at the time.
We took Coco in and he was wild and hyper and got out a few times and bit some neighborhood kids. Mom stopped letting us take him outside, lest he bite more people and need to be put down.. Being kept indoors made Coco worse and he had hours of energy. We were young and we played with him as best we could.
When we moved to an apartment with no backyard we were "allowed" to walk Coco again. We adopted a street dog then, Nikki, and Coco and her became inseperable. Nikki was old and was eventually PTS and Coco needed extra attention. We would run him in fields for like 2 hours a day. He also was a natural terrier and scented out lost pet mice/hamsters. I remember a hamster got out of its cage and went missing in the house somewhere for days. Coco would go spot him out under the kitchen stove and we still had no idea. Finally someone decided to look under the stove to see what the heck Coco was at, there was the hamster. He never harmed a small rodent in his life. Knew his nose was meant for searching for them though!! He loved to chase cats and people and toys.
He was smart in his days. Knows basic tricks; sit, lie down, up (which he can no longer do), dance (no longer can do), speak (he now uses his inside voice), find "so and so" (and I swear to god he knows the names of the people he's looking for), roll over, give kiss, crawl. I have vids on YT (my channel is AKINAacacia).
I love my best friend, Coco. He's 14 now and boy has he ever slowed down. Arthritis has claimed his back legs a couple years ago and now recently is taking control of his front legs. He has Cognitive dysfunction, severe anxiety, noise sensitivity (even to a glass being laid on a counter or coughing) and he is losing some sight and regular tone hearing.
You know, your best friends are the ones that stay true and loyal. I can never devote myself to someone as much as Coco. I'm about to cry just thinking about it. He's been there through everything.
---
"Education is the most powerful weapon which you can use to change the world." -N. Mandela
To my journal!
http://www.tropicalfishkeeping.com/j...ourami-592858/
Staffies aren't common around the area she was adopted from.. more likely is a Pit Bull mix.

I know for a fact she's a Boxer mix because the rescue had a picture of her Mom when I adopted her and she was full Boxer, most likely back yard bred though :-/

Bella was one of 3 puppies from an "oops" litter. The mom's owners surrendered Bella and her 2 brothers but said they didn't know who the father of the litter was.
---
*Be smart.. Do your research!!*[/COLOR][/FONT]
[/CENTER]
I'm a Great Dane lover. I don't think I could ever own another breed without a Dane! <3 Obviously they're not for everybody, but for me, they're just perfect.
I currently don't own a dog, but this was my last Dane girl. I'm hoping once I'm out of this apartment I can get another Dane. Perhaps even in this apartment if the right dog comes around. I'm wanting to adopt a senior Dane mainly because I'm going to need to leave for university out-of-state in about 4 years, unfortunately. (In community college now, going to uni in-state after I complete my associates, then going to vet school.)
This is her about a week after I got her. 11 weeks old, 25 pounds I believe, and just full of an admirable spunk!
Picture0665 - Copy.jpg
This was her a week or two after I got her... She wasn't allowed on furniture unless invited up because I didn't want her recklessly jumping around on the sofa at 120lbs later in life.
I was asleep on the couch, woke up, couldn't move, looked down, and... TA-DA, the girly was asleep on top of me.
Took a picture, then kicked her off!
Picture0683 - Copy.jpg
Finally (so pic over-load doesn't happen
) is her when she was full-grown. Never measured her at the shoulder, but I assume she was around 30 inches, and weighed around 115lbs. She was actually quite small for a Dane.
callie2.jpg
A quick video showing how well she performed commands;
The video is me giving her hand signals for sit, down, and come. You can turn the volume all the way up to show I didn't say anything.
She wasn't "trained" for anything but new a LOT of commands. She also knew a hand signal and verbal signal for every command.
-Sit
-Stay
-Down
-Wait
-Come
-Go to & get out
-Back up
-Twirl
-Shake (both paws)
-Up
-Off
-Bed
-Crate
-Park it (she had a mat, and wherever it was when we said this she'd go sit/lay on it until released)
There were even more than that.. I could speak to her like a person!
We'd have full conversations because she was taught so many words. I swear that dog was my whole life! LOL!
She also knew cues that were just signals, for example she knew if when I stopped walking she needed to sit, and if I took off with my right leg she should stay there, but if I took off with my left she was to follow.
This last short video is of us playing. I instigated SO many things with her. To clear things up, she did not just attack the vacuum! She's very good and knows when I allow things and when I don't. So if I hadn't started this, she never would've done it.
http://www.youtube.com/watch?v=02GC9vRFYzU
Okay, my 'rant' is now over!
---
Kaida- CT Female 2.5 Gal.
Julep- HMPK Male 2.5 Gal.
Fandango-HM Male 10 Gal.
Awww! She's adorable! Yours to Laki!

I personally like terriers. They are cute, smart, easy to train and fun to train!
---
~Please Call Me Caiti!~
Oh man, I love danes!! I admire their size and goofiness! I'll never own one probably but I really favor fawn danes and Harlequin .. Even better than that is Fawnequin <3<3<3 In a couple years me and Matt are getting a French Mastiff (think Turner and Hooch)
Here's Coco up close :)He has a funny long face- gives him personality. He's pictured here in his favorite place... The bed.
---
"Education is the most powerful weapon which you can use to change the world." -N. Mandela
To my journal!
http://www.tropicalfishkeeping.com/j...ourami-592858/
Soooo cute! I love his little tounge! <3
---
~Please Call Me Caiti!~
We have Schnauzers! :3
Mine is Milo, he is all black and a super big wuss...
And my mom's dogs are Winston (upright ears) and Sophie (female).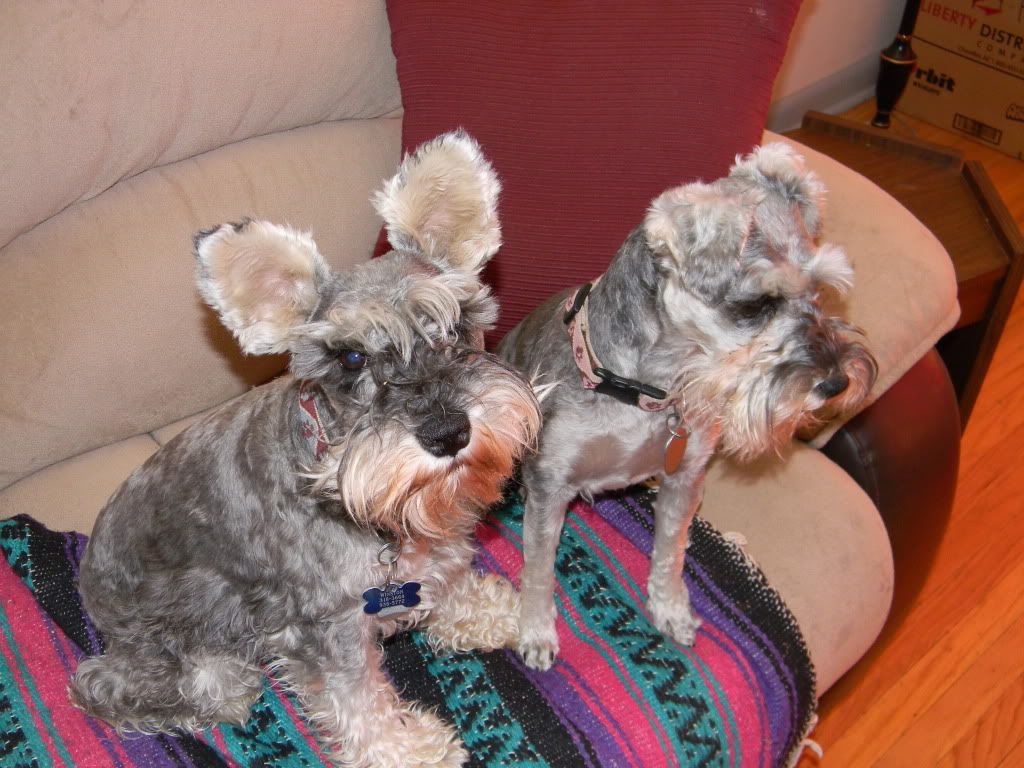 Ohmygodthoseears!! <3

My guy's family has a Schnauzer. He was just here cuddling with me, actually. :)
---
Kaida- CT Female 2.5 Gal.
Julep- HMPK Male 2.5 Gal.
Fandango-HM Male 10 Gal.
lol, arent they adorable? I need to groom them all though, they are getting raggedy looking.
Similar Threads
Thread
Thread Starter
Forum
Replies
Last Post
Dogs?

beat2020

The Lounge

88

07-19-2011

04:26 PM

I hate dogs

cballas

The Lounge

7

10-10-2010

10:22 AM

Cats or dogs?

shinybetta

The Lounge

23

07-30-2010

10:25 PM