Other fish: Guess what I finally got <3
---
I've been waiting for a while for today, I finally got my gourami! I have a 10g with 5 Glowlight Tetras and 6 Celestial Pearl Danios and I've been waiting since forever to find a tank upgrade. I finally found a 20g for a decent price! So I went out and got my gourami today. Our petstore has horrible selection, I wanted a Dwarf Honey but they had none left :( So I took this guy home. No way I could properly house the 4-10" gouramis they had. He's got great personality, settled in great with the other fish. I noticed they are more active now as well. So, yay! Tank should be here tomorrow or the next day.
So here he is, Ryu... Our new Dwarf Neon Gourami :)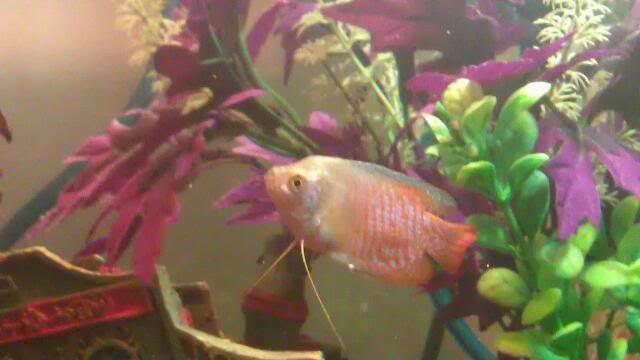 And his tank for now...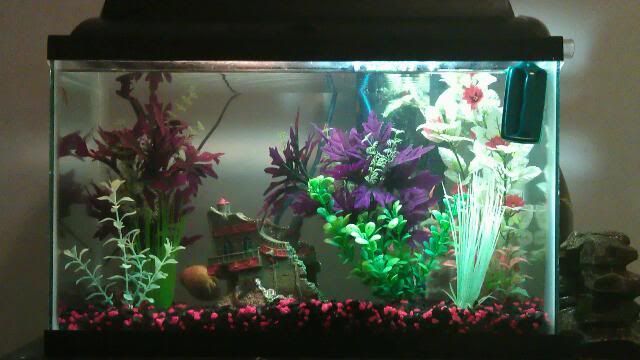 ---
Someone commennntttt, I have been waiting over a month to get him and show him off :(
---
Congrats! he is really cute, is he in that tank with other fish? I can not see them.
---
~A betta's bowl is its whole world. Make it as if it was yours~

Ula my crazy tail-biting black and white marble male HMDT
Stefano my pure golden nugget with a splash of pink and blue VT

All my best friends from the past,
I hope you are enjoying your new life under the rainbow bridge
The other fish are oddly bottom dwellers. The Glowlights are the most shy fish I have ever owned and my celestial danios are bottom dwellers by nature. They usually hide behind the boat, and all 11 are in there! Hence why I wanted a single centerpiece fish. Silly fishes.
---
Banned
Join Date: Jul 2008
Location: Central Texas
Posts: 27,607
Your gourami is beautiful!
Neat. he has the same pattern as the fish a local resturant has in their tank but theirs are olive colored with a blue? pattern and are quite big. I think they are in a 55 gallon
---
Oooh, he's pretty. You make me want one @-@ and I think my LFS has Honey, Powder, and Flame @-@ can they go alone in a 10 gallon?
---
6 Betta Splendens
Only the dwarf types, they need 10g to themselves. I figure with the 20g he will have his own 10 galling lol Most regular gouramis are 4-10" adult size and semi aggressive, which need 20g to themselves. This guy will stay at 2" :)

He's already claimed the ship as his own. Last night he acted as if I was bothering him when I went in to check haha
---
Member
Join Date: May 2011
Location: Elk Grove, California
Posts: 10,782
He's gorgeous! Congratulations, Pitluvs.
Similar Threads
Thread
Thread Starter
Forum
Replies
Last Post
Guess who I met finally?

purplemuffin

Betta Chat

10

12-01-2010

03:04 AM