Leopard geckos/Bearded dragons!
---
Hello! I decided to make a thread showing off the love of my animal life, my leopard gecko. :) I have 5 pets of my own, and in my family we have 12, but my leo is my favorite. :) Her name is Pepper, and I got her from petco 4 months ago. She is 4.5 months old and I LOVE her. :) She lives in a 10 gallon tank with 2 hides, a UTH, some decorations, calcium powder, water dish, paper towel substrate and a lid. :) No leo loves to be held, but she tolerates it quite well, and she is just super sweet. :)
My brother has a bearded dragon named Spikette, and we all love her, but she hates being held. ;/ We are working on it. She is about 6 months old. :) She's really cool, just terrified of people. But I'll attach some before and after pics of her too.
Please, if you have a leo or a beardie yourself, show him/her off! I love seeing pics of these lil animals.
---
Sherlock Holmes - Male VT Lance Sweets - Male HM
Mirage - Male DBT Rocky - Male HMPK red copper
Daisy - Female HM Moonlight - Male HMDBT
Captain - baby betta
Gryffindor - very sick rescue HMDBTPK
WOW! Your leo is gorgeous! Pepper is a really cute name! Do you know what morph she is? She looks like a something (maybe hypo?) carrot tail. Absolutely beautiful!
And your brother's beardie is beautiful as well! I'd love a beardie one day, but they need such BIG tanks I don't have the room right now. I think I've reached my limit >.<
I have three leopard geckos, and 1 golden gecko. I also have a green tree frog, but I won't post him here, as I don't have a lot of pictures of him :P
First up is my first leo, Miracle. I rescued her from a terrible home (also known as our crazy neighbors) Her story is here:
You won't believe this....a new rescue....
A week before I got her, her tail had dropped, and because she was so malnourished, its taking longer than usual to grow back, but its growing back!
She's a blizzard morph leo. :) I love her so much. She's just such a sweetie! She started my leo addiction. :)
You can see how her tail has been growing back in this picture (she loves her hammock):
My next leo is my second leo I got. I got her from a breeder I found online. She's a normal morph. She's just a little gal still. Not very old at all. I believe she's around 1 - 1/2 months? Her name is Nina.
And lastly, is my newest leo, Noname! She's a girl as well, and I just got her saturday from a breeder/friend I met on a leopard gecko forum. She is a tremper albino morph. She is sooooo cute! I don't have a lot of pictures of her yet, because I didn't want to stress her out in the first few days I have her. She's a little light in these pictures because shortly after she started to shed.
Alsooo, on Saturday when I got my new girl, I went to a reptile expo an hour away from me. I got my Golden Gecko, who doesn't have a name yet either. When I got her she was shedding and looked brown, but now that she's finished shedding she's more a tan and yellow color, with beautiful red eyes. The jar was just for picture taking BTW. LOL
Ta da! :D
---
Life with Lupus is still a life worth living.
Dishing out the truth one post at a time


WOW! :D Haha. :) I absolutely love your leo's. Your age estimate for the youngest sounds correct. They're all gorgeous! :D <3 I want them all. :) And your golden gecko is beautiful as well! The blizzard's tail is growing back beautifully. :) And what forum are you on? I'm on geckoforums.net
, I think it is? :)
---
Sherlock Holmes - Male VT Lance Sweets - Male HM
Mirage - Male DBT Rocky - Male HMPK red copper
Daisy - Female HM Moonlight - Male HMDBT
Captain - baby betta
Gryffindor - very sick rescue HMDBTPK
If that is sand in the Bearded tank you should take it out. Sand is very dangerous it can cause impaction in them.


Very nice looking Leos and Bearded.
---
1 VT-Cypress 1 HMPK-Jimmer
RIP
King Betta-Neptune
5*Plakat-Tyson
We have sand in our tanks, but our Beardie is also 6yrs old and trained. She swallowed a bumble bee the other day, passed the stinger with no issues. She will be the death of me. My Dragon HATE to be held, so I force her to cuddle. For 6 years she fights it, her name is Monster. She recently went from a xlarge flexarium to a 50g long tank. She stole it from out fish and bobs at you if you get to close. Territorial over her nice new tank LOL She's 17" and the most expensive pet I've bought.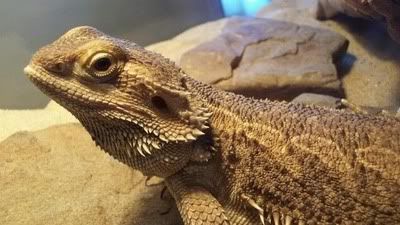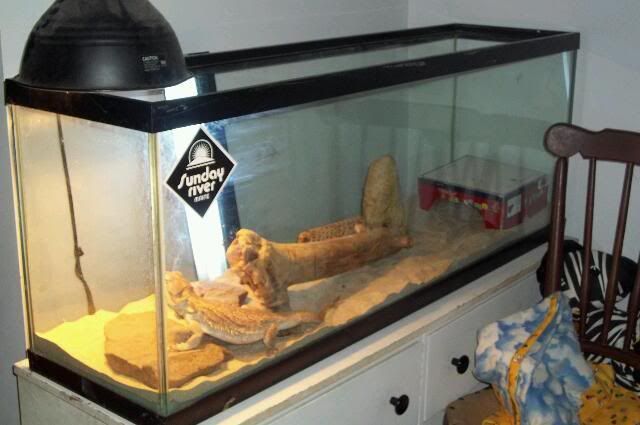 ---
---
Last edited by Pitluvs; 09-20-2011 at

11:49 PM

.
Thanks Bettaluver! Nooo they mine! >: D And thank you! I love them all so much!
I'm on leopardgeckoforum.com I love that site so much! Everyone is soooo friendly and nice, so helpful. I consider so many people on there genuine friends :) Plus, I'm forums staff member there XD LOL But we also have sections for everyother pet you can think of, photo contests, weekly quizzes (I won my second time trying! LOL), and a points system where you can buy stuff. You should join. :D

Pitluvs- how did she find a bee O_O Monster is beautifulllll! Absolutely gorgeous! I want one so bad! I love when beardies bob their heads! Its the cutest thing ever! There is one at my local reptile specialty shop who bobs his head so hard it sometimes bangs against the tank. I said out loud "that beardie is bashing his head against the wall" and the shop owner said "yep, thats clifford, he does that alot." LOL!
---
Life with Lupus is still a life worth living.
Dishing out the truth one post at a time


We had a bee problem here this summer, 26 bees in my living room in one morning. Well while I was running for the cup to catch the bee, it dove into Monster tank. Monster is an expert hunter, not 5secs in the tank she had the bee. Worst day of my life, as bees can kill a dragon if the stinger punctures the digestive track. Thankfully she passed the bee a few days later. I believe bobbing the head is a territorial thing, Monster rarely did it in the flexarium but she does it daily in the tank, whenever my fiance walks by. I tell him Monsters saying he's not allowed in her tank haha Best pet ever. Cost me $600 for her and her set up and about $50/m for upkeep. Ouch.
---
I know, sand can definitely cause impaction, I read about it. I'm forcing my dad and brother to take it out the next tank cleaning. Thanks though Tonyk!
Pitluvs - wow, your beardie is adorable! But jeez, that's aloooooot. Monster is adorable though. <3 O_o ;) Ours was probably $150-$200 after tank, UTH, heat lamp, calcium, sand (ew) and the beardie herself. Her tank is a 50 gallon. :) And she's probably an extra $15mo. for food.
Katstew - I think that sounds great, I will look it up right now. ;D What's your name on the site so I can add you as a friend? :)
---
Sherlock Holmes - Male VT Lance Sweets - Male HM
Mirage - Male DBT Rocky - Male HMPK red copper
Daisy - Female HM Moonlight - Male HMDBT
Captain - baby betta
Gryffindor - very sick rescue HMDBTPK
Hahaha, I found your post on it! My username is the same as on here. :) I added you. To accept me you have to go to "User CP" and then "friends and foes" and it will say something like pending requests, and see my name press +
:D

Pitluvs - thats crazy! I would be so afraid of all those bees, like seriously O_O I'm glad she was able to pass it though! It must have been a scary few days though waiting for her to pass it. $600.00 is crazy! WOW. That is so funny how she doesn't let him near the tank! Its adorable!

My feeding is about $15 - 20 a month. Mostly food. Her substrate is peel n stick tiling and paper towel for her toilet area (for Miracle) and for the babies they have all paper towel. I love the tiling because I can just wash it off, no need to replace it, and it looks really good IMO. Buttt I like to buy my leos treats like waxworms and phoenix worms etc (not too many though, because they can become addicted and refuse their regular food) so that adds to cost.
My set-up (for my adult leo - Miracle) is a 20 gallon tank (probably go bigger soon) with UTH, moist hide, 2 regular hides, water bowl, calcium dish, rocks for climbing,and a reptihammock (Miracle LOVES it). For the baby 5.5 gallon tank/quarentine tank I have a UTH, 2 hides, moist hide, food dish, water dish, calcium dish, and rocks to play on.

AHHH You guys make me want a beardie so bad!!!
---
Life with Lupus is still a life worth living.
Dishing out the truth one post at a time


Ya, I got her 6yrs ago at a reptile shop that never made it. She was $199 plus, cage was $250, lights were $130, then vitamins, rock fountain, heat pad. They are still as expensive now at our pets unlimited. She always had paper towel but I switched to sand when she got the glass tank. Monster was no bigger than my index finger when I got her LOL Her fav food is grapes and can crickets. She hates live crickets.
---
Similar Threads
Thread
Thread Starter
Forum
Replies
Last Post
Bearded Dragon Pics

TeenyTinyTofu

The Lounge

10

01-17-2011

11:04 AM