Considering getting a green cheek conure (:
---
I've been doing extended research on parrots recently, and I've really been wanting to get one. My original decision was either: lineolated parakeets, green cheek conures, or a caique. After visiting a parrot breeder, I've pretty much decided on a green cheek conure (though I'd gladly consider any other recommendations). My dad really wanted to get a cockatoo, though he agreed to stick with easier parrots after I explained to him their complex needs. I really want to get one around Christmas time and I have a few questions. I will be at school from 8-4, and they will be out of their cage from around 7-9:30 everyday. I will also have time to play with them for about half an hour everyday.

Since I will be at school for most of the day, and our house is relatively empty during the day, should I get one or two? My concerns are if I get two, they might bond fiercely to eachother and ignore me. I don't need them to LOVE me, but I would need them to be able to interact harmoniously with me and eachother. My second concern is that if I get one, it would become lonely. And since I take vacations several times every year (usually less than 3 weeks in duration), I'm afraid a single conure might be lonely. Thanks in advance!!!
Banned
Join Date: Jul 2008
Location: Central Texas
Posts: 27,607
I think someone here has conures or knows about them. I remember reading about them not too long ago.
Someone told me that two birds will bond together and are harder to bond to people, but a single bird will bond to humans. I hope someone can give you some solid advice. We hope to get a parrot when our kids are teens.
---
I perosnally recommend Parrotets, they're small( need decent cages, though. Think Flight Cage or 2 foot square), come in many color mutations( Green, Blue, Yellow, White, and some fancier mutations), and have the funniest little personalities. They, unless breeding, can't really be together or they'll rip eachothers faces off. The need to be out like 2-4 hours a day, with human interaction at least 1-2 of those hours, more if able. I prefer to do it I'm seperate times, for 30 minutes like 3 times on weekdays and 4 on weekends. If your interest, PM me or look on Talkparrotlets.com. I'm barely even on there, but my username is sprite13. If you're still interested in GCC, I believe them member MissRockyHorror owns one.
---
6 Betta Splendens
Sorry for the giant comment O.O I just wanted to list all the birds I think are great first birds for older people who are willing to do a lot of research and be prepared. I think green chicks are really cute, but I love these birds :)
If you have any questions on birds you can ask me, I've been studying birds for fun since I was a kid and I have a huge amount of information. I also play with my friends large parrots pretty often, and have a Galah cockatoo.
I know you already know this, but for anyone else considering it
Please don't get one of the large white cockatoos if you don't have any large bird experience. They are insanely adorable the first few years, then as they come into the teenage years and start getting hormonal they will probably try to bite, and it hurts
a lot
. if you show fear to them, such as pulling away, they will dominate your relationship with them and become something you might fear. Many cockatoos end up at animal shelters because of this :(
The Galah/rose breasted cockatoo and Goffins cockatoo are more independent and a better alternative.
The
Galah
is very intelligent, can learn to talk, and as all cockatoos very good at learning tricks. They can be happy sitting in the room with you, but still love to be played with and getting pets.
They don't chew as much and are quieter then most cockatoos, but can still be fairly loud.
Goffins cockatoo
Although it's more independent then the larger white cockatoos, the Goffins, also known as the Tanimbar Corella, still demands a lot of attention. They are also very smart, and will eventually learn to get out of there cage so make sure theres a good latch, or even a lock.
Alexandrine parakeets
, as well as
Indian ringneck parakeets
are wonderful. They don't like to be pet as much as cockatoos, but love learning tricks and are both(Especially the Alexandrine) intelligent and can learn to talk.
-Both birds should be handled everyday(as all birds should have) to keep them tame.
-only the adult male has the ring on the neck
The Alexandrine is about 20" long with it's large tail. Also has a blue mutation.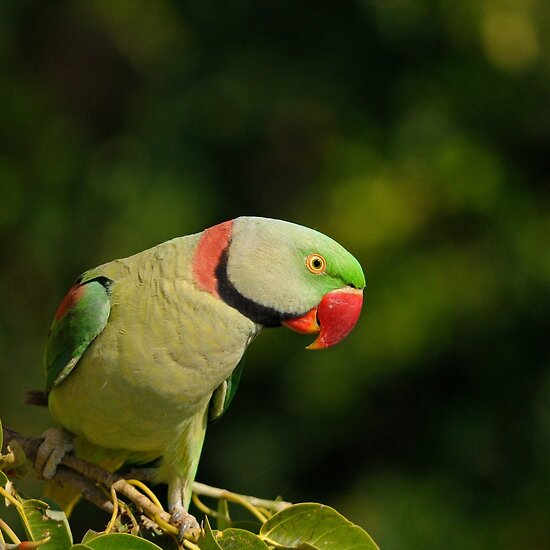 The Indian ringneck Parakeet is much smaller, and comes in several different color mutations, they're also cheaper- about $200-$300 compared to the Alexandrine at around $600.
The normal morph is the green.
Sun Conures
fairly demanding and love to be with there owners. They tend to travel good if it means they get to be with there person lol
a little more demanding then the green cheek, but very playful, can learn a couple words, and often travels pretty god if it's with it's person.
Pionus
These are pretty quite birds, and are playful but gentle, and tend to not bite. They are intelligent like a amazon(similar in appearance too) but only learn a few words.
There are a few different species
---
Elrohir the plakat
Galah cockatoo & African Grey
---
Last edited by copperarabian; 10-05-2011 at

12:54 AM

.
This makes me want a pet bird so bad... I love the Pionus. My LPS has a Senegal Parrot I'd love to take home if he wasn't $1500. He loves me, clicks at the cage until I come over to see him. Employees say he doesn't do that to anyone else. Sigh.
---
diablo13: I love parrotlets, they are so little and adorable and I've considered them before. My parents both like larger parrots though...so I don't think I could have one.

copperarabian: Wow! Thanks for putting together that whole thing! It was really helpful. The galah cockatoo was the one my dad really wanted...do they also go through the hormonal changes like the other 'toos? What's it like to live with one? At the breeder's, they have a sun conure and a green cheek that's been together since birth, and they're both around 4-8 months old. They are so cute together and I really want them both! :D I'm still debating whether to get one or two. I can get a really big cage, but would one be okay when my family is on vacation? I also really like the pionus, but sadly they don't have them in China D:

Pitluvs: The Senegal at your LPS was $1500?! Thats incredibly expensive for a senegal! The ones over here are all around 2500 RMB, which is around $360.
All cockatoos go thru hormonal changes, as do all birds. I noticed most of the birds on there are EXTREMELY loud. The cockatoo and Sun Conure, especially. That's also a big reason as to why the get rehomed. For a good first bird I really wouldn't reccomend a Cockatoo, I wouldn't even reccomend a big bird. Big Bird=Big Cage. And I mean big. Like 7 foot tall 4 foot wide big. If your parents won't let you get small birds, I would try and get them to small birds. If not, do a conure. How big is the cage you're thinking of using?
---
6 Betta Splendens
@Diablo
They didn't say anything about not being able to get a big cage, and I think a large cockatoo should
ever
be a first bird. And maybe they might not know how big a truly big cage is.
@Duncan
Will your parents also be playing with the bird? They really need at least 3-4 hours of play/interaction time a day. Also remember birds are a huge commitment.
Even though Goffins and Galahs are quieter, they are still loud birds, just not as loud as the other cockatoos. And if they don't get enough attention they can become very depressed or even self mutilate.
Watch these two videos to see how loud they can still be
Goffins
http://www.youtube.com/watch?v=AUOEKdGHUCs
Galah
http://www.youtube.com/watch?v=Hcn-Qe-4Tn0
I think indian ring necks and conures are good first birds as long as they get handled enough. For the larger birds I listed you really need to do you research and be prepared.
---
Elrohir the plakat
Galah cockatoo & African Grey
Yes, on the subject of big birds, No Amazons or Macaws.
---
6 Betta Splendens